Dennis Mitchell Named EVP for University Life
The widely respected Mitchell has devoted his 30-year career at Columbia to transformational diversity, equity, and inclusion work.
August 17, 2021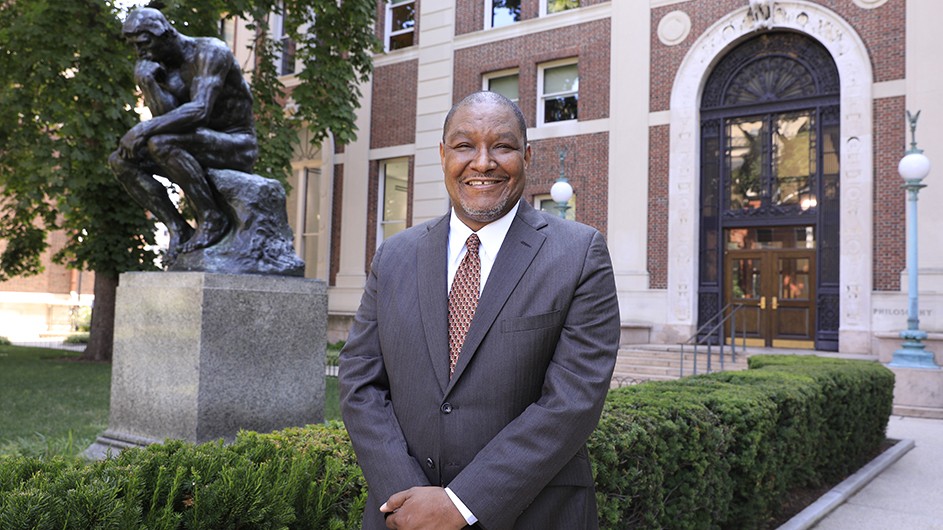 Dennis Mitchell has dedicated his life to the values of access and excellence. He also knows how to get things done. Under his leadership, Columbia's College of Dental Medicine has increased its share of historically marginalized students by a factor of seven. As a Vice Provost, he has helped steward a transformative investment of more than $185 million for faculty diversity and advancement efforts. His latest move puts him at the head of University Life, working to deepen and expand its programs and initiatives in service of enhancing the student experience by engaging with them on the issues that matter most.
In an email to the university community announcing Mitchell's appointment, President Lee C. Bollinger wrote: "An expert clinician, researcher, and administrator, Dennis has devoted his 30-year career at Columbia to strengthening our community, perhaps most notably through his commitment to fostering an inclusive campus climate for new and rising faculty members. He is a natural leader for University Life's critical work of building community among the next generation of thought leaders, researchers, and innovators—our students."
In his new position as Executive Vice President for University Life, Mitchell will draw on this extensive experience and expertise to serve the needs of Columbia's diverse student body. In doing so, he will build on the strong foundation put in place by his predecessor, Suzanne Goldberg, who was appointed to lead the office six and a half years ago. University Life's mandate was, and remains, to strengthen the experience for students by engaging with them on issues of campus-wide concern, such as inclusion and belonging, sexual respect, mental health and well-being, antiracism, and community citizenship.
"My work for the Provost and the College of Dental Medicine has been about nurturing a climate of excellence and inclusion, which aligns exactly with University Life's mission," said Mitchell.
In addition to this new role, Mitchell will continue to serve in the Office of the Provost. He will hold the newly elevated post of Senior Vice Provost for Faculty Advancement and benefit from the strong teams in place under his direction. He will also maintain his position as Professor of Dental Medicine.
Valuing Equity and Service
Mitchell's tenure at Columbia has always been grounded in an abiding belief in the values of equity and service. He first arrived at the university in 1991 as a clinical instructor, having graduated with a doctorate in dental surgery from Howard University. He got his start researching the effects of HIV on oral health. He conducted studies on periodontal interventions on mothers to reduce the incidence of babies born prematurely.
His academic and clinical work continues to focus on disparities in research and in access among marginalized groups, particularly Black and Latinx children and adults in Northern Manhattan. His responsibilities have included serving as Director of the Harlem Component of the Community DentCare Network for Columbia and Director of Research and Community Dentistry at Harlem Hospital. He also shared a private dental practice with his uncle for many years, which he has since converted to a faculty practice at Columbia University Irving Medical Center.
In 2004, Mitchell became a dean for diversity and multicultural affairs at Columbia's College of Dental Medicine, attracted by the promise of reducing inequities and breaking down structural barriers in the dental profession. He then rose in the ranks to become Senior Associate Dean for Diversity. He has managed and grown the College's pipeline, recruitment, and development programs targeting students from historically marginalized backgrounds. His efforts have produced impressive results, namely an increase in the representation of those student groups over the course of the last 15 years from 3% to 20%. For many students at the school, Mitchell has been an important mentor and role model who is never too busy to offer advice, professional or otherwise. To this day, former students continue to seek him out and update him on their lives and careers.
Increasing Impact Across Columbia
Mitchell's successes at the College of Dental Medicine led him in 2014 to the Office of the Provost. There, he has helped oversee Columbia's now more than $185 million investment in faculty diversity initiatives, expanding the program from one focused on recruitment to one that also encompasses retention and advancement. Under his stewardship, the number of women and Black, Latinx, and Indigenous faculty has grown steadily. The office recently released The Columbia University LGBTQ+ Guide, offering resources for faculty and staff to support students and colleagues. This fall, Mitchell and his team at the Office of Faculty Advancement will introduce a new pipeline initiative, Inclusive Faculty Pathways. Its mission is to help candidates from underrepresented groups advance from undergraduate and graduate programs to junior faculty and research positions at Columbia and other institutions of higher education.
"I know what it's like to be the only Black person in a classroom or at a meeting of faculty or administrators," said Mitchell. "I have spent my life doing this work because I understand the structural obstacles that make it hard for historically marginalized students and faculty to get into college and graduate programs, to thrive in those programs, get hired as academics, and advance their careers. I also know that the quality of the teaching and research we do is greatly enhanced by having students, faculty, and staff from diverse backgrounds as part of our university community. I have seen firsthand the ways in which our diversity strengthens us as a community."
This work has taken on a new urgency in the wake of the murder of George Floyd in late May of 2020. By mid-June, Mitchell and his team were spurred to create opportunities for positive action in the Columbia community by giving grants to fund faculty antiracism work, organizing an anti-Black racism mini-institute with the School of Social Work, and hosting a panel discussion on the role of universities in furthering racial justice. Mitchell also helped lead university-wide efforts to provide recommendations on furthering Columbia's institutional commitment to antiracism.
"The deaths of George Floyd, Breonna Taylor, and so many others, coupled with the disproportionate toll of COVID-19 have focused a harsh light on the pervasiveness of anti-Black violence and discrimination in our society. Universities like Columbia are being called to confront the ways in which they have contributed to inequities in the past and to advance the cause of racial justice in the present. I'm proud of the work that we have done on these fronts, and I see a real potential now for meaningful and lasting change."
In taking on his new role, Mitchell wants students to know that they have an advocate in him and in University Life. "I know how central the student experience is to everything we do at this university," he said. "We wouldn't be who we are or do what we do without our students, and I'm committed to making their time at Columbia as rewarding as it can possibly be."