Double Graduate Seeks to Improve Maternal Medicine Care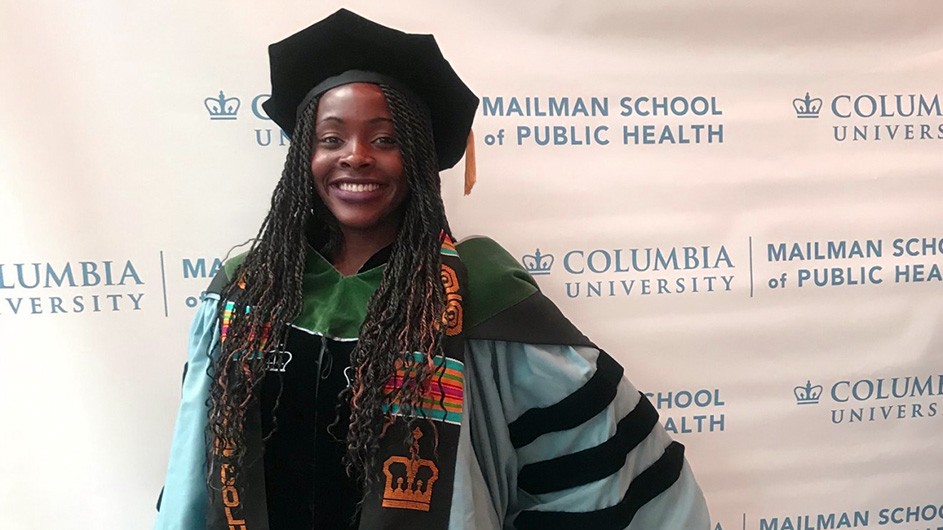 Etoro Ekpe, 26, knew she wanted to be an obstetrician-gynecologist when she was in junior high school. "I have always thought delivering babies was the most beautiful and exciting thing to do," she said. When she saw a birth for the first time, "it was a magical moment – a moment I knew I wanted to be a part of over and over again."
Born in Canada to Nigerian parents, Ekpe grew up in Arkansas after her family relocated there when her father became a professor of biological sciences at University of Arkansas at Pine Bluff. Beginning at age 15, she spent time with an obstetrician in her community. "I recall seeing a mother cry tears of happiness as her newborn was placed in her arms immediately after the umbilical cord was cut, with her partner beaming over the head of the bed, and family members peering eagerly through a window of the labor room door," Ekpe said.
At Yale University, she majored in molecular, cellular and developmental biology. This spring, Ekpe is graduating with a combined MD-MPH from the Vagelos College of Physicians and Surgeons and the Mailman School of Public Health. Her next stop: Chicago, where she will be an ob-gyn resident at Northwestern University.
COMMENCEMENT STUDENT STORIES
Q. What have you learned on the way to becoming a doctor?
A. I find medicine to be both challenging and rewarding. I can say how I meticulously worked my way through college premedical courses thinking about when I would get into medical school, and now in medical school thinking about how I can finally become the doctor I have always wanted to be. However, through this journey, I began to understand that the "magical moments" I was captivated by as a young girl were not as magical as an adult.
Q. What did you see?
A. Things grew closer to home as I learned that Nigeria had one of the highest maternal mortality rates in the world [it has the fourth highest maternal mortality rate, according to World Bank estimates]. Racial disparities in the United States are contributing to the rising maternal mortality rate in America. With black women disproportionately dying from pregnancy-related complications, I am even more determined to make a difference in the lives of women across the United States. My perspective changes when giving life becomes a battle to save a life:  Delivering babies gives me joy, but saving a mother's life gives me purpose.
Q. You're getting a double degree, MD-MPH. What insight does that dual degree give you about medical care?
A. To understand why such disparities exist in maternal health, I took a year off from medical school to pursue a public health degree. I hoped it would complement my medical education but it was much more impactful, giving me a new and broader perspective of how to holistically care for patients – how to be compassionate, culturally-competent, and mindful of social determinants such as living conditions, employment, education, and socioeconomic status that all influence health.
Q. Is there a particular case that inspired you?
A. I met one of my most memorable patients when I was on 24-hour call during my maternal fetal medicine rotation. She was 19, about 38 weeks pregnant, and came in with a mild headache, and her hands and feet had been swollen for a week—she described the feeling as "walking on balloons." Her blood pressure was extremely high so she was immediately admitted to induce labor. She had been juggling work and school and missed some prenatal-care visits because she felt "fine" at home. Her story is one of many we hear about women at higher risk of pregnancy-related complications, because of lack of prenatal care due to various barriers and disparities. One way to overcome such barriers is to improve the doctor-patient relationship in order to increase knowledge and trust of medicine in general.
Q. You've said you plan to work in global health when you finish your medical education. In what way?
A. As a child of immigrants, my life exists inside and outside of America. I feel my work and career of choice should reflect that as well. Ultimately, I hope to work both on and off the field with local health-care providers and NGO leaders to improve reproductive health and emergency obstetric care for women at home and around the world.