Embracing a Pivotal Moment for Social Science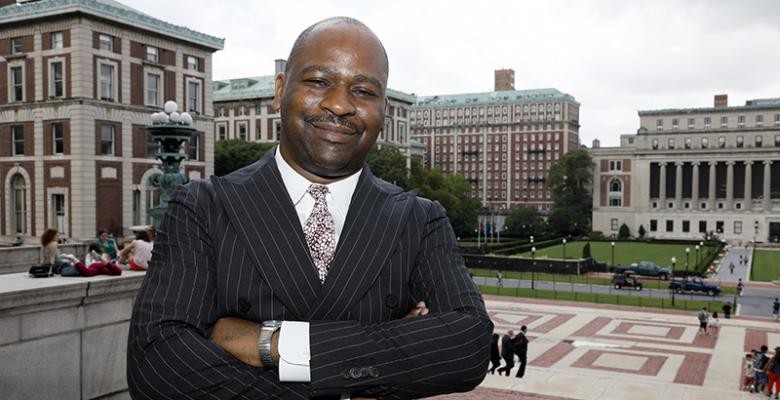 For Fredrick C. Harris, this is an important moment to be dean of social science at Columbia. "We're living in times when knowledge itself is being questioned and in many ways delegitimized," he said. "My goal is to make sure the social sciences have a voice, to guard against that type of irrational thinking."
To that end, he wants to ensure Columbia's social science faculty have the resources they need and that their work is accessible within and outside the University. He plans to continue a speakers' series he began last year featuring scholars from Columbia and elsewhere, and he wants to start podcasts featuring Columbia faculty.
"Sometimes excellent work lays dormant in academic journals and only those specializing in that particular type of research have access to it," he said. "For me, it's important that knowledge becomes usable for the greater good, to make a stronger and more just society."
As dean, Harris oversees the departments of anthropology, economics, history, political science and sociology, as well as dozens of centers and institutes. He himself is is a professor of political science and director of the Center on African American Politics and Society. He joined Columbia in 2007 after 12 years at the University of Rochester and became dean in July 2017, succeeding sociology professor Alondra Nelson, who now also serves as president of the Social Science Research Council.
He is the author of several books, including The Price of the Ticket: Barack Obama and the Rise and Decline of Black Politics and Something Within: Religion in African American Political Activism. He earned his Ph.D. at Northwestern University and now also is a non-resident senior fellow at the Brookings Institution.
His current book project is about the 100 days between the 1955 murder of Emmett Till, the 14-year-old African American boy who was lynched in Mississippi after a white woman said he offended her, and the start of the Montgomery bus boycott, which started when Rosa Parks famously refused to give up her seat to a white man. Harris describes the book, tentatively titled The Shape Shifters of Freedom, as about the ordinary people who helped make social change in the early years of the Civil Rights movement.
"It tells the story of how activism is not a linear pattern, there are shifts, failures, there are triumphs, disasters and near disasters," he said. "It speaks to the present period, when we want things to happen very quickly. We need to better understand how social change comes about."
Harris' speakers' series for this fall will include Larry M. Bartels, chair of public policy and social science at Vanderbilt University and co-director of its Center for the Study of Democratic Institutions; and Katherine Franke, the Sulzbacher Professor of Law, Gender and Sexuality Studies at Columbia and faculty director of the Public Rights/ Private Conscience Project.
Though much of his previous work draws on fields such as history, sociology and economics, Harris said his new role helps keep him abreast of new intellectual developments in various disciplines. Harris, who won a Lenfest Distinguished Faculty Award in 2012, taught an undergraduate seminar on African American politics last spring.
"Students bring their own personal experience into the classroom and what they learn brings context and a greater understanding of what they see," he said. "It's exciting to see them make the connections and it helps me a great deal to know what the younger generation is thinking about."
He doesn't plan to teach this fall, given his responsibilities as a divisional dean. Thinking back on his undergraduate years at the University of Georgia, where he says he "agitated" for more diversity in the faculty and administration, Harris admits that he never expected to be in such a role himself. His new role as dean, he adds, has taught him the importance of having people on the inside committed to social change.
"If you had asked me five years ago if I would be sitting here, I would have said you're crazy," said Harris from his office in Low Library. "In your early career, even as a professor, you're always critical of 'the man.' Then you wake up one day and you've become the man."