Emeriti Faculty Enrich the Intellectual Community at Columbia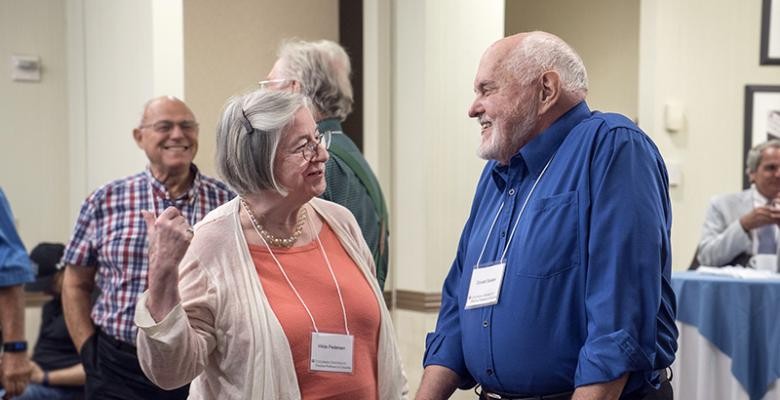 For faculty members, retirement does not mean an end to achievement. Columbia emeriti continue to teach, research, write, publish, mentor and volunteer.
Frances Pritchett holds a weekly study group with students from her former department, Middle Eastern, South Asian, and African Studies. Emerita Alice Kessler-Harris continues to work with several graduate students, and she chairs the Scholars' Advisory Board of the newly-established Center for Women's History at the New-York Historical Society. Clinical professor of surgery emeritus Dr. Ferdinand Ofodile leads health initiatives in Nigeria and other underserved locations.
Jeanne Mager Stellman, a professor emerita and special lecturer at the Mailman School of Public Health, took the helm of Emeritus Professors in Columbia (EPIC) in 2016 and widened its ambit. Members are retired academics, researchers and administrators of Columbia, Barnard and affiliated institutions.
"Retirement is not the ending of academic life," said Stellman. "Most of us continue to make contributions many years after retirement, and we have many things still to teach and learn."
Douglas Chalmers, her predecessor as head of EPIC and professor emeritus of political science, said: "The historical understanding of retirement is that you are someone who goes away. But it's a new phase of your professional life."
Under Stellman, activities for group members have continued to grow. A yoga class at Faculty House, for example, is taught by certified yoga instructor Virginia Papaioannou, an emerita and special lecturer in genetics and development. Retired faculty and administrators bring friends to the sessions. The coordinator is EPIC secretary Lalla R. Grimes, a retired administrative coordinator who assisted faculty, graduate and post-doctoral students in the physics department, which she still visits weekly to water the plants.
EPIC activities allow retired faculty to meet and discuss a variety of topics. At a recent lunchtime gathering, emeritus philosopher Bernard Berofsky (GSAS'59,'63) performed magic under his stage name, Sebastian. Michael Rosenthal (GSAS'67) presented his new book about publishing maverick Barney Rosset, who ran Grove Press and won a legal fight to publish D.H. Lawrence's Lady Chatterley's Lover uncensored. Professor of music Walter Frisch spoke about his new book on the song "Over the Rainbow," from The Wizard of Oz. In introducing him, Stellman noted to audience amusement that she had once played the Tin Man in a school production.
On the first Thursday of each month at Lewisohn Hall, graduate students and post-doctoral students present their research before an interdisciplinary audience of EPIC members. The emeriti offer constructive comments in an effort to help the younger scholars.
There are as many paths in retirement as there are emeriti. Hoshang J. Khambatta, professor emeritus of anesthesiology, co-authored a book that summarizes Plato's dialogues as an introduction to the philosopher's work. Professor emeritus of history Volker Berghahn is actively involved in the London School of Economics/ Columbia University dual MA/MSc program. Professor emeritus of anesthesiology and neurology Eric Heyer remains an active investigator in NIH-funded research on statins and cognition. Professor of real estate emerita Lynne Sagalyn has authored a book on the power politics of reconstructing the World Trade Center. Professor emeritus of political science at Barnard, James Caraley, remains the editor of Political Science Quarterly. 
Many emeriti have manuscripts in desk drawers that bear revisiting. One of Stellman's is a book project on Agent Orange, its lingering presence in environments around the world and the paucity of data on its effects. She takes pleasure in working collaboratively with younger colleagues and feels no pressure to be the lead author on academic papers.
Some emeriti delight in no longer having to grade papers or attend administrative meetings. "Retiring is a time you get to do what you want to do and not what you don't like to do," Provost John Coatsworth—who himself is decidedly not retired—told a gathering of EPIC members.
As life expectancy  increases, the roles of emeriti will likely increase at university settings across the country. "I really think that organizations for retired professors are the wave of the future," Chalmers said. East Asian scholar Wm. Theodore de Bary, who died last year at 97, taught for more than a dozen years after his 1990 retirement, working into his 90s.
Margaret Jo Shepard, an emerita professor at Teachers College, coordinates a free talk and discussion series, which is a collaboration among EPIC, the Columbia University School of Professional Studies Office of Community Relations, and Morningside Retirement and Health Services. The events are held at Morningside Gardens, a housing development and retirement community located between the Morningside Heights and Manhattanville campuses. Upcoming topics include new takes on the story of Adam and Eve and engineering in early U.S. history. This series, now in its second year, is the first stage in development of EPIC's Speakers Bureau. 
And emeriti faculty offer a wealth of insights, many of them reflecting how our perspectives change over the years. James Mirollo (GSAS'51'61), Harry Parr Professor Emeritus of Comparative Literature, reminisced about once teaching King Lear to students during the day and again the same night to alumni. "The young students thought the play was about a crazy old man," he said. "The adults thought it was about the ingratitude of children."