Exceptional Privilege: Shamus Khan Studies the Elite and Inequality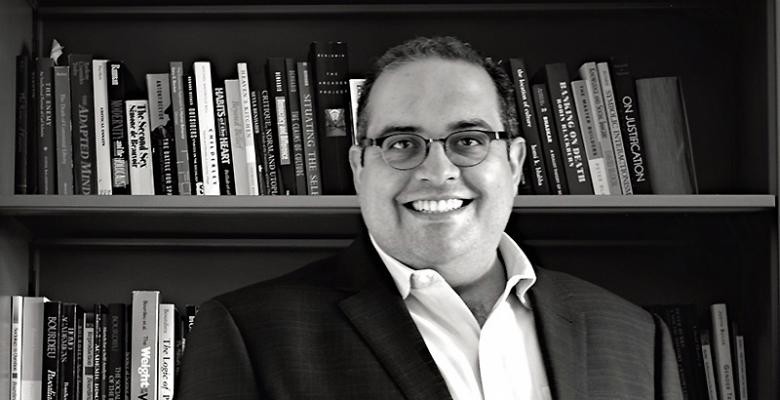 For years, scholars interested in the roots of economic inequality focused on extreme poverty. Then came the 2008 financial crisis and the Occupy Wall Street protests, which helped shift the emphasis to the very wealthy. By then, Shamus Khan already was studying the upper class.
"If you want to understand a society, it's important to understand those who have access to and control over the resources that define that society," said Khan, professor and chair of the sociology department, who joined the University in 2007. "Sometimes those resources are honor and status, being from the right kind of family, and sometimes it's culture. Here in the United States it's money."
In June, Khan was awarded the Hans L. Zetterberg Prize for his contributions to the study of elites. The international award, named for a Swedish sociologist who taught at Columbia from 1953 to 1964, is presented annually to scholars age 40 or younger whose academic work advances research in the field. Last year Khan was among three Columbia professors who won Presidential Teaching Awards.
His interest in the upper crust grew from personal experience. He is the son of a surgeon born in Pakistan and a nurse from Ireland, immigrants who grew up poor and were the first in their families to attend college. They sent him to the prestigious St. Paul's School in Concord, N.H., a boarding school founded in 1856, whose current alumni include former U.S. Senator and Secretary of State John Kerry and Robert Mueller III, the special counsel investigating Russian influence on the 2016 election.
St. Paul's has attracted generations of prominent establishment families, and Khan found himself among people with backgrounds far different from his own. How the school and its student body has changed became the subject of his Ph.D. dissertation at the University of Wisconsin, and later a 2010 book, Privilege: The Making of an Adolescent Elite at St. Paul's School.
"If you want to understand a society, it's important to understand those who have access to and control over the resources that define that society."
"Some of the cultural changes at those institutions were that kids like me, who are not from established American dynasties, could enter and thrive," he said.
More recently, he studied New York Philharmonic subscribers from the 1870s to the present, who originally were upper-class New Yorkers who came to concerts to hobnob with people like themselves. Then, in the early 20th century, an educated middle class, often more knowledgeable about classical music, began attending concerts at Carnegie Hall, then the Philharmonic's home.
With access to its extensive archives, which include concert programs, seat assignments and subscribers' demographic information, Khan found that the earlier concert-goers, mostly lawyers and bankers who often lived near each other, changed their seats to be closer to one another. He calls this "segregated inclusion." Newcomers were allowed in, but sat apart from the earlier group.
For his research Khan also reviewed thousands of letters, including complaints regarding the orchestra's repertoire and unexpected seat and schedule changes. "It's a fascinating living archive of New Yorkers' relationship to their orchestra," he said.
Khan, who plays the violin and is a Philharmonic subscriber himself, worked on the orchestra's website as a college student in 1999. His recent access to the archives came almost by chance when, as a Cullman Center Fellow at the New York Public Library in 2012, he met Don Randel, a musicologist who was then president of the Andrew W. Mellon Foundation.
Randel mentioned a plan to digitize the Philharmonic's archives, to be funded by Mellon and others, and suggested that Khan examine the archives to see what insights they might hold. "If the president of the Mellon Foundation asks you to look into something, you look into it," said Khan.
A subsequent grant from the Mellon Foundation funded his research. Everything is now searchable on the Philharmonic website, although names of subscribers after 1953 are hidden to protect individual privacy.
More recently, Khan joined in Columbia's research on sexual health and sexual violence, which is led by Jennifer S. Hirsch, professor of sociomedical sciences at the Mailman School of Public Health and Claude Ann Mellins, professor in psychiatry and sociomedical sciences at Columbia University Irving Medical Center. The project's aims are to advance knowledge about factors contributing to gender-based misconduct and to make policy recommendations.
"This was a moment for us to deploy our faculty, to take some of the world's leading experts in multiple disciplines and get them to help make sense of what was happening within our own institution," Khan said. "It positions the University as a leader in knowledge about sexual violence on college campuses."
Once that project is complete early next year, Khan will continue teaching and return to his study of elites. He is finishing a book about a wealthy New York family prominent in business, society and politics in the 19th and 20th centuries. Titled Exceptional: The Astors, Elite New York, and the Story of American Inequality, one of its protagonists is John Jacob Astor IV, who attended boarding school at—where else—St. Paul's.sociol