Extreme Engineering: Former Astronaut Mike Massimino Highlights Unusual Career Paths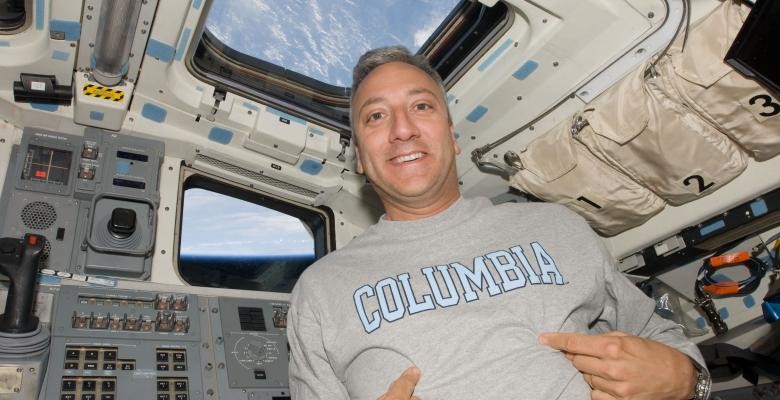 Hurtling under the ocean at record speed on nuclear subs and fixing frozen bolts in outer space are not ordinary jobs, although they can be for engineers. That's the message of a new program, Extreme Engineering, launched last fall by Columbia School of Engineering and its Department of Mechanical Engineering.
Led by former NASA astronaut Michael Massimino (ENG'84), a professor at the school who developed the program with its dean, Mary Boyce, the program seeks to showcase unusual careers across various fields of engineering, from space exploration to deep sea probes and everything in between.
"The slogan is, 'where exploration meets innovation,' because you don't always have everything available when you're in the field," said Massimino, who flew on two space shuttle flights and made four spacewalks to service the Hubble Space Telescope. "It also shows that going to work every day can be fun. It certainly was for me. Being an astronaut was a dream career."
Massimino said that the Extreme Engineering series shows that doing things on the edge of your field requires thinking about problems in a different way. Massimino was pleased that non-engineering students and others came to Extreme Engineering programs despite being outside the academic field. "We have wanted to provide a little fun and inspiration," he said.
Sam Sia, a professor of biomedical engineering who started a biotech incubator space based in Harlem, said he loves the program "because it shows the power and romance of engineering, which are reasons a lot of us chose to go into engineering in the first place."
He added, "Mike is the perfect person to lead it because as an astronaut he has executed some of the most advanced technologies ever developed by researchers."
Last September, Massimino invited Hollywood and NASA officials to campus to discuss the engineering that went into The Martian starring Matt Damon, a film that seeks to portray a realistic view of human exploration of the red planet in the near future. After the program, students approached Massimino about starting a space club at Columbia; he is now its adviser.
In October Captain Alfred S. McLaren, a retired submarine commander and former professor at Lamont-Doherty Earth Observatory, described his ocean adventures aboard five nuclear submarines, including the time he sped across the Atlantic in the world's fastest nuclear sub to set a record still standing after 50 years.
The following month, Captain Scott Altman recounted his exploits as a former astronaut and Navy fighter pilot. He has been called the real "Top Gun" because he flew the F-14 fighter planes in the 1986 movie of the same name, which starred Tom Cruise as a student at the Navy's elite naval aviator school. Some of the flights took off from an aircraft carrier. Massimino said the filmmaker kept telling Altman, "Make the landing worse," until the ship's skipper finally said, "That's enough."
In a video promoting Extreme Engineering, Massimino spoke with Sia, whose accomplishments include engineering a "lab-on-a-chip" prototype to test blood in remote areas. Sia shows how a small hardware accessory attached to a cell phone can make a diagnosis in 15 minutes from a single finger prick.
"We have miniaturized blood testing into a little accessory that works with a smartphone," said Sia, who has brought this digital health tool to remote areas of poor countries such as Rwanda. "Decentralizing the delivery of health services is a growing trend in medicine," Sia said. "You will no longer have to be in a hospital for certain routine procedures." A YouTube video showing the blood test has received about 130,000 hits.
Massimino also interviewed Kartik Chandran, an associate professor of earth and environmental engineering, who won a MacArthur "genius grant" in 2015 for transforming wastewater into useful resources.
The Engineering School plans to host more Extreme Engineering guest speakers during National Engineers Week, which starts Feb. 21, and will continue the series each semester. Massimino said he hopes the program will "give students examples of ways in which to dream about what they may want to do in the future."