Formerly Incarcerated Individuals Learn to Code
The Center for Justice and the Tamer Center have teamed up to teach coding and job skills to individuals who were incarcerated.
October 01, 2020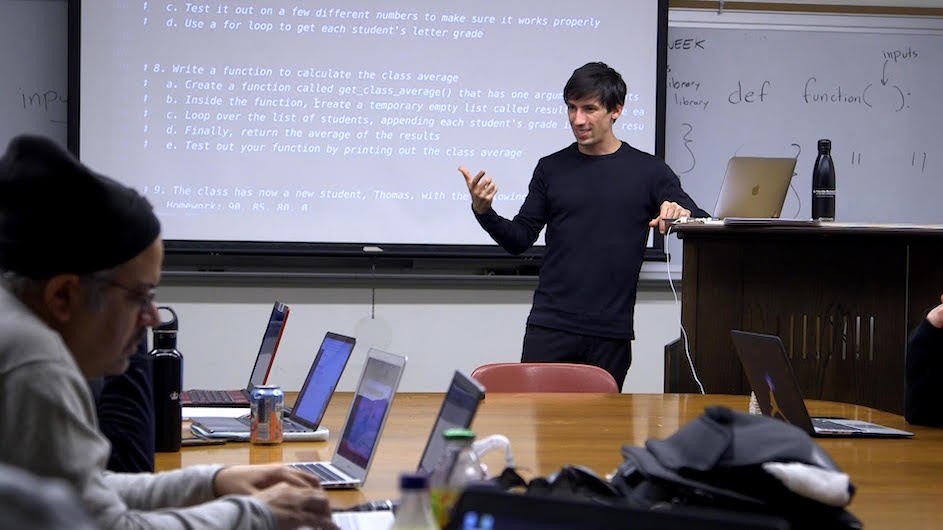 Taking Action is a Columbia News series that seeks to showcase efforts from around the university that rely on academic knowledge to tackle real-world challenges in a purposeful way. 
---
According to a recent Brennan Center report, nearly 7.7 million people currently living in America have been imprisoned. Those individuals earn 52% less than if they had they never been in prison. This disparity contributes to a cycle of poverty that affects not only the formerly incarcerated, but also their families. And boys raised in families that are in the bottom 10% of income are 20 times more likely to be incarcerated themselves. 
How can we begin to address this societal problem? One innovative program, Justice Through Code (JTC), at Columbia University aims to change this trajectory. The program, a partnership between the Center for Justice and the Tamer Center for Social Enterprise, teaches students coding and important job skills, including how to write a resume, respond to business emails, and prepare for job interviews.
Aedan Macdonald, Justice Through Code's founder and program manager, saw that teaching coding to formerly incarcerated people could provide them with useful, and needed, job skills. 
"When you leave prison, there's this constant messaging that your life is over and the best thing that you can hope for is a minimum wage job," said Macdonald. "We have to get people into career track jobs where they're able to break the cycle of poverty, and learning to code is one way to do it."
A Personal Experience Drives the Program
This program is personal for Macdonald; he formed Justice Through Code in part because of his own experience post-incarceration.
"I spent four years in federal prison for a marijuana-related crime. Despite having run a successful clothing business for several years before I entered prison, I was unable to find any job when I got out," said Macdonald. "I'd apply for landscaping jobs and for positions at places like Lowe's, but I'd always get rejected at the final round when they saw I had been incarcerated."
He had applied to Columbia's School of General Studies while he was in prison and was accepted, but he knew most formerly incarcerated individuals do not have the luxury of attending a four-year college when they leave prison. "How can we solve the problem of people who do not have the resources or time to go back to school, but who still need to earn a sustainable wage?" asked Macdonald.
Partnering with Columbia Business School
In 2019, while at Columbia and working at the Center for Justice, Macdonald met with Columbia Business School's Professor Damon Phillips to talk about creating a coding bootcamp for formerly incarcerated people. Phillips offered to partner on Justice Through Code and leverage Columbia Business School (CBS) coding faculty and MBA students in his ReEntry Acceleration Program (REAP).
"Partnering with JTC was a no brainer. The Tamer Center focuses on helping to create career-track pathways for formerly incarcerated people, especially in growing sectors like tech, and we knew from our teaching of business courses within prisons that there is an untapped pool of very talented, smart, and capable students," said Phillips. "The JTC idea represented an opportunity to support a Columbia student with lived experience and exceptional entrepreneurial skills. It was not long after meeting Aedan that I reached out to the rest of the Tamer Center team with excitement about his transformative idea."
Justice Through Code instructors teach formerly incarcerated students the same rigorous coding course that CBS students take.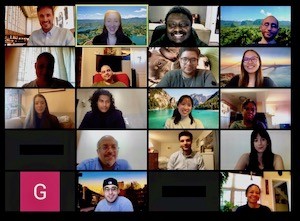 "In terms of coding, the Justice Through Code curriculum is identical to a Python programming course in the Columbia Business School," said CBS adjunct professor and JTC guest instructor and curriculum advisor, Mattan Griffel. "In addition, the JTC curriculum is far more interactive than most other programming classes I've experienced. Students work in small groups to complete challenges and troubleshoot problems together, and they also form pairs for a capstone project based on their own interests."
In its inaugural session last winter and spring, 17 students completed the program. Initially, the program started on campus, but the pandemic forced the program to continue online.
New Found Confidence and a Future for Graduates
Learning to code is an important job skill, but hosting this program at Columbia offers a different benefit to its JTC students: the knowledge that they are participating in a program in an Ivy League school, and the pride and confidence that follows.
"The pride and joy alone from my mother's reaction to me having a columbia.edu email address was enough to help me regain my focus and drive that was lost due to years of dead end jobs," said Antwan, a Justice Through Code student.  "Attending and completing a course at Columbia University equipped me with a sense of legitimacy that other coding bootcamp providers do not offer."
Some JTC graduates have landed prestigious tech apprentice and mentorships, through a partnership with Next Chapter, an initiative launched by Slack to hire formerly incarcerated individuals in the tech industry. Not every student decided to continue in the tech field, but all of them will be mentored by Columbia Business School students in REAP and given guidance in developing a work plan for the coming year.
The fall session is proving to be a successful one. Indeed, 20 students, chosen from more than 1,260 applicants, have begun their coding and job development courses Justice Through Code.
Macdonald has clear goals for the program and its students. "By redefining what's possible and working to change negative stereotypes for formerly incarcerated individuals, we're providing hope to them that there is a life out there where they can have a sustainable job and provide for themselves and their families."
---