Meet the New Crop of 2020 Guggenheim Fellows
Four Columbia and two Barnard professors have been awarded the prestigious fellowships.
April 09, 2020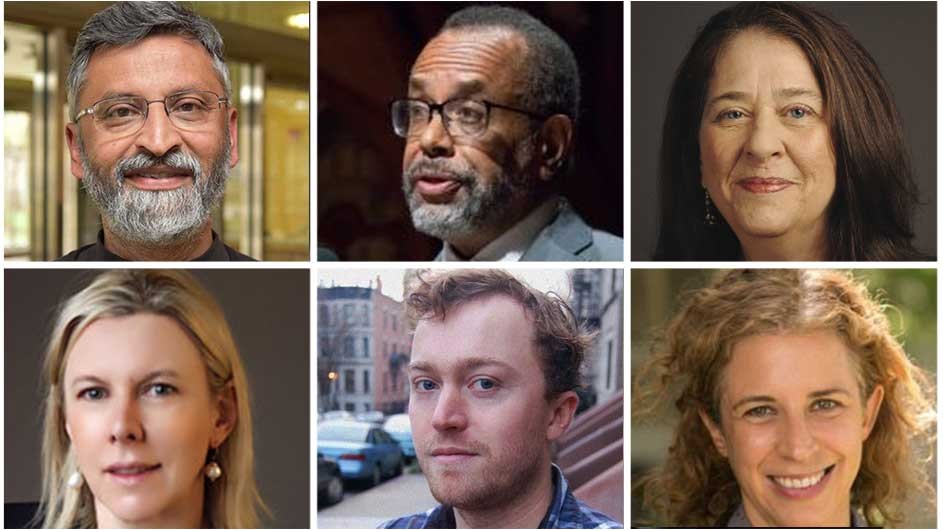 Taylor Brook, a core lecturer in music; Robert Gooding-Williams, a professor of philosophy and of African American and African Diaspora Studies; Camille Robcis, a professor of history and French; and Dilip da Cunha, an adjunct professor at the Graduate School of Architecture, Planning and Preservation, have all been appointed 2020 Guggenheim fellows. Joining them are two Barnard faculty members: Caroline Weber, a professor of French and comparative literature, and Lesley Sharp, an anthropology professor.
This year the John Simon Guggenheim Memorial Foundation approved the awarding of Guggenheim fellowships to a diverse group of 175 writers, scholars, artists and scientists.
"It's exceptionally encouraging to be able to share such positive news at this terribly challenging time," said Edward Hirsch, president of the Guggenheim Foundation.  "A Guggenheim fellowship has always offered practical assistance, helping fellows do their work, but for many of the new fellows, it may be a lifeline at a time of hardship, a survival tool as well as a creative one."
Music Composition
Brook is a composer who writes music for the concert stage, electronic music and music for video, theater and dance. His compositions have been performed worldwide by soloists and ensembles such as JACK Quartet, TAK Ensemble and Ekmeles. Current projects include a concert-length piece for TAK and a chamber piece for Yarn/Wire.
Philosophy
Gooding-Williams' research and teaching focus on social and political philosophy, the history of African American political thought, 19th-century European philosophy, existentialism and aesthetics. His books include Look, A Negro! Philosophical Essays on Race, Culture and Politics and In The Shadow of Du Bois: Afro-Modern Political Thought in America.
French History
Robcis specializes in modern European intellectual history, with a focus on 19th- and 20-century France. Her interests involve three issues: the historical construction of norms, the intellectual production of knowledge and the articulation of universalism and difference in modern French history.
Architecture and Design
An architect and urban planner based in Philadelphia and Bangalore, India, da Cunha's most recent book is The Invention of Rivers: Alexander's Eye and Ganga's Descent. In 2017, with Anuradha Mathur, da Cunha launched Ocean of Wetness, an interdisciplinary design platform that imagines new possibilities for the future of habitation not only on land, but also in water.
Fashion and Literature
Weber focuses on the literature and history of the French ancien régime, the Enlightenment and the Revolution, and teaches courses on 17th-century drama, 18th-century fiction and philosophy, Proust, Dada and Surrealism. Her books include Queen of Fashion: What Marie Antoinette Wore to the Revolution and Proust's Duchess: How Three Celebrated Women Captured the Imagination of Fin-de-Siècle Paris. She is currently at work on a sequel to Proust's Duchess, a study of art and aristocratic society in Paris from the Dreyfus Affair to the end of World War I.
Medical Anthropology
Sharp is also a senior research scientist in sociomedical sciences at the Mailman School of Public Health. A medical anthropologist by training, her interests have ranged from the ethical and moral consequences of innovative medicine and science to the effects of human-animal encounters in experimental lab research.