How to Celebrate Pride Month 2021 at Columbia
Looking back at the contributions of LGBTQ+ Columbians, offering resources, and sharing the events you can participate in this Pride Month.
June 02, 2021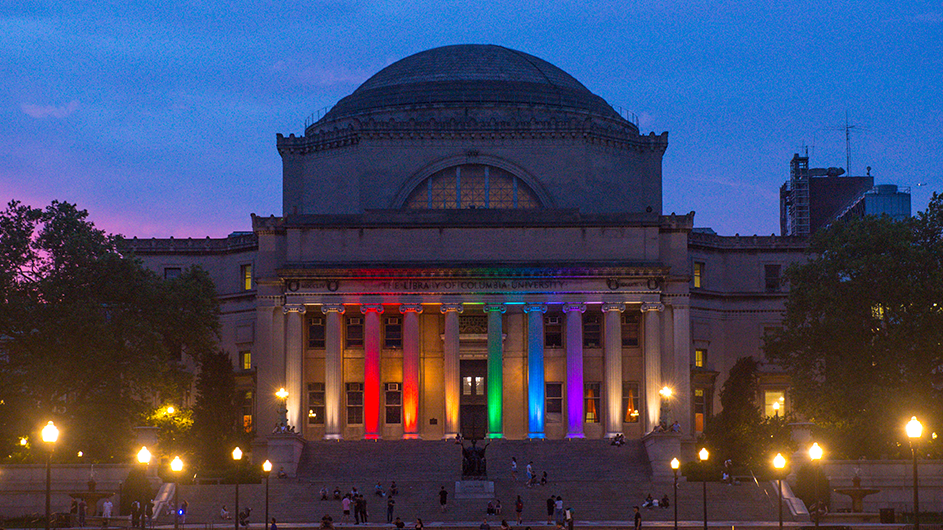 June is Lesbian, Gay, Bisexual, and Transgender Pride Month, established to recognize the impact that LGBTQ+ individuals have had on the world. LGBTQ+ groups celebrate this special time with pride parades, marches, picnics, parties, memorials for those lost to hate crimes and HIV/AIDS, and other gatherings virtual and in-person. 
As we begin Pride Month 2021, Columbia News is looking back at the contributions of LGBTQ+ Columbians, offering resources available to LGBTQ+ students, faculty, staff, and alumni, and sharing the events you can participate in this month.
After all, Pride Month has historical roots in New York City. On June 28th, 1969, the Stonewall Inn was the target of a police raid. Police raids were common practice in major cities in the U.S. on spaces frequented by LGBTQ+ people due to criminalization of gender non-conformity and queer sexualities. Trans women + gender non-conforming people of color, queer and trans youth, drag queens, sex workers, lesbians, gay men and radical allies rebelled for several days creating the contemporary "Gay Liberation Movement" that morphed into the modern LGBTQ Rights Movement. 
Pride Month sets out to remember this history, bring visibility and awareness to issues still faced by LGBTQ+ communities in the U.S. and around the world, and to find moments of joy and celebration for the gains of the movement. 
We'll be updating this article throughout the month as more opportunities to participate come up! Have a resource or event we should add to our list? Email [email protected].

Pride Month Events at Columbia
June 3 at 8:00 pm | 2021 Pride Reception
Columbia Pride invites all alumni, students, administration, and faculty to their 2021 Pride Reception during Undergraduate Reunion Week. Alumni from schools outside of CC and SEAS should register with this link. Columbia College community register here, and the SEAS community register here.
June 7 at 8:00 pm | Gender-Affirming Surgeries FAQ
Join Trans Health for a talk by Rachel Bluebond-Langner (she/her) of NYU Langone on a variety of gender-affirming surgical procedures. Register at this zoom link
June 8 at 4:00 pm  | Virtual Drag Bingo with Linda Simpson 
The LGBTQ+ Employee Resource Group of CUIMC invites you to Virtual Drag Bingo with Linda Simpson. For over 15 years, Linda has reigned at NYC's #1 Bingo queen with her action-packed version of everyone's favorite game of chance. Her most recent format on Zoom is a virtual sensation, featuring thrills and laughs galore. RSVP here. 
June 8 at 8:00 pm | Building the Next Generation of LGBTQ+ Academic Physicians
Join the CUIMC Office of Faculty Professional Development, Diversity and Inclusion and the VP&S Office for Women and Diverse Faculty for a lecture with Dr. John Paul Sánchez, who has worked extensively to promote diversity and inclusion in the medical and academic medicine workforces. Register here. 
June 10 at 6:30 pm IST/9:00am ET | Revisiting Marriage Rights in India
The Supreme Court of India decriminalized the colonial-era Section 377 of the Indian Penal Code. Yet, decriminalization without equal rights, especially the right to marriage, precludes living a life of dignity and fulfillment. Join Columbia Global Centers | Mumbai for a virtual conversation with distinguished panelists who will unpack the rights and limitations of LGBTQ relationships in India. Register here. 
June 17 at 7:00 pm | Alumni Fireside Chat

Fred P. Hochberg (BUS'75) and Jason Rizzi (SPS'14). Keynote speaker, Fred P. Hochberg (BUS'75), will talk with Pride Board Member, Jason Rizzi (SPS'14), about his experiences before, during, and after studying at Columbia. Don't miss out on hearing stories from Fred's career and volunteer service. To register click here. 

A group of Columbia and Barnard Alumni reflect on their journeys and their experiences overcoming homophobia and bias and finding community as student-athletes. 
Featured panelists: Columbia women's basketball Hall of Famer Dr. Nora Beck (BC'83, SOA'93), founder of Athlete Ally and former Wrestling Assistant Coach Hudson Taylor, and senior women's rower and Co-President of the Columbia University Athlete Ally chapter Ruba Nadar. Moderated by lightweight rowing head coach Dr. Nich Lee Parker (TC'20). 
On March 23, 2021, the Office of the Vice Provost for Faculty Advancement hosted How to Be a Visible LGBTQ+ Ally, a panel discussion about how we can demonstrate our support for lesbian, gay, bisexual and transgender students and colleagues. The panel consisted of Ixchel Rosal, associate vice president for Student Life in the Office of University Life, Vanessa Gonzalez-Siegel, associate director of Multicultural Affairs and LGBTQ Outreach from Undergraduate Student Life, and Nikita Shepard, a graduate student in the Department of History. Vice Provost for Faculty Advancement Dennis Mitchell gave opening remarks.
Avidan Brown on working to overcome the stigmas around mental health to receive the care so necessary for him as an athlete and as an LGBTQ person.
Being a part of Columbia's LGBTQ+ community, Columbia Social Work alum Kate Vendeveld (2019) got to know people in that space better—including herself.

Further Pride Month Reading

Resources for LGBTQ+ Students, Faculty, and Staff
LGBTQ @ Columbia | Office of Multicultural Affairs
LGBTQ @ Columbia, within Undergraduate Student Life provides Columbia College + Columbia Engineering students with LGBTQ student group advising, events, education, advocacy, and other services and resources to help all students explore and better understand diverse queer and trans identities, experiences, and communities at Columbia and beyond.
The Trans @ Columbia page offers up-to-date policies, services, and resources for Columbia's transgender community, including more information on the University's "preferred name" policy, housing options, and more. 
Check out their resource guide for LGBTQ+ community members and allies who want to learn more. 
LGBTQ+ Resources | Office of the Provost
In late 2020, the Office of the Provost (@ColumbiaFaculty) published an LGBTQ+ Resource Guide and companion website, which serves as a comprehensive living repository of campus resources and relays recommendations for how everyone can be better, more visible LGBTQ+ allies. It also includes a specific section on trans resources.
The Office of the Vice Provost for Faculty Advancement recently led a session on ways to support lesbian, gay, bisexual, and transgender students and colleagues, which covers a range of topics including language, support services, and resources. View the recording here.
The guide was first published as a PDF, but it will be revised for a print run in the early fall. If you have feedback to share, please submit it via this form by June 15.
LGBTQ Employee Resource Groups
LGBTQ+ employee resource groups (ERG) will serve as a visible, accessible resource for LGBTQ-identified employees. 
Join Columbia University Medical Center's ERG by contacting Stephan Richardson or Tonya Richards at [email protected].
Morningside Heights faculty and staff can join an informal and unrecognized collective of LGBTQ Faculty and Staff at Columbia University & Barnard. To get involved and meet other LGBTQ Faculty + Staff, email Vanessa Gonzalez-Siegel (She/Her) at [email protected] and Ashley Moody-Astwood (She/Her) at [email protected]
Columbia Health | Transgender and Gender Expansive Health Care Services at Columbia 
Columbia Health offers a number of services for transgender and gender-expansive students on the Morningside Campus.
This link is a listing of student health resources on all campuses, compiled for the LGBTQ+ Guide in collaboration with Columbia Health.

Find Your Crew at Columbia
Today, there are thousands of LGBTQ groups on college campuses around the world. In 1966, there was only one. Learn the history of Columbia's Student Homophile League and connect to LGBTQ Student Groups including graduate student groups. The Office of Multicultural Affairs has a list and you can find any of the following groups on Instagram.