Howard University Undergrad Emma Charles on Her Summer at Columbia
Through a NSF-funded Research Experience for Undergraduates program with Columbia's Materials Research and Science Engineering Center on Precision-Assembled Quantum Materials, a visiting physics student spends time doing lab work on campus.
August 02, 2022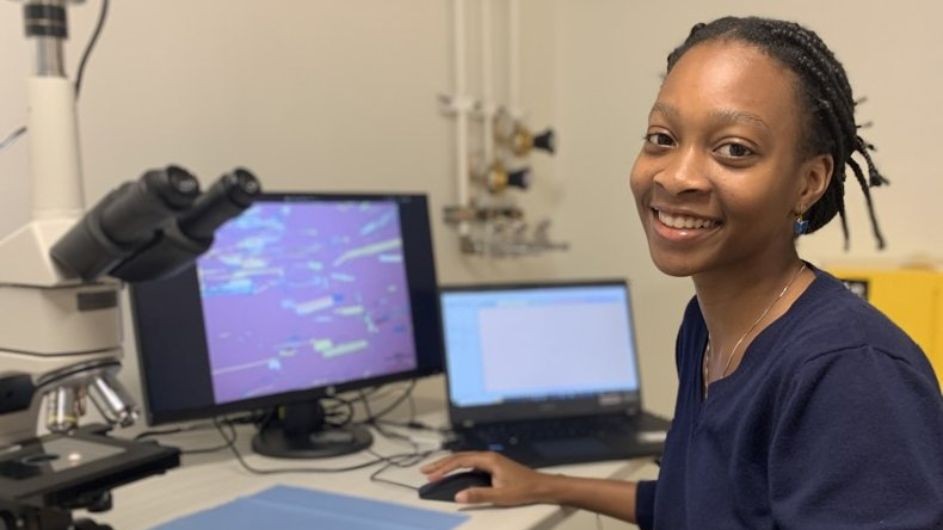 Every summer since 2015, Columbia's National Science Foundation (NSF)-funded Materials Research and Science Engineering Center (MRSEC) on precision-assembled quantum materials has hosted a cohort of students in the Research Experience for Undergraduates (REU) program. The REU students are embedded within the research labs involved with the MRSEC, where they participate in real experiments. For example this year, students have worked on creating new kinds of materials, worked on techniques to better design and describe those, and performed several imaging experiments; their final projects will be presented on August 4.  
This summer's cohort was 10 REU students, including Emma Charles, a Jamaica native and rising sophomore from Howard University. She spent the summer looking for quasiparticles called magnons in the lab of MRSEC member Milan Delor. 
She's been an excellent addition, said Delor. "She's been working with postdoc James Baxter on fascinating new materials developed by the Roy lab. In just a few weeks, Emma and James were able to observe how magnetic perturbations travel through materials, which is opening up a whole new and exciting avenue of research for the group. With James' mentorship, Emma is developing the skills to carry out some of the most difficult experiments and analyses that our group uses—remarkable for a first REU, and a testament to Emma's great promise as a scientist!" Delor added.  
Before Emma Charles heads back to her hometown of Kingston for a quick break before starting her sophomore year, she shared some thoughts about her REU at Columbia and perspectives on navigating science.
What sparked your interest in science?
It came early from my mom. She was always buying me tons of science books. My favorite had this huge diagram of the human body—I probably read that book a thousand times as a kid.
As I got older, I was always most excited about my science classes. I had an amazing physics tutor, who mentored me all through school, and I really fell in love with the subject and decided to pursue it in college. I love learning new things that explain the world. 
What drew you to Howard University?
Howard was familiar—I have relatives, including my brother, who went there. Being a black international student about to live away from my family for the first time, I knew it was going to be a big adjustment, and it was really important to me that I had a good support system at whatever college I chose.
To build that, you definitely have to take some initiative: talk with your teachers and join the clubs that interest you. But, it's important too that institutions provide those opportunities. Howard had what I wanted. The teachers really engage with you there, and I met an advisor who has really been helping me navigate my undergraduate path, including getting this REU position at Columbia.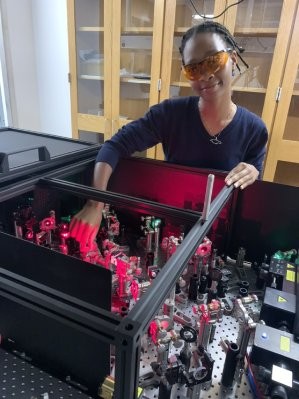 Describe your REU project? 
I've been working in a laser lab, focusing on microscopy and spectroscopy of magnon transport in a material called chromium sulfide bromide (CrSBr). Magnons are collective magnetic excitations—basically, bundles of energy—that move through materials, and we want to be able to image them. 
Once we can do that with CrSBr, we can use the imaging techniques we develop with other magnetic materials and start figuring out how we can control and manipulate magnons.
Why is that control important?
New materials like CrSBr could enable all kinds of new technologies. Think about silicon—chips built from that material now power all our computers, but it took time for scientists to figure out how to actually use silicon. We're at similar beginning stages with new types of materials, so right now we're just trying to figure out what we can see!
Did you end up seeing moving magnons? 
Yes! It took a lot of time looking at the samples across wavelength after wavelength after wavelength of light—910 nm, 912 nm, and so on… But eventually, we did, which I am working on writing up for my final REU presentation.  
It's been really exciting to start doing experiments, but research can be tedious—having to do things over and over and over. That makes it even more amazing though when you finally get a result. 
Do you think you'll carry on with CrSBr after you leave Columbia?
I hope so! Howard and Columbia collaborate closely on the MRSEC, and I just learned my sample will go down to Howard. There, we can do some additional experiments that we weren't able to do here. 
Besides your sample, what else are you taking back with you? 
I've encountered so much new information here that I haven't built an academic foundation for yet—that's what you do in undergrad, and I've only just finished my freshman year. This was a big undertaking, and it felt overwhelming at times. I had to do a lot of reading to get up to speed, and I'm grateful to my lab mentor James and the graduate students for teaching me how to work in a lab. 
I've learned to not let a lack of knowledge be an obstacle that holds you back. It's O.K. to not know. Obstacles are there to teach you—learn from them, and don't take too much negativity to heart. 
Do you get to take a break before your sophomore year starts? 
Yes, I'm going home for a couple of weeks. I'm looking forward to the beach—I miss the beach so much!— and just spending time outside with my dogs, two German Shepherds named Brooklyn and Hassan, and my friends and family. And reading. 
Or reading guilt-free, I should say. I manage about four books a week during the school year, but you always hear that little voice reminding you there's work due. Reading, and dancing too, are how I manage to get out of my head for a little bit, so it's important. I've got a big stack of books waiting for me at home.