Jeh Johnson, Adam Pritzker, and Sheena Wright Join Columbia's Board of Trustees
The three new members are graduates of Columbia Law School and Columbia College.
March 30, 2021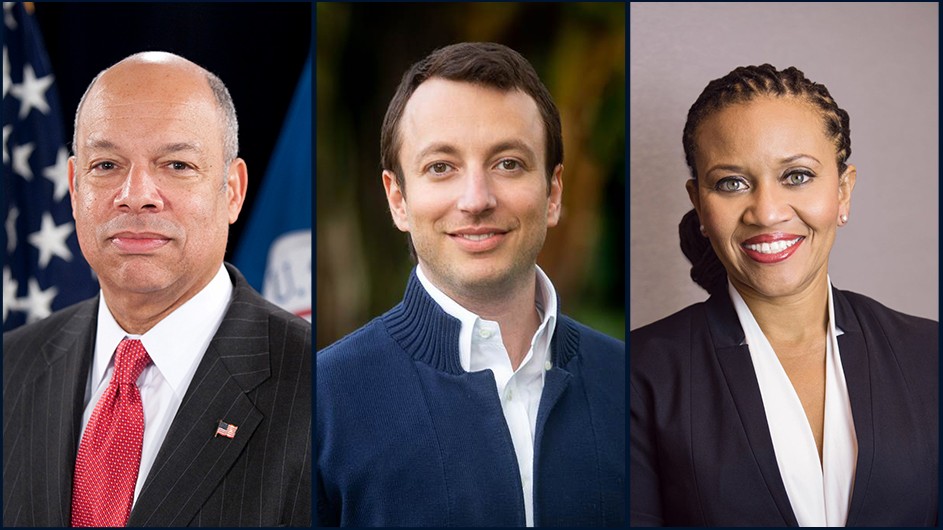 Columbia University has announced the election of Jeh Johnson (LAW'82), Adam Pritzker (CC'07), and Sheena Wright (CC'90, LAW'94) to its Board of Trustees.
"Jeh, Adam, and Sheena have achieved great professional success while demonstrating a profound commitment to some of the most important issues facing society, including economic and racial inequality, education, and sustainability," said University President Lee C. Bollinger. "We're proud to welcome them to Columbia's Board of Trustees."
"This Board's newest members have already established themselves as alumni who care deeply about the University and the broader Columbia community," said Trustee co-chairs Lisa Carnoy (CC'89) and Jonathan Lavine (CC'88). "We're grateful that they have chosen to bring their extensive experience in the public and private sectors to their work as members of our Board."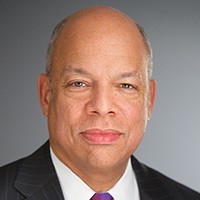 Jeh Johnson is a partner in the law firm of Paul, Weiss, Rifkind, Wharton & Garrison, LLP and the former Secretary of Homeland Security. He is a seasoned trial lawyer and a Fellow in the American College of Trial Lawyers. He currently advises corporate clients on the legal aspects of national security, cybersecurity, data privacy and government relations. Johnson has been affiliated with Paul Weiss since 1984 and became the firm's first African American partner in 1994. In June 2020, the Chief Judge of New York asked him to undertake a comprehensive review of racial bias in the state court system. On October 1, 2020, Johnson delivered a 100-page public report with a number of observations and recommendations, all of which the Chief Judge will adopt.
As Secretary of Homeland Security, Johnson was the head of the third largest cabinet department of the U.S. government, consisting of 230,000 personnel and 22 components, including TSA, Customs and Border Protection, Immigration and Customs Services. Prior to becoming Secretary of Homeland Security, he was General Counsel of the Department of Defense. Johnson received his J.D. from Columbia Law School. He is a former lecturer at the school, a former Member of its Board of Visitors, and a recipient of its 2012 Medal for Excellence. In 2019, he was recognized by Columbia's Black Alumni Council with its Heritage Award.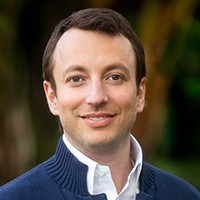 Adam Pritzker is the founder and CEO of Assembled Universe, an investment group developing the next generation of consumer, software, and financial services companies. Assembled Universe's subsidiaries include Assembled Brands Capital, a partnership with Oaktree Capital Management to provide growth capital to consumer brands; Kid Made Modern, a DIY arts-and-crafts company to inspire kids through creativity; Khaite, a women's ready-to-wear collection that reimagines classic American sportswear; and Assembled Financial, consumer financial services company serving underbanked communities.
Pritzker is also the Co-founder and Chairman of Future Now, a non-partisan, not-for-profit organization dedicated to improving Americans' lives by winning state legislative majorities and working with them to achieve goals for the common good. He co-founded General Assembly, a leading education company providing workforce-training in technology, business, and design, which has trained over one million students since inception. General Assembly was acquired by The Adecco Group in 2018. As a student at Columbia, Pritzker studied economics and sustainable development with Jeffrey D. Sachs and graduated with a B.A. in Social Anthropology. He is currently a Member of the President's Council for Columbia World Projects.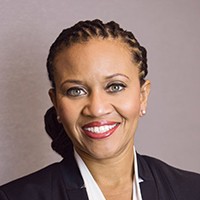 Sheena Wright is the President & CEO of United Way of New York City (UWNYC). She is the first woman to lead the organization in its more than 80-year history. During her tenure at UWNYC, Wright has led COVID-19 and Hurricane Sandy relief efforts, including the COVID-19 Community Fund, which provides resources and financial assistance to organizations that work with underserved communities. She spearheaded ReadNYC, UWNYC's flagship initiative to support families and improve grade-level reading in New York City's most challenged communities. She also launched the Campaign for Equity to address the underlying structural and systemic failures that lead to racial disparities in health, education, and financial stability.
Wright is a Board Member for New Visions for Public Schools, NYC Kids Rise, and the New York City Regional Economic Development Council. Prior to joining UWNYC, Wright served as President and CEO of the Abyssinian Development Corporation. Wright received her B.A. from Columbia College and her J.D. from Columbia Law School. She is the 2016 recipient of Columbia's John Jay Award, was named one of the 25 most influential alumnae at the Silver Anniversary Celebration of the Columbia-Barnard Athletic Consortium, and delivered the keynote address at the 2017 Columbia College Class Day ceremony.