Meet the New Chair of the Department of African American and African Diaspora Studies
Kellie Jones, the Hans Hofmann Professor of Modern Art, has big plans to center the arts in the department's teaching, scholarship, and programming.
October 25, 2021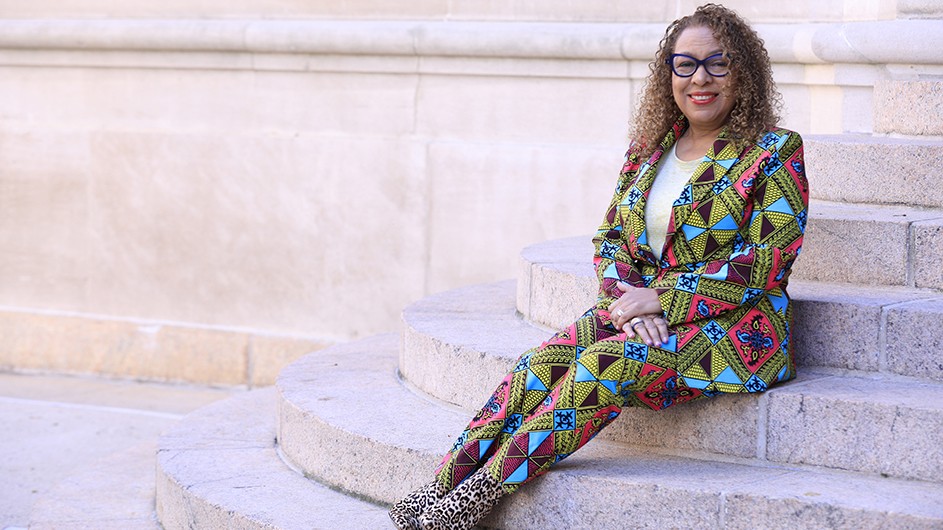 The Department of African American and African Diaspora Studies has entered its fourth year with a new chair at the helm, Kellie Jones, the Hans Hofmann Professor of Modern Art in the Department of Art History and Archaeology and a MacArthur fellow. She has big plans for the department, which include furthering the work done by her predecessor as chair, Professor Farah Jasmine Griffin.
Jones recently discussed her vision for the department with Columbia News, as well as how African American and African Diaspora Studies plays a vital role not only in training students to be active, informed global citizens, but also in producing innovative, socially engaged scholarship, research, and programming.
Q. As the new department chair, how will you build on Farah's work over the next three years?
A. Farah was an amazing inaugural chair. She set a lot of things in motion, and we are presently in the building stage. Now that we are a department as opposed to an institute, we can grow our faculty and student body according to our own vision. It's key to keep our connections with other departments like history and art history, because we're revitalizing those fields as well as ours.
We have gotten great support from the Andrew W. Mellon Foundation to center the arts in African American and African Diaspora Studies. It's surprising to think that art and culture play such a major role in this country—and African American art and artists in particular—yet in this discipline, they haven't been as central, so we're looking to change that.
We have a postdoctoral fellow, Jonah Mixon-Webster, a poet and sound artist who teaches literature, joining us this year. Our inaugural artist-in-residence last year was jazz pianist and composer Jason Moran; this year it's writer Edwidge Danticat, who will be doing a public program in the spring, so watch out for news on that. Also with us this year is music historian Salim Washington, who is our international visiting professor from Durban, South Africa.
Additionally, in a collaboration with the art history department, we have two more professors teaching in that area: This semester, it's Uchenna Itam, who just finished her PhD at the University of Texas, Austin, and is now doing postdoctoral work at the University of Pennsylvania. In the spring, it's Christina Knight from Haverford College. They are teaching contemporary courses focusing on African Diaspora art and theory in the 20th and 21st centuries.
Q. As chair, are you continuing to teach?
A. Yes, this semester I'm teaching my Issues in Performance Art graduate seminar. It has a feminist focus, and of course, I love to teach it when Performa, the biennial of visual performance art, is on with almost all of its programs taking place out-of-doors. In the spring I'll be teaching my African American Artists in the 20th and 21st Centuries survey course.
A lot of my courses—over the next few years at least—will have a strong African American and African Diasporic focus. Since the pandemic and all the social justice work that went on last year, people really want to see these courses. Potentially, the classes are going to get larger. Usually, they're very self-selecting, so I'm excited about that, and particularly now, as visual artists from the African Diaspora are very visible these days.
Q.  Will there be more exhibitions, like 2019's 20 and Odd: The 400-Year Anniversary of 1619 at the LeRoy Neiman Gallery?
A. It would be great. The curator of that show was Kalia Brooks Nelson, who is our Mellon Arts Project director, so it's a possibility. Right now, it's a challenge to bring artists and their work to campus, but once we move past our current situation, we will revisit the idea of exhibitions.
Q. Are there plans for including Latinx and Latin American art and artists in the department since that's another focus of your research?
A. Yes, as a department, that's also part of what we do. History Professor Frank Guridy's work focuses in part on Latinx and Latin America, as I do, and it is an area we are looking to have more coverage in. The beauty of having an African Diaspora aspect to our unit is that we can be inclusive. Take, for example, Music Professor Kevin Fellezs's most recent book, Listen But Don't Ask Question: Hawaiian Slack Key Guitar Across the TransPacific. When we say diaspora, we're not leaving any part of the world out. There are all sorts of collaborations and connections, and so much work to be done in this field.
Q. You've already touched on this, but is there anything you want to add about the multidisciplinary nature of the department?
A. African American and African Diaspora Studies has always been interdisciplinary. It embraces social sciences and the humanities. In the past, social sciences have been dominant, and certainly after 2020, with social justice concerns and interest in the Black Lives Matter movement, people will look to that area.
But we can't forget that rights movements are also driven by culture—music, posters, and other visual documentation. When you really look at social justice, activism, all sorts of political movements, and even the study of people's lives, you're going to encounter literature, music, and the visual. We have a terrific group of professors who work in all these areas and understand their connections.
For example, GSAPP Professor Mabel O. Wilson, who, among many other projects, co-curated the exhibition Reconstructions: Architecture and Blackness in America at the Museum of Modern Art in New York earlier in 2021. She recently won the National Building Museum's annual Vincent Scully Prize. You might say that architecture involves just buildings, but Mabel's work shows that it's so much more than that.
This discipline looks at these important movements of people and culture, but not only in terms of social justice and social problems, as African American life has often been looked at. We take a broader approach to unpacking life inequities, and pushing the arts forward sheds a light on that more expansive approach.
Q. What impact do you want the department to have on Harlem and Morningside Heights?
A. Since our founding by Manning Marable in 1993 as the Institute for Research in African-American Studies, we have had an urban focus and have collaborated with our neighbors. I want the community to be able to take advantage of all the department has to offer. This year all of our programming is online, which allows us to reach so many more people who are looking for this type of content. And we continue to work with local organizations.
Another program supported by Mellon that I'm heading up is Black Curators Matter: An Oral History Project, which we're doing in collaboration with the Columbia Center for Oral History Research. We're creating oral histories with six curators who were active—and still are active—from the 1970s to the early 2000s. These are narratives that grew out of the current strong interest in African American and African Diaspora visual artists. We never want to forget the curators who worked tirelessly to bring this art to us. They were like the bridge between 1960s activism and what we see now in terms of so many Black people working in museums. That was unheard of in the 1970s, 1980s, and even into the 1990s and the 2000s.
We're collaborating with a number of institutions on this project, including the Schomburg Center for Research in Black Culture in Harlem. Since this is an oral history project, much of it will be recorded and deposited into libraries, but there is a public component, which will be happening over the next year and a half. It's also an intergenerational dialogue; one of the dialogues, for instance, is between Lowery Stokes Sims, who was the first Black curator at the Metropolitan Museum of Art in New York, starting in 1974, and Ashley James (CC'09), who is the first full-time Black curator at the Guggenheim Museum in New York, where she was hired in 2019. A lot of Black figures in the New York art world are Columbia graduates, including Whitney Museum of Art curator Rujeko Hockley (CC'05), and MoMA curator Thomas Lax (GSAS'2013), who are also part of the Black Curators Matter project.
Q. What are your hopes for the future of the department?
A. That we can grow, not only the faculty, but also the major and student interest. We want to be a resource for students. We hope the rest of the University—as well as the entire Columbia community and our surrounding neighborhood—digs into these histories of African American and African Diaspora culture. We hope to serve all these populations—especially during this challenging time when so many of us have been under threat in so many ways—by developing our events, programs, teaching, research, and visibility.