Mabel O. Wilson Reflects On 30 Years of Breaking Boundaries
In an online event, the architecture professor outlines her path, which GSAPP Dean Amale Andraos calls a "radical design project."
May 03, 2021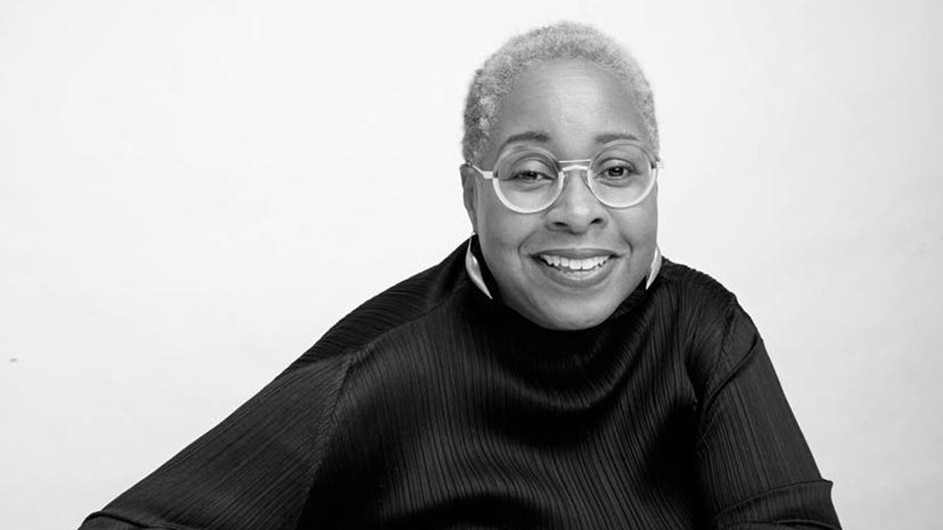 On April 5, 2021, Mabel O. Wilson (GSAPP'91), a professor at the Graduate School of Architecture, Planning, and Preservation and director of the Institute for Research in African American Studies, delivered a lecture that delved into the beginnings of her practice. Spanning architectural projects, publications, installations, performances, and exhibitions, Wilson discussed how she developed her working methods to situate race and Blackness in the built environment. GSAPP Dean Amale Andraos provided the introductory remarks.
"Wilson's path is in itself a radical design project for our time," Andraos said, "one in which unlearning and being undisciplined, as she has put forth, are essential to the crucial advancements and expansions she has contributed to our field."
Embarking on a Black Study
As a student at the University of Virginia and then Columbia, Wilson realized that it was necessary to break boundaries to bring Blackness into architectural discourse and render visible anti-Black racism in the field. She turned to critical race theory, Black studies, poetry, and literature to inform her work.
"Over the past 30 years, I've engaged in a Black study, one that allows me to make visible my own history and bring Black cultural practices and sensibilities into the making of the built world," said Wilson.
She recalled an assignment during her final GSAPP studio course led by architect and theorist Stan Allen, for which students were asked to use collaging methods to unpack the single-family American house. Wilson revealed the latent anti-Black racism in the typical Levittown-style home and its suburban development. 
"The Levittown house became the site of operation, a long history of white settler colonialism, which forged whiteness as property, as scholar Cheryl Harris writes," said Wilson. "Restrictive covenants and bank lending practices ensured that America's post-war, federally financed suburbs stayed white and heteronormative."
Wilson's drawings dissected each room to discover hidden representations of Blackness. Toni Morrison's essay "Black Matters," as well as Black artists who used found objects such as Betye Saar and John Outterbridge, were inspirations for this research and her later work. 
Spatializing Migration
Following her graduation from GSAPP, Wilson founded the studio KW:a with Paul Kariouk. In 1999, they launched the traveling exhibition (a)way station: The Architectural Spaces of Migration at the Storefront for Art and Architecture in New York City. The installation comprised plywood towers housing cast-resin domestic objects such as furniture and clothing, as well as recordings of migrants' stories. The show was designed to adapt to the spatial requirements of each venue, taking a cue from migrants' flexibility to unforeseeable circumstances.  
"We were interested in how migration as a force does not alter urban space in immediately apparent ways," said Wilson. "Instead, these transformations occur over time, and begin within the confines of domestic spaces. We wanted to chart how these communities appear and disappear, and thus fail to be registered as urban traces."
This collaboration was followed by another one between Wilson, Kariouk, and landscape architect Walter Hood to develop a proposal for the African Burial Ground Memorial in Lower Manhattan, as part of a competition organized by the U.S. General Services Administration. Their design, which was awarded a finalist placement, envisioned the site as a garden of native and medicinal plants with a spirit catcher—a corten steel frame filled with cast-glass bricks that was conceived as a threshold between descendants and ancestors.   
"Enslaved Africans were granted permission to bury only after dark, so they lit fires to illuminate their rituals of burial that took place outside of the city walls," said Wilson. "For the memorial, we wanted to fashion a space that recalled these bonfires, whose illuminations at night would form an ephemeral meeting ground for both the living and the dead."
Performing Resistance
In 2017, Wilson collaborated with Bryony Roberts, architect and GSAPP adjunct professor, and the Harlem-based Marching Cobras of New York, an after-school dance team and drum line, to produce "Marching On." Presented as part of the Performa 17 Biennial and commissioned by the Storefront for Art and Architecture, the first live performance took place in and around Marcus Garvey Park in Harlem. The event was followed by the exhibition Marching On: The Politics of Performance at the Storefront for Art and Architecture in 2018.
"We showed the Cobras how and why Black people took to the streets to be in public and implicitly protest against white supremacy and anti-Black racism," said Wilson. "We discussed how the Marching Cobras paid tribute to the exuberance of drum lines from back in the day and the marching bands of historically Black colleges and universities."
"Rapid gentrification in Harlem has brought noise complaints from new residents, particularly about the Drum Circle in Marcus Garvey Park," continued Wilson. "We wanted to call attention to this community history, and the importance of performance as a means of claiming public space in this transitioning and contentious site."
Liberation As a Spatial Practice
Most recently, Wilson co-designed the Memorial to Enslaved Laborers at the University of Virginia, co-edited the book Race and Modern Architecture, and co-curated the exhibition Reconstructions: Architecture and Blackness in America at the Museum of Modern Art in New York.
"By definition, the studio is a place of study. In that sense, my practice has been dedicated to what Fred Moten and Stefano Harney have called 'fugitive planning and Black study,'" said Wilson. "After all, study doesn't engage what is known, but rather, as a speculative practice, it engages the unknown, and allies with liberation as a spatial practice."