School Photos in the Age of Social Distancing
As commencements are canceled across America, faux graduation selfies become the new normal. What do they mean?
March 23, 2020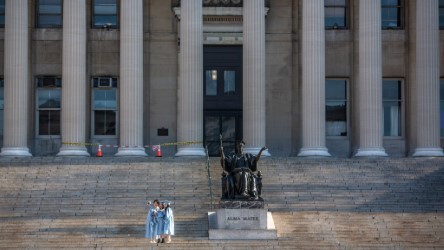 The week before spring break, and before Columbia went virtual for the remainder of the academic year, I saw scattered students in light blue academic caps and gowns wandering around campus. A week later, on March 19, when The New York Times featured an image of three young women in graduation garb taking a selfie on the steps of Low Library below the Alma Mater statue, I understood what was going on.
"As traditions are disrupted, students are making their own," read the photo caption. The accompanying article includes photos of several other faux graduations organized impromptu before Wellesley, the University of Chicago, Berkeley, Olin College of Engineering and other schools across the country were evacuated. Just about everywhere, it seems, seniors scrambling to move out of their dorms and say goodbye to their classmates took the time to rent gowns and pose for group photos. (At Columbia, students have traditionally taken these photos in April and May, but with everything going on, there was a new urgency.)
What do these photos do in the absence of the rituals accompanying schooling and graduation? Class and group photos constitute their own rituals, of course, creating individual, family and group memories. Like school report cards and diplomas, class pictures can serve as a form of certification—a confirmation of each student's inclusion and participation in a grade cohort and its advancement through the teleological trajectory of schooling. Institutionally sponsored school images provide visual evidence of what institutions of learning want to create: commonality, conformity and the minimization of differences among the members of a class. Graduation photos are more than a feature of celebratory rituals. They constitute, in themselves, the culmination of long years of effort, thus corroborating each student's, and each class's, warranted passage into a new life stage. 
In ordinary circumstances, we might resist this coerced form of belonging. We might point out that difference and inequality persist, despite the visual uniformity promoted by class pictures. But in moments of crisis, such as the current global pandemic, the togetherness of school, made visible and real in a group photo, appears all the more precious. What is "school" when collectivity—with all its positives and negatives—is suddenly eviscerated everywhere by the threat of infection? What is "school" when each of us sits in front of our own screens in our own private spaces, physically disconnected?
Faux graduation photos are stand-ins creating memories of rituals that will never be practiced in the era of social distancing. The faux graduation selfie shows what Yoko Tawada, in her post-apocalyptic novel The Emissary, so poignantly associates with "the word school." That word, she writes, "still carrie[s] a faint whiff of hope." And so, we might add, does the group picture.
---