Michael Doyle Brings Diverse Experts Together to Solve Global Policy Problems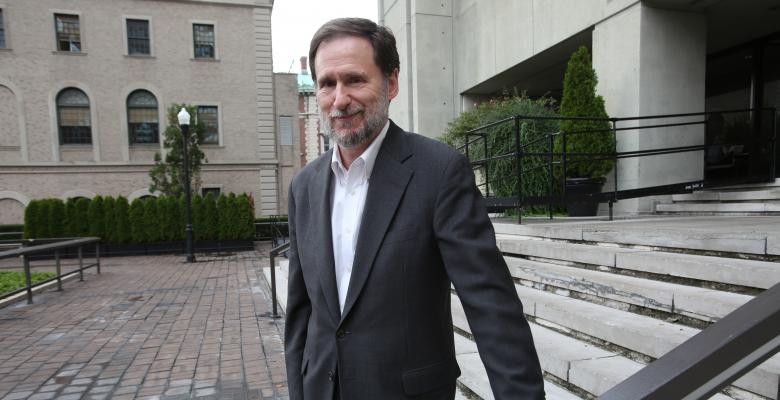 Michael Doyle vividly recalls his first experience with international migration. One evening in 1956 his father, a diplomat then working at the American embassy in Paris, arrived home followed by a bus filled with Hungarians.
"With five minutes notice, he told my mother that we would be putting them up for the weekend," said Doyle, who was 7 or 8 years old at the time. Four Hungarian families fleeing the Soviet-backed regime stayed in their home for several days before beginning the process of moving to the United States.
Six decades later, Doyle teaches at Columbia's Law School, School of International and Public Affairs and Department of Political Science. He is working to create a model treaty that would define the rights and responsibilities of those who cross borders— from tourists to refugees and migrants fleeing for their lives—and of the countries they leave and those that receive them.
"I always assumed I would be doing something international in one way or another. It's the family business, after all," he said. "I thought I would be doing diplomacy or I would be an academic. I've done both."
Doyle joined the Columbia faculty in 2003 after two years as assistant secretary general of the U.N. and special adviser to Secretary-General Kofi Annan.
Since 2013 he has headed the University's Global Policy Initiative, an interdisciplinary forum established by President Lee C. Bollinger to support policy research on real-world problems. Last spring Bollinger named Doyle a University Professor, Columbia's highest academic rank.
"At Columbia we have the world's experts on any topic you can name. But some issues are very complicated and cannot be handled by a single discipline," said Doyle. "We are gathering experts from around the world to develop practical solutions to global problems."0
It is one of many global initiatives Bollinger has created as a way of engaging faculty and students in ideas, research and problem-solving that cut across traditional academic disciplines and geographic borders.
"Research universities in general, and Columbia in particular, are—or should be—major contributors in the effort to address the global challenges we must meet now and in the future to preserve and better our world," said Bollinger. "The Global Policy Initiative blends the best of academic research with serious engagement on specific issues and problems facing the world."
The Initiative is sponsoring a project with Sir Peter Sutherland, the U.N. Secretary-General's Special Representative for Migration and Development, to identify key reforms in international migration. Visiting fellow T. Alexander Aleinikoff, former U.N. Deputy High Commissioner for Refugees, is working with Doyle and an international team of experts, on the effort to create a model treaty. This fall Doyle is teaching a course co-sponsored by the Law School and SIPA in which students will develop proposals for the treaty. The results will be turned over to the experts and may eventually become part of the final model.
Current international law doesn't adequately address the refugee crisis now unfolding in the Middle East and Europe, Doyle said. "There are boats in the Mediterranean, rafts floating off Turkey toward Greece, people walking from Turkey through Bulgaria, through Serbia into Hungary, hoping to get to Austria," he said. "It is a global responsibility but there is no way this responsibility is being organized, realized or institutionalized."
Q. What is the law governing refugees now?
A. The 1951 Refugee Convention and 1967 Additional Protocol, both implemented by the U.N. High Commissioner for Refugees, provide that those who fear being persecuted because of race, religion, nationality, political opinion or membership in a particular social group cannot be expelled or returned to their country of origin. But there is no provision for them to enter a country legally. Refugee status is defined narrowly. Syrians who have been bombed by Assad or shot at by ISIS don't necessarily qualify. If your community has been overrun by civil war, you may have to move to save your life but you don't face persecution under that 1951 definition. Fortunately, many countries have broadened the definition in practice, although they don't have an international legal obligation to do so, to include humanitarian cases.
Q. How could a treaty help in the current crisis?
A. First, it would make clear that the category of refugee is broader than what is in a convention written 64 years ago. We could make it possible for the U.N. Security Council to seize Assad's overseas assets because his bombing is forcing people to flee the country—and ISIS assets too because they are genocidal murderers. There could be a temporary passport for refugees who have to move, issued by the U.N. High Commissioner for Refugees, so they can legally travel to a country prepared to accept them. Now they don't have that access, and their inability to escape has fueled the development of smuggling rings. We have had 3,000 deaths in the Mediterranean this year. We could establish a mechanism to share the cost of asylum. This could increase the chances that some people actually can return home.
Q. What can international organizations do in this crisis?
A. The U.N. is doing a lot, but there is no organized, coordinated system to deal with the current situation. The U.N. High Commissioner for Refugees is the lead agency raising money and providing assistance for asylum seekers in refugee camps in Jordan, Lebanon and Turkey. But that covers only a small proportion of the refugees, most of whom are outside the refugee camps. The International Labor Organization, an agency of the U.N., deals with labor but not necessarily migrant labor. The International Organization for Migration is mostly focused on facilitation of travel but it does not have a policy agenda and is not part of the U.N. system. One option is to make it a U.N. agency so they could participate more in policy dialogue. That's not as easy as it sounds and doesn't solve all the problems. We have people who are moving to get a better job mixed in with people who are moving to save their lives.
Q. Can individual countries do anything?
A. The European Union commission formula for accepting migrants should be adopted worldwide. Germany and France have stepped up but most Eastern European countries have said no. Japan, China, India, Brazil and Argentina all have a responsibility; they're all part of the refugee convention. The United States has said it will increase its quota of 70,000 migrants to 85,000 next year and 100,000 in 2017, which includes only a small percentage of Syrians. That's a drop in the bucket. But these things are not so unusual. My wife's family was driven out of Germany in 1935 and no one would take them. Finally, the British government opened countries in its empire, not Britain itself, so they moved to India. Eventually they ended up in Brooklyn, but that was in 1949, many years later.
Q. Are there specific issues for the United States?
A. An appropriation to increase the refugee quota has to be approved by Congress, which will be a challenge. Our procedures to screen for terrorists are understandable but extremely burdensome when it comes to Syrian applications for asylum. Screening and resettling migrants is costly. We need to invest in more resources and find a way to keep families safe while they're being vetted for asylum status.
Q. How does the current situation differ from past mass migrations?
A. There are 20 million refugees and asylum seekers worldwide, more than any time since World War II. Four million Syrians are living in difficult conditions in Turkey, Lebanon and Jordan. After World War II, after the big movements took place, most migrations were relatively small and often the result of Cold War politics. Hungarians were admitted to the United States in 1956 as a way of exposing the evils of the Communist empire. The expectation was they would never go back. Now the hope is that the Syrians will go back.
Related: Professors Discuss the Rise of the Islamic State of Iraq and Syria, Columbia News, Oct 14, 2015
Q. How does this crisis end?
A. No one should be optimistic. Many of these situations have lasted 10 or 15 years and some never get resolved. There are still more than a million Afghans in Pakistan who have been there since the Taliban came to power in the early 1990s. Some of the Somalis in Kenya fled in 1992. For Syria, it will be resolved only when enough pressure can be put on Assad to sit down at the negotiating table and there can be a concerted effort to crush ISIS. There has to be an understanding among the United States, Europeans, Russians, Turks, Iranians and Saudis about what would constitute a reasonable future, one they can encourage Assad and the rebels to move toward. It's a huge challenge. If ISIS and Assad can drive out of Syria everybody who disagrees with them, imagine what kind of country would be left.
Q. Will there be other migration crises?
A. Climate change has the potential to bring a whole new wave of migrants. Some people say that if the sea level rises a foot or so, there are islands in the Pacific that will be under water in 50 or 60 years. Bangladesh has tens of millions of people who live within a few feet of sea level. Cyclones and hurricanes will have a serious effect, there are droughts in parts of Africa. We may see huge migrations of people fleeing to survive. Some of the unrest in the Middle East is driven by drought, which puts countries under stress. Syria has had a 10-year drought. On a smaller scale, gang violence in Central America is driving north unaccompanied children, who are hoping their parents can eventually join them.
Q. What else is the Global Policy Initiative focusing on?
A. [University Professor] Wafaa El-Sadr at the Mailman School of Public Health is using what she has learned in her research on HIV and AIDS to find ways to deal with non-communicable diseases such as heart disease and diabetes now spreading in Africa and Asia. [University Professor] Joseph Stiglitz at the Business School is doing research focused on the costs of inequality, and Sarah Cleveland at the Law School is working on improving protection for combatants and civilians in armed conflicts. The other thing I want to brag about is that we gave this wonderful opportunity to rising seniors to do an international thesis project with us funding their overseas research. They're enterprising researchers doing fascinating projects, ranging from a study of how churches in the Netherlands managed interreligious tensions in the 17th Century to research in Bali on how to preserve tropical reefs.