For Musician Sondra Woodruff, Music Is More Than Instruments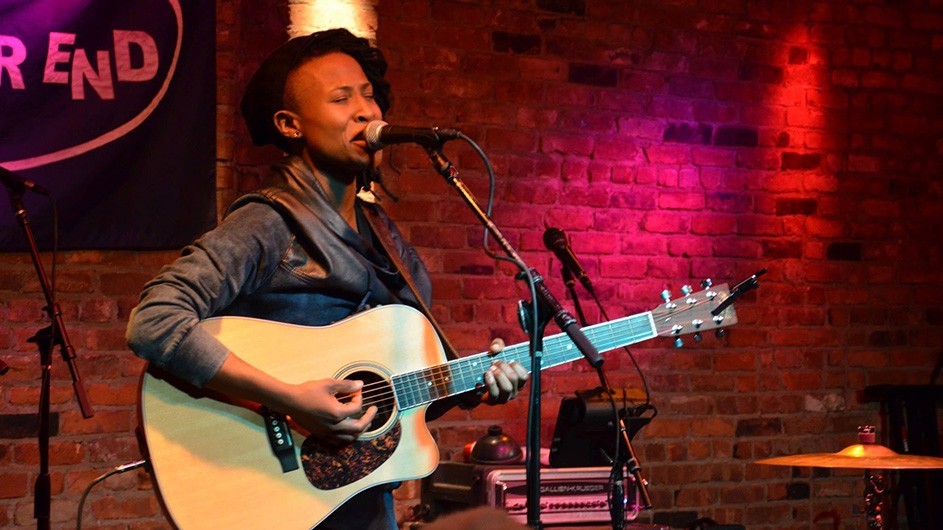 Sondra Woodruff has spent a lifetime making music, and 20 years in the music business, but only got around to studying it at Columbia three years ago. She grew up in a musical family in Pittsburgh, where she followed in her parents' footsteps by playing multiple instruments. After graduating from high school, Woodruff pursued her dream of becoming a professional musician. She traveled the world, touring with stars such as the Backstreet Boys and Taylor Swift. Eventually, she decided to continue her education.
Q. What made you want to come to Columbia?
A. My decision was based on a letter I received while I was attending the Borough of Manhattan Community College in New York City. I had not applied to Columbia, but I got this information letter that said, "The School of General Studies is a place for nontraditional students to be fully integrated in a traditional liberal arts setting." That sold me. As someone who had been a professional singer, composer, musician and recording artist for 20 years, I didn't want to return to school as an adult learner or a night schooler.
Commencement Student Stories
Q. How did you become involved with music?
A. Growing up in Pittsburgh, I always wanted to play the recorder. That was the big thing in school, the little plastic white and red recorder. I didn't get to play that so I started out just trying to find many instruments to play—flute, saxophone—my father plays the sax, my mother is a flutist, basically each member of my family plays multiple instruments. I added trumpet and French horn, and in high school I started a guitar class that still exists today. Then I moved on to the bass, piano, harmonica and so on.
Q. Why did you decide to go back to school after a career in the music industry?
A. When I was around 17 or 18, I wanted to try and be a famous musician and I had some really great opportunities. I toured with the Backstreet Boys, I played with Taylor Swift and LL Cool J. But I always wanted to find a way to complete my education and give back to the community.
Q. How did Columbia help you achieve those goals?
A. I learned how to pick apart music here in a way that I never had before. Columbia gave me access to people like neuroscientists who are thinking outside of the box about music, how it affects your mind, your moods, your behavior. By understanding what is going on chemically and biologically in your brain when you create or listen to music, you can use it to promote empathy. Being at Columbia showed me that music doesn't just have to be about playing an instrument; I can use it in so many different ways in life. One example is For the Daughters of Harlem: Working in Sound, a Columbia program I taught in where we were able to bring young women of color to campus and show them the process of recording, from song lyrics to playing the guitar to working with all the technology in a studio. Watching their faces light up and having one student say, "I didn't realize there was a space for me, that I could be in this space," was so rewarding. I want to continue showing women that there are multiple platforms and safe spaces available for them in the music industry.
Q. What are your plans after graduation?
A. First I'm going to spend a month with the HLAB teacher training program in Japan, where I will give lessons to high schoolers about the connections between music and the brain. Then I'm going to move back to Pittsburgh. I've lived in New York for 10 years and I love it, but I have work to do in my hometown. Two friends and I are going to open Limelight Studios there, a fully equipped music facility and co-working rehearsal space of the sort that does not exist there. We're going to do workshops to help develop individual artists and bring in professional musicians to work with young people and help them incubate bands and learn about the music industry.