A New Era of Research Partnerships Tips Off at Columbia
The NSF's Erwin Gianchandani met with members of the Columbia community to discuss ways to bring science out of the lab.
July 22, 2022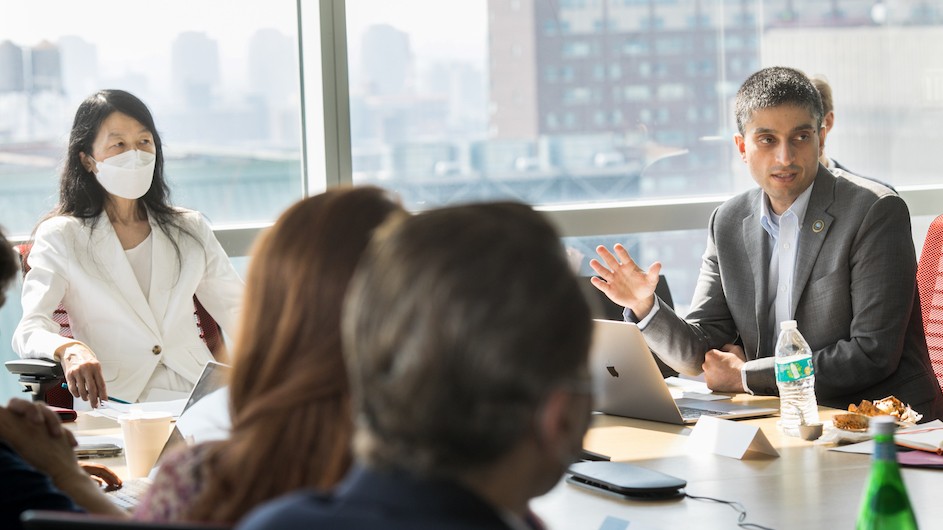 On July 21, Columbia University welcomed the National Science Foundation's Dr. Erwin Gianchandani to its Morningside Heights campus for a roundtable discussion with Jeannette Wing, executive vice president for research and professor of computer science at Columbia; several researchers and students at the university; and representatives from venture capital firms, including Digitalis Ventures and Lower Carbon Capital, and companies such as Amazon, Google, IBM, JP Morgan, and Microsoft. 
Gianchandani is the inaugural head of the Technology, Innovation, and Partnerships (TIP) Directorate at the NSF—the first new directorate established in three decades. The TIP Directorate was formed in March following bipartisan approval in Congress to encourage use-inspired, solution-oriented, and translation-driven research to meet social and economic needs. 
Gianchandani has a background in computer science and biomedical engineering and a decade-long history with the NSF, leading collaborations among government, industry, and academia. He spoke to Columbia about TIP's mission. 
"The TIP Directorate at NSF constitutes a paradigm shift in how we think about science and engineering, and how we think about bringing together folks to help address pivotal challenges we face today," Gianchandani said. "We want to engage the users, the beneficiaries, and the consumers of research from the very beginning, and we need to bring together multisector teams that span academia, industry, and other stakeholders."
"We want to engage the users, the beneficiaries, and the consumers of research from the very beginning, and we need to bring together multisector teams that span academia, industry, and other stakeholders."
The meeting was held in the glass-clad Northwest Corner Building, which houses biologists, chemists, engineers, and physicists, and stands as an embodiment of Columbia's commitment to encouraging collaborations across disciplines and beyond the university. "I wanted [the NSF] to hear how we actually engage with many kinds of partners—industry, community partners, other academic partners, VCs—to innovate and have impact," said Wing, who stressed the role of federal funding agencies like the NSF to scale up models of engagement and incentivize new parts of the innovation ecosystem.
During the roundtable, attendees discussed several effective and emerging models for encouraging partnerships between industry and venture firms and how those can be extended to universities to translate basic research from labs to real-life applications.
"This is music to my ears," said Wafaa El-Sadr, director of Columbia World Projects, ICAP, and an international expert in epidemiology and infectious diseases. "My whole career has been focused on taking research into action and how we can make a difference for people in this country and around the world." El-Sadr noted that TIP's mission aligns closely with the university's Fourth Purpose, an effort championed by Columbia President Lee C. Bollinger to help universities realize real-world impact and for which partnerships will be critical. 
Following the roundtable, students from Columbia's Makerspace, Space Initiative, and Formula Racing Team gave short presentations about their groups' activities and how they engage with industry and government partners. Ryan Wu noted a partnership between users of the Makerspace, local New York health systems, and manufacturing partners to design and produce more than two million face shields during the pandemic. The Space Initiative chooses its projects in response to NASA competitions and has formed partnerships with various start-up firms and aerospace companies to deliver prototypes, including a recent payload experiment to the International Space Station. The Formula Racing team works with manufacturing firms outside the city to weld their chassis and construct their engines. The team has recently partnered with General Motors and Tesla, which is providing free batteries for a new electric vehicle prototype.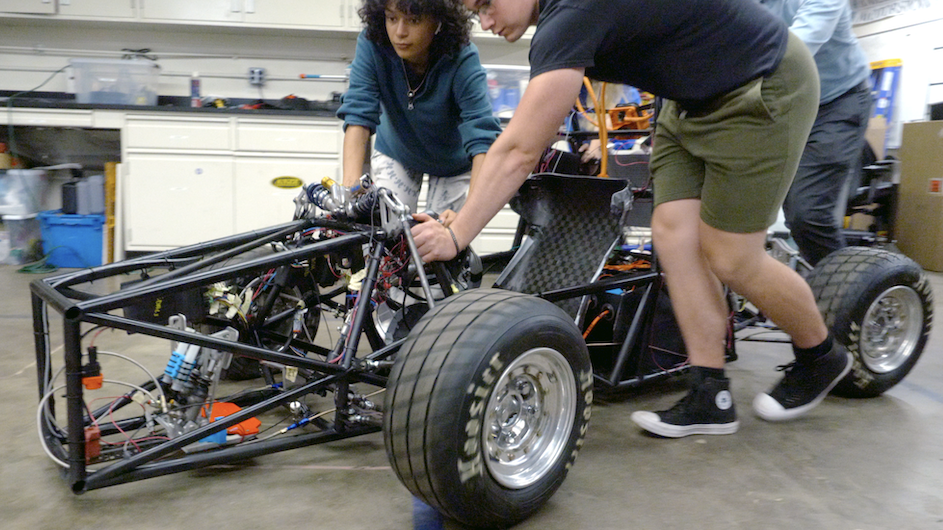 These successful partnerships form in response to outreach from club members, and via networks of alumni who have gone on to industry positions. "When I talk about meaningful partnerships, it's the expertise; it's the access to resources; it's the access to specific problems, and also the ability for us in parallel to provide our students with meaningful experiential opportunities that complement what they are learning in a classroom setting," said Gianchandani.  
Gianchandani noted the openness of the community members and students to share their experiences at the roundtable. Success, he said, will come down to all stakeholders of the research process thinking through emerging technologies, the positive societal disruptions that will follow, and how to engender new workforce capabilities for students to fill.