Nobel Peace Prize Laureate Addresses the Future of African Leadership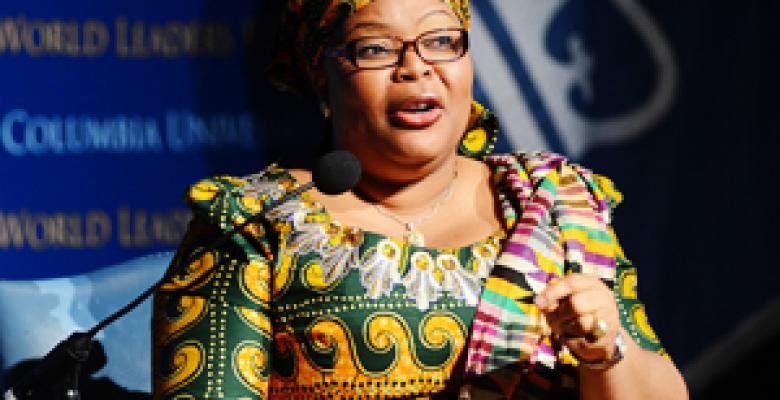 When Liberian activists held a sit-in, their whole nation stood up and noticed.
Activist Leymah Gbowee helped mobilize a large number of women to pray and protest for peace after years of Liberian civil war. In one notable action in 2003, she led a delegation of women to nearby Ghana, where women protesters attired in white t-shirts sat arm-in-arm in front of a hotel meeting room where peace negotiations were underway. The moral leverage of the sit-in did not by itself stop the war and end the regime of Liberian strongman Charles Taylor, who soon resigned, but as Gbowee writes in her autobiography, "What we did marked the beginning of the end."
Her pivotal role in helping to usher change in Liberia led to Gbowee sharing the Nobel Peace Prize in 2011.
Gbowee appeared recently at a Columbia University World Leaders Forum, where her unwavering voice and compelling life story—from social worker to internationally renowned peace activist—captivated the audience. The event, filling the Low Library rotunda, was co-sponsored with the Earth Institute's Advanced Consortium on Cooperation, Conflict and Complexity.
Wearing a colorfully patterned dress of green and orange, Gbowee wasted no time in getting to her main point—that sound leadership requires accountability. Too many African leaders have been "autocratic and egotistical," she said, noting that they also had "spending habits as big as their flamboyant personalities." Corrupt leaders, she said, had used the continent's wealth to enrich themselves and their children, while necessities like education and healthcare for their citizens were neglected.
As students listened intently, Gbowee also expressed optimism. She argued for changing the focus from loud leaders to the silent ones, who sacrifice their time and energy in local communities, often working with limited resources.
That is how Gbowee started, never imagining she would be a Nobel laureate, sharing the Peace Prize with Ellen Johnson Sirleaf—who later became president of Liberia, and Tawakkol Karman, a noted Yemeni journalist and activist. At the conclusion of Gbowee's lecture, Peter T. Coleman, a professor of psychology and education who directs Columbia's International Center for Cooperation and Conflict Resolution, fielded wide-ranging questions from the audience.
Victoria Nneji, a Nigerian-born undergraduate engineering student, asked Gbowee her thoughts about those like herself who live and study abroad, but wish to return to Africa to work on social justice issues. Gbowee was clear: start local.
"Please do not adopt the mentality of 'I'm going back to save them,'" Gbowee said, adding, "Go with the attitude of wanting to learn."
Asked a question about helping Africa, Gbowee said not to try to plan policy from afar, but to go to the continent firsthand and experience it viscerally.
She offered a cautionary story about a community in Africa where women would walk a long distance to get water. After a non-governmental organization came and built a hand pump in the middle of the community, the alcoholism rate shot up and marital strife increased. It turned out that the time spent walking and drawing water was when women would talk to one another about their problems and speak about their feelings. The hand pump had removed their space for expression, Gbowee said.
David L. Phillips, who directs Columbia's Program on Peace-building and Human Rights at the Institute for the Study of Human Rights, arranged for Gbowee's participation in a women's conclave in Sri Lanka last August. "Her experience working in Liberia is transferable to other developing countries," said Philips, adding, "Her lasting and enduring contribution, in my view, is applying Liberia's lessons globally."
Yvonne Moore, who is chief of staff and chief operating officer of Gbowee Peace Foundation-USA, has known the Nobel peace activist for about five years. She said that when Gbowee speaks of the women's movement or peace movement, she never hears the Liberian activist speak in terms of "me" or "I." Instead, Moore continued, "Gbowee uses 'we,' as in 'what we can do.'"
As the question period came to a close, Miki S. Noguchi, master's degree candidate at the School of International and Public Affairs, asked, "Is there a way that we could get you to come to Columbia and be a professor?" Laughter ensued when this outspoken, mince-no-words activist said that could mean "trouble!"
Gbowee will return to Morningside Heights in May, where she will be Barnard College's commencement speaker.