Our Current Immigration Crisis Through a Historical Lens
Scholars discuss recent immigration issues, xenophobia, and state violence in a department of history webinar.
November 24, 2020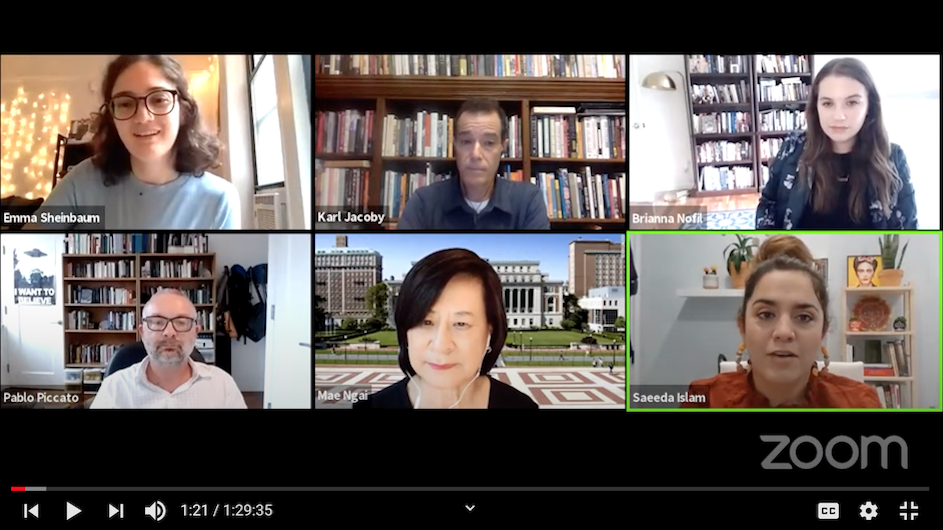 This fall, the department of history held the third installment in their monthly panel series "In Conversation with Historians: Immigration Justice, Xenophobia, & Histories of Violence" that featured Professors Mae Ngai, Pablo Piccato, and Karl Jacoby of Columbia University and Assistant Professor Brianna Nofil (GSAS '20) of the College of William & Mary. 
The scholars discussed histories of migration, xenophobia, border law, and government violence against Indigenous and immigrant peoples with co-organizers and moderators Saeeda Islam, the department of history's faculty affairs coordinator and Emma Sheinbaum, the department's communications and development coordinator. The conversation contextualized today's immigration justice crisis, the U.S.'s relationship with Mexico and Indigenious peoples, the rise of U.S. Immigration and Customs Enforcement (ICE) and U.S. Customs and Border Protection (CBP) and local law enforcement, and the humanitarian crisis in detention centers, among other topics.
Immigration Is an Imagined Problem
Mae Ngai, Lung Family Professor of Asian American Studies and Professor of History, discussed the universal patterns of migration and how ideas of immigration have evolved over time in the United States. Throughout history, people have resettled for various reasons, from fleeing famine and war to seeking religious freedom. In the United States, up until the 1920s, there were no numerical limits on immigration. However, over the last 75 years or so in our country, the idea that we need to cap immigration has become normalized. The criminalization and governmental limitations of immigration has cultivated a dangerous environment in federal policy. "Immigration is not a problem to be solved," Ngai said.
The History of the Mexican and United States Border
To better understand our current immigration situation, Karl Jacoby, professor of history and co-director of the The Center for the Study of Ethnicity and Race, discussed the history of the United States and Mexican borderlands. The creation of this border can be traced back to the war with Mexico from1846 to1848. "This is really one of our most naked land grabs in American history," Jacoby said. 
He went on to state how the resistance from Mexico was fierce and organized, but it was framed by the U.S. as the result of random "bandits," and thus began the narrative of Mexicans as criminals.
The Rhetoric of the Violent Mexican Immigrant
The current administration has used the rhetoric of violent immigrants to further its anti-immigrant agenda, but the notion of Mexicans as criminals is not new.
"As Karl mentioned the image of Mexicans as bandits has a long history," said Pablo Piccato, professor of history, specializing in Mexican history. The Mexican Revolution in 1916 played an important role in furthering this image, and there was this idea that Mexico was "an anarchic environment" at that time. The concept of the Mexican criminal, however, was cemented in the last few decades during the United States' war on drugs in Mexico. "The idea that Mexicans are dangerous, but the reality is that hate crimes against people from Mexico and Latin America are increasing," he said. "They are in fact, victims of violent crime more often than not." 
The Role of ICE 
Saeeda Islam asked Brianna Nofil, assistant professor of history at the College of William & Mary, how ICE operates. Nofil noted that ICE was created fairly recently, in 2003, during a moment of heightened security in a post-9/11 era. "If you're confused about its mission, I think that's by design. It has a mission that is both incredibly expansive, but also ill-defined." She continued, "I think that the reality that there is this lack of clarity in ICE's mission and in what ICE's priorities are, make it really flexible and kind of make it able to suit and be used by various political agendas." Its vague mission and the many different types of law enforcement entities has led to a lack of protocol.
---
Watch the full webinar below.