Prime Minister Sanna Marin of Finland Is Coming to Columbia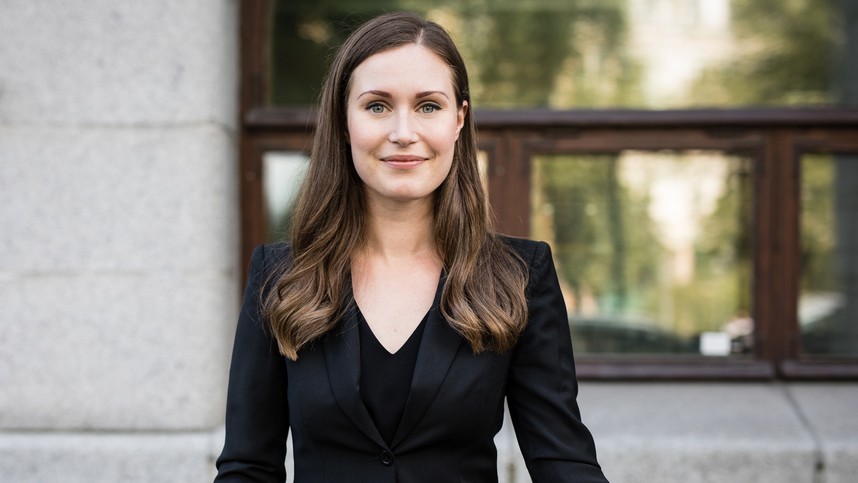 On March 6, 2020, Prime Minister Sanna Marin of Finland will speak at the World Leaders Forum at Columbia University. Her talk, which will focus on climate change, gender equality and social welfare, will include a question and answer session with students in the audience. Marin will be introduced by by Alexander N. Halliday, director of The Earth Institute, and the discussion will be moderated by Karenna Gore, director of the Center for Earth Ethics. Registration is currently open for this event.
Marin was sworn into office in December 2019 and is the youngest head of government in her country's history. She  leads a coalition and cabinet dominated by women. She is visiting New York to attend the United Nation's observance of International Women's Day.
Columbia News reached out to Marin ahead of her visit with a series of questions. Here is what she had to say.
Q. Why did you want to come speak at Columbia University during this visit to New York and the United Nations?
A. Climate change is perhaps the most pressing issue facing us globally. Students and the younger generations will have to tackle this challenge and take the lead. I wanted to have the opportunity to interact with students, to tell them about how we in Finland intend to address the climate crisis, but first and foremost to listen to the concerns and views of the students. 
Q. What do you want students to take away from your talk at Columbia? What do you hope to instill in this audience?
A. The Finnish and the Nordic model in general is based on a holistic view of sustainability—environmental, social and economic sustainability all together. I hope to convey that we must address all these issues at once and not separately. I would also say that it is important that we recognize the gravity of the climate crisis without letting us be defeated by the enormity of the challenge. I firmly believe we have the policy and technological tools we need to take decisive climate action. 
Q. Tell us about your goals for Finland under your government and the ways that Columbia and institutions like it can help further them.
A. Our government program is based on the three dimensions of sustainability: social, economic and environmental. In many ways, this is how Finland has always looked at what defines prosperity and progress. The government will work to ensure that Finland is climate neutral by 2035. We will do this by accelerating emissions reduction measures and strengthening carbon sinks. The European Green Deal approved last year provides a roadmap for all of European Union member states on how to build an environmentally sustainable future.
Universities and research institutions are key actors in delivering this change toward a sustainable society. All decisions should be based on scientific evidence and knowledge.
Q. Have you read President Lee C. Bollinger's recent letter announcing the formation of a climate change school and other climate-related institutional developments? What are your thoughts?
A. I did have the chance to read the letter and would like to congratulate the University on taking such an ambitious approach to reach carbon neutrality by 2050. It is very exciting to hear about Columbia's plans to develop a climate school and I hope that some of the Finnish universities leading on climate and sustainability research will collaborate with the new school. 
Q. What do women, in particular, bring to the table in the fight to combat climate change?
A. Half of the population! Overall, we need a more diverse and more representative decision-making system. We know that women and girls have a huge impact on how our efforts to tackle climate change are being implemented. At the same time, women are not equally represented in decision-making in different levels. 
Q. You became interested in politics while at university. What advice do you have for Columbia students who might want to go into politics? 
I got in to politics because I felt that the older generation didn't do enough to solve the critical issues of our future, such as climate change and inequality in society. I wanted to do my own share to make the world a better place for everyone. We cannot just sit back and expect someone else to act. There is no one else, there is just us. We all have to fight each and every day for equality and a more sustainable future.