Professors Embrace New Technology to Adapt to Online Instruction
With the help of the Center for Teaching and Learning, Columbia faculty have harnessed Zoom, CourseWorks, and other digital tools for their remote classrooms. 
October 07, 2020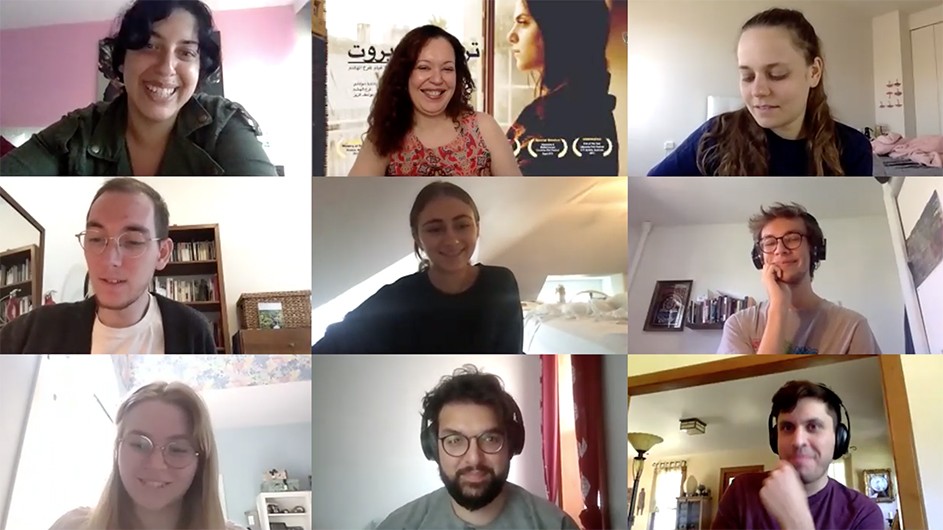 As an unprecedented fall semester progresses, Columbia faculty members have been busy figuring out the most effective ways to adapt their courses to online and hybrid/HyFlex formats. Professors are exploring how to use technology intentionally to produce the best learning experience for their students.
"The individual and collaborative efforts of faculty have been remarkable. All of us who are teaching this semester have felt some anxiety about relying on a virtual medium, and that anxiety has been channeled into wonderfully productive conversations about teaching," said Lisa Hollibaugh, Dean of Academic Affairs at Columbia College.
Many instructors have engaged with Columbia's Center for Teaching and Learning (CTL). Between May 1 and August 31, professors had more than 1,000 consultations with the CTL, and over 1,200 of them participated in the CTL's new Hybrid & Online Teaching Institute, which shows users how to adapt courses to online or hybrid formats.
"Instructors are committed to creating community and connections with their students in totally new ways in order to sustain the kind of engagement that is at the heart of teaching and learning at Columbia," said Catherine Ross, CTL executive director.
Here several faculty members from around campus share their experiences shifting to online teaching and offer suggestions: 
Annie Pfeifer, Professor of Germanic Languages
"Instead of trying to recreate the physical classroom experience, think about ways you can provide a different kind of experience by using the features of Zoom, CourseWorks, polls, and even the chat function over Zoom. For me, teaching online works best when I stop comparing it to the 'real thing' in person," said Pfeifer. "In the CTL workshops, I learned about the multiple functions of CourseWorks, which make it easier to grade and keep track of assignments. I am also using the 'collaboration' feature on Courseworks for sharing notes with students."
In terms of asynchronous coursework, Pfeifer aimed to rethink and retool storytelling in her class, "Grimms' Fairy Tales: Power, Gender, and Narrative," by asking students to "transcribe and record their own fairy tales and post them online to create a kind of virtual storytelling community, where they can listen and engage with each other." 
During synchronous class sessions, she took advantage of polls (especially Poll Everywhere) to stimulate class discussion. "Since the polls are usually anonymous, they allow quieter or less vocal students to voice their opinions about a text or question in a lower-stakes setting," said Pfeifer. "Right now, it seems like we have more class discussion and participation over Zoom than I often do in an in-person class. The key seems to be providing students with different forums to participate: breakout rooms, the Zoom chat function, and a discussion board. I also asked students to submit a voluntary technology survey, which alerts me to the challenges they might be facing with remote learning. Their responses often contain practical suggestions and feedback that I try to incorporate into my classes."  
Sailakshmi Ramgopal, Professor of History
Ramgopal created a new interactive online mapping project for her undergraduate seminar, "Mobility and Identity in the Roman World." The course focuses on the relationships between the migratory patterns of marginalized populations of the Roman empire and Roman law, society, and culture. The mapping project provides students with a hands-on opportunity to plot data from inscriptions and other sources related to migratory phenomena, and to explore the questions that arise.
"The shift to remote teaching motivated me to develop this project so that students can learn the work that historians do outside of reading assignments and classroom discussion," said Ramgopal. "This project allows for creativity and spontaneous exploration, which are fundamental to writing compelling, thoughtful history."
Thomas A. DiPrete, Giddings Professor of Sociology
In his undergraduate sociology seminar, DiPrete implemented simple yet meaningful ways to help students feel included and heard in an online arena.
"In the first class, we discussed how to create an open, welcoming environment, particularly involving class discussion, which is an important component of the course," DiPrete said.
He spoke with all the students individually outside of class, and discussed the pros and cons of the various ways of getting into class discussions—physically waving one's hand, sending him a chat, doing an electronic hand wave, or just starting to talk, making DiPrete the gentle traffic cop to keep students from talking over each other. He also enters the Zoom room a few minutes before class begins in order to chat informally with students who have arrived early, and he stays online for a while after class has ended so that students have a chance to ask questions or share their thoughts with him.
Rym Bettaieb, Lecturer in Arabic Language, Department of Middle Eastern, South Asian, and African Studies
Over the summer, Bettaieb worked with the CTL to learn how to employ Courseworks and Zoom to transition her Arabic courses online.
"Thanks to the CTL, I am able to upload teaching material for each day (handouts, videos, readings, homework assignments, quizzes, etc.) on my CourseWorks course page. I divide my time with students between 'Zoom on' and 'Zoom off,'" said Bettaieb. "During Zoom on, we go over class material together and correct drills they have worked on. During Zoom off, students study new material and prepare questions for Zoom on sessions. I always arrange for a short time between our Zoom on and Zoom off sessions in order to answer any student questions. I also hold an office hour with video that grants each student 10 minutes to meet with me individually."
"The students were a bit nervous in the beginning of the course about the new online format and virtual mode of learning," said Bettaieb. "However, they soon realized that they were not missing or skipping any aspect of learning a new language. All the skills (speaking, writing, reading, listening, and culture) were integrated into each class."
The online format also allows Rym to hold cultural events that would be difficult to organize in a physical classroom. Recently, her class hosted Farah Alhashim, a Kuwaiti-Lebanese movie director, after watching her movie, Breakfast in Beirut, on Zoom. Alhashim joined Bettaieb and her students from a small town in the South of France, where she was quarantined. 
"My students were very happy to interact with her, and felt close to her work and creative ideas despite the physical distance that separated us," said Bettaieb. 
---
Laura K. Nicholas is communications and outreach manager at Columbia's Center for Teaching and Learning. Catherine Ross and Amanda Irvin assisted her with this story.