How Do You Paint A Portrait When Your Subject Is Halfway Around the World?
Professor Aliza Nisenbaum shares the creative process behind her current solo exhibition at the Tate Liverpool in England.
February 17, 2021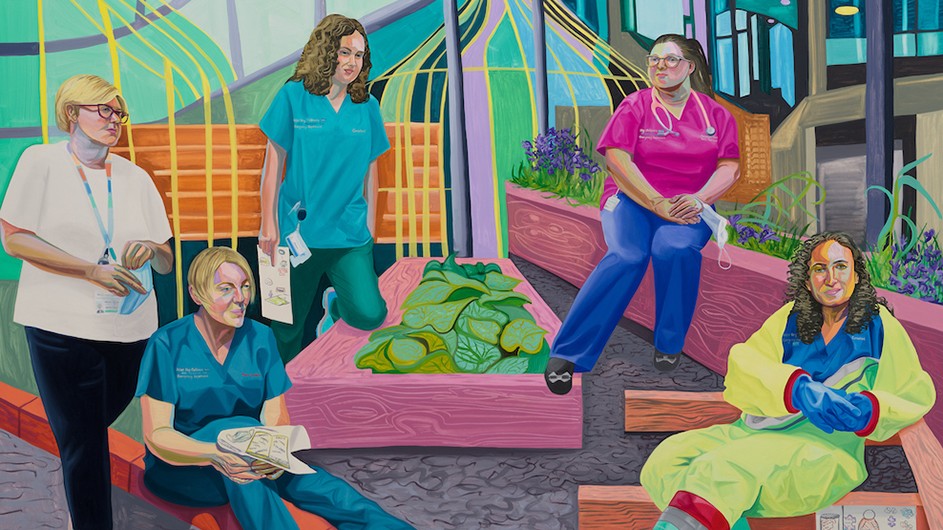 On February 2, 2021, Professor Aliza Nisenbaum, who teaches in the visual arts program at the School of the Arts, and Tom Kalin, a film professor at the school, discussed Nisenbaum's current solo exhibition, which is on display at the Tate Liverpool in England through June 27, 2021.
The online event was the latest in SoA's Complex Issues series, which, as Dean Carol Becker noted in her introduction, explore difference, visibility, and representation through recent work by Columbia faculty. "We have explored and will continue to explore creative practices that engage social and political initiatives committed to reimagining and transforming our frayed relationships between humans, other species, the planet, and ourselves," she said.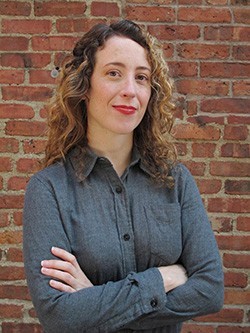 Diverse Communities and Social Justice
Nisenbaum is known for painting individual and group portraits that focus on diverse communities and issues of social justice.
She gave a presentation on the Tate Liverpool exhibition by sharing her screen with the audience to show images of paintings included in the show. There are two large-scale group portraits and 11 individual portraits, as well as three films, one of which documents Nisenbaum's creative process during the pandemic.
"The exhibition captures the stories of British frontline National Health Service workers, and highlights the impact that COVID-19 has had on their jobs and home lives," she said. "Sitters include a professor of outbreak medicine, a respiratory doctor who became a father during the first wave, and a student nurse who comes from a family of nurses who all chose to return to frontline work."
When Nisenbaum and her team initially put out open calls to different hospitals in Liverpool, the response was robust. Among the submissions was a group of medical practitioners from Alder Hey Children's Hospital, who wanted to be represented by Nisenbaum.
"I was supposed to be on site in Liverpool last spring to start this project," she said, "but as things shifted very quickly, I ended up working remotely between my studio in Los Angeles and Liverpool."
Doctors, Immigrants, Dancers, Subway Workers
Previous subjects of Nisenbaum's include undocumented immigrants, dancers, members of grassroots organizations, and subway workers. Typically, she spends long stretches of time with them, but the pandemic made that impossible.
So Nisenbaum got to know her subjects by talking to them via video link. From these conversations, she was able to include elements of her subjects' personalities and interests in her paintings. The sitters are shown alongside things that gave them support and hope during the shutdown, such as pets or musical instruments. 
Nisenbaum played a short excerpt from the film that documents how she painted the portraits. Speaking was Dr. Lalith Wijedoru from Alder Hey Children's Hospital: "For the first time in my life, I had a four-month period of not being able to touch anybody. I used to lie on the slate tiles in my kitchen, on the laminate floor in my corridor, and on different fabrics just to simulate a different sort of sensation on my skin."
Wijedoru's story is one of many that Nisenbaum heard remotely. "I was interested in thinking about how to commemorate hospital staff that were working such long hours," she said.
A Different Type of Connection Via Zoom
"With Zoom, we can't look each other directly in the eye," Kalin said. "We watch one another while we also watch ourselves, which is a potentially very chilly, closed loop. But Aliza's paintings are so warm and alive." 
Kalin asked Nisenbaum how it felt to go from sharing intimate sittings with her subjects to suddenly painting them by herself in her studio. "It provided a different type of reflection," she said, "because I would spend an hour initially over Zoom conversing with each one of them. For example, Calum took me on a video tour of his home and showed me all the watercolor artists from Scotland that he collects. There was a lot of back and forth with all of them via email and Zoom, and a lot of time to think. In some ways, I had more time to reflect on the compositions without having that kind of direct energy I get from people when I'm painting them from life."
Watch the video documenting Nisenbaum's creation of the Tate Liverpool paintings here.