Take Yourself on a Walking Tour of Columbia University's Morningside Campus
Michelle Young, GSAPP alumna and faculty member as well as founder of Untapped New York, helps reacquaint us with the can't-miss spots of Morningside campus as students return this fall. 
August 23, 2021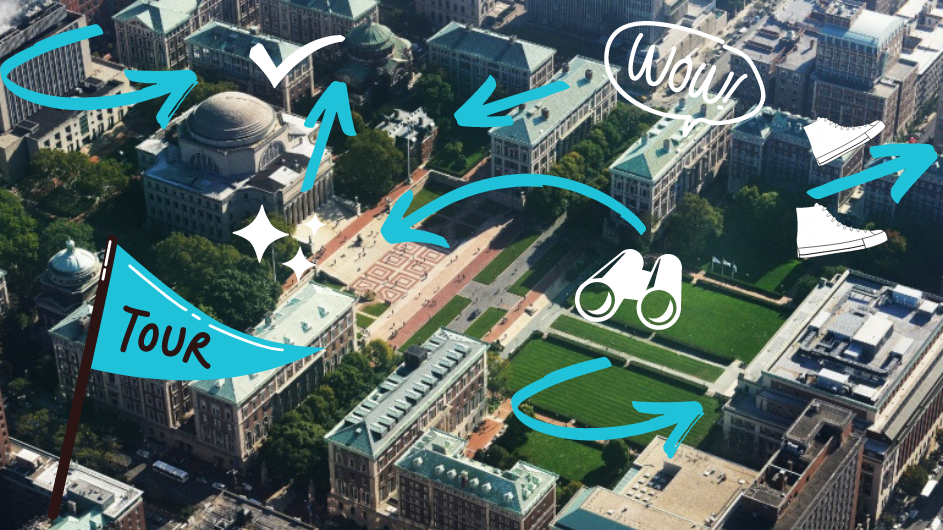 If there's anyone you want to go on a walking tour of Columbia's Morningside campus with, it is Michelle Young, GSAPP'12. Not only is she a graduate of the Graduate School of Architecture, Preservation, and Planning and, now, a faculty member teaching the Urban Studies studio in the New York/Paris program, she is also the founder and leader of Untapped New York, which uncovers the secrets of New York City one-by-one. 
"I created Untapped New York in the summer before I attended the New York/Paris program at GSAPP," Young said. "I had taken a class in sustainable design and planning at Columbia GSAPP the semester before, along with a class with Kate Ascher about New York City's infrastructure, and I felt really inspired to create a website that could bridge the gap between the academic discussion of architecture and cities, and the popular consumption of this kind of content."
While in the Urban Planning program at Columbia, Young found support among her classmates, who were some of the first contributors to the viral website, and Professor Mojdeh Bartaloo who encouraged her to publish her classwork on the website instead of doing standard Powerpoint presentations or papers.
"I graduated in 2012  and was full-time on Untapped New York within the next year," Young said. "Since then, it's grown to have three main channels of business: the online magazine, tours, and an experience membership program called Untapped New York Insiders. I fought hard to turn my passion into a sustainable business and I'm really thankful that I was able to do so."
As Columbia prepares to return to campus this fall, we could think of no better person to help reacquaint us with the Morningside campus and reveal some of its best secrets.
If someone were walking onto the Morningside campus for the first time, what are the can't-miss spots for a walking tour?
My favorite architectural spot at Columbia's Morningside campus is St. Paul's Chapel. The tiling is by Guastavino, immigrant master tilers who worked on everything from Grand Central Terminal to Ellis Island and many other notable New York City landmarks. You'll notice their distinctive cross-hatch tiling pattern in the stunning dome, staircases, and hallways in St. Paul's. Then downstairs is a coffee shop and music venue, Post-Crypt Coffeeshop that is open during the academic year [reopening this fall, after temporarily shuttering due to COVID-19].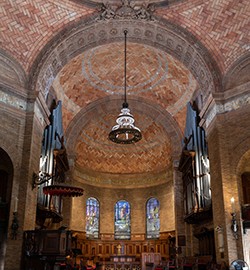 I also love Buell Hall, which is the only remnant of the mental asylum that used to be on this site and was built in an "elevated" architectural style for rich patients! 
One of the true original discoveries a writer of Untapped New York made several years ago was locating the mantel in front of which Edgar Alan Poe wrote his famous poem The Raven. It had been donated to Columbia and lost for decades until our writer found it in a storage room in Butler Library. After the discovery, Columbia moved the mantel to a more prominent spot the public can visit.
And finally, go to the Alma Mater statue to get a great viewpoint of the campus and see if you can find the hidden owls! 
Are there any must-see architectural or historical marvels that lay right off of Columbia's campus that should be included on this walk?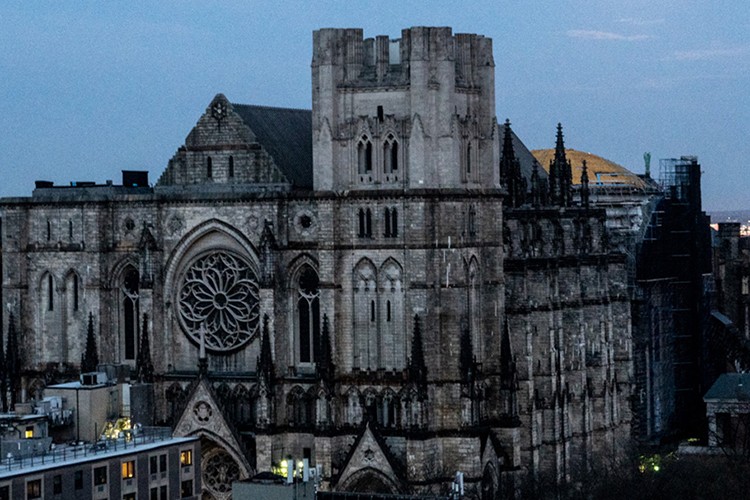 St. John the Divine should not be missed for sure! Then grab some pastries at the Hungarian Pastry Shop across the street.
What is your personal favorite spot on Columbia's campus?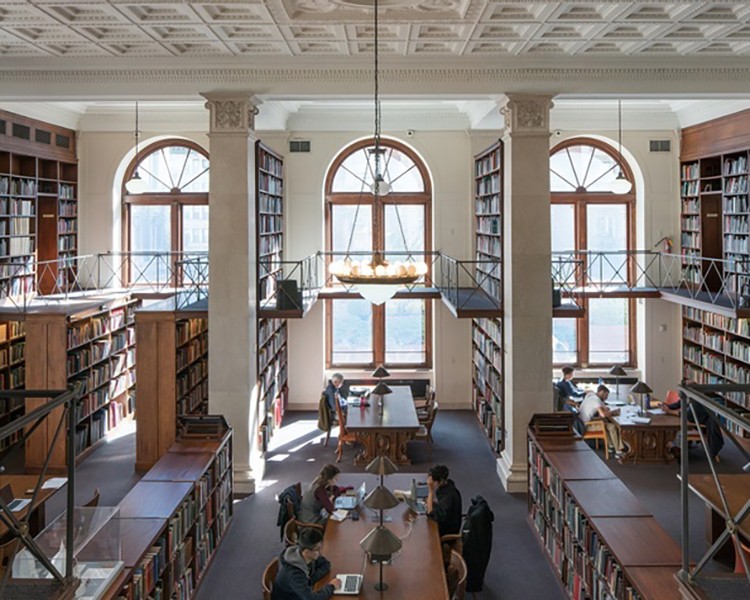 I love being in Avery Library. It's one of those old-school libraries filled with wood, tall bookshelves, and green lamps where you feel like "ahh, this is what being in a school with a long history is all about." Yet, it's fairly small so you don't feel lost in it. 
You were both a student at the Graduate School of Architecture, Planning, and Preservation and now teach at GSAPP. What are some of your fondest memories from your time at Columbia?
Columbia University, and specifically GSAPP, is where I pivoted my career from working in the fashion industry to urban planning and architecture. I'm so grateful for the mentors I had here, including the late Mojdeh Baratloo, who really supported my idea to create Untapped New York. Almost all of my favorite memories come from the late nights in studio with my fellow students in the New York/Paris program and in the Urban Planning program. There's no better bonding than trying to finish a project with very little sleep and having your friends/fellow students there too in the same boat — you laugh at really stupid things and somehow usually manage to find that moment of clarity when everything comes together.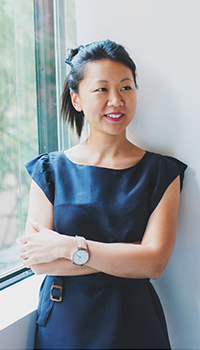 In my time there, there was a Tumblr blog that popped up that just showed GSAPP students sleeping in studio! And another blog that showed photos of the things that were randomly printed to the 6th-floor printer (because it was the default for the whole school!). Those were hilarious. 
I've been teaching the Urban Studies studio in the New York/Paris program since 2014 and it's been such a great experience for me to give back. I hope that my students have something of the transformative experience I had here, which really propelled my career forward. We study a specific site in New York City each year, and I structure it like a crash course to urban planning and design, so students do everything involved in the process of city-building from research, to policy, to design. Usually, students discover what their passion is by having to try their hand at things outside their comfort zone. 
How would you encourage Columbians to cultivate their sense of wonder about the City of New York during their time here?
You should explore New York City just like you would as a tourist, whether you are from New York City or here for the first time. It's easy to get caught up in your classes but part of coming to Columbia is about taking advantage of the "best" city in the world!
And I can promise you that even after twelve years of writing about New York City's secrets and hidden gems, there are always new discoveries to be made even for me! Use the subway and choose a random station you haven't been to before, or take a subway line to the end of the line to see what's there.
I often go to places, not with a definitive list of places to check out, but just to take in the vibe of a neighborhood or city, and then let my curiosity lead me to cool spots. Keep your eyes open, look up, down, and all around. Engage with people and ask questions, as real New Yorkers actually really love to chat and share information! If you prefer a more guided experience, join some of our tours or become an Insider!