Two Truman Scholars from Columbia Named, Mailman Dean Fried Awarded George M. Kober Medal
From science to engineering, writing to social sciences, here are the Columbians who received awards recently.
April 20, 2022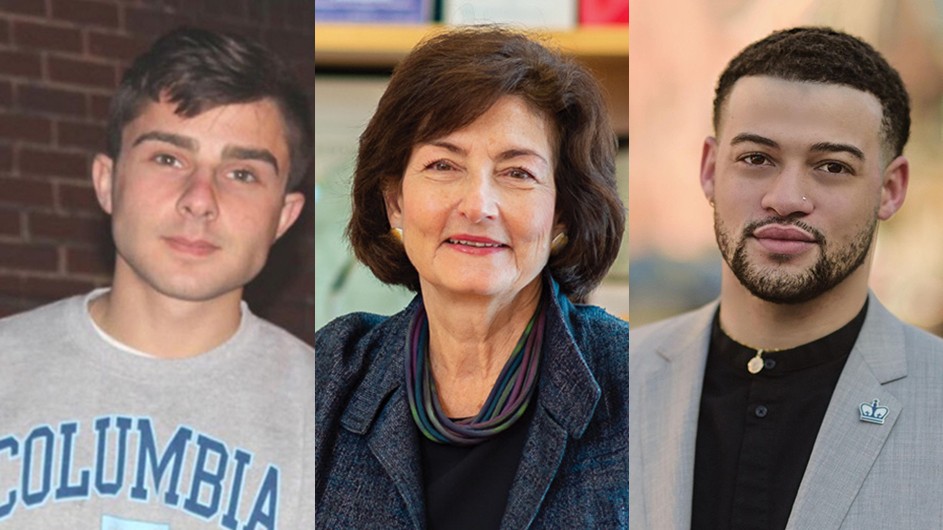 Columbia News produces a biweekly newsletter (subscribe here!) and article series featuring a roundup of awards and milestones that Columbia faculty, staff, and students have received in recent days. In this edition, you'll find awards and milestones from April 7 to April 21, 2022.
Have an award or milestone you'd like to have featured in the newsletter or article online? Please send an email to [email protected]. Note that we'll be running this series every other week. 
You can take a look at past accomplishments on our Awards & Milestones page. And you can subscribe to receive the newsletter in your inbox. 
FACULTY
ARTS & HUMANITIES
Gergely Baics, Wright Kennedy, Rebecca Kobrin, Laura Kurgan, Dan Miller, Leah Meisterlin, Mae Ngai, and Stamen Design won two prizes in the annual map design competition of the Cartographic and Geographic Information Society of the Smithsonian for their project, Mapping Historical New York: first place for Best Digital/Interactive Map, and tied for Best of Show. The project is funded by the Robert David Lion Gardiner Foundation. Learn more about the project here. 
Four Columbia scholars — Hernan Diaz, Stathis Gourgouris, Rosalind Morris, and Christopher Peacocke — have received 2022 Guggenheim Fellowships. Their proposed projects include a novel about literature and technology, a cultural investigation of listening, a multi-genre book focused on mining, and a theory of what it is to hear emotions in music. 
Ifeoma Ebo, Jerome Haferd, and Chat Travieso, all GSAPP adjunct professors, are recipients of GSAPP's Anti-Racism Curriculum Development Award. Erica Avrami, James Marston Fitch Assistant Professor of Historic Preservation at GSAPP, along with Lexi Tsien and Jelisa Blumberg, both GSAPP adjunct faculty members, are recipients of the GSAPP Dean's Unlearning Whiteness Award. 
Delta David Gier, distinguished conductor, is the recipient of the 2022 Ditson Conductor's Award for the advancement of American music. Gier will receive $5,000 and a citation on behalf of President Lee C. Bollinger.
SCIENCE & MEDICINE
Robin Bell, the Palisades Geophysical Institute Lamont Research Professor at Lamont-Doherty Earth Observatory (LDEO), has won a Fulbright fellowship to work in Australia for the academic year 2022-2023.
Stephen Ferrara, associate professor of nursing, was named President-Elect of the American Association of Nurse Practitioners.
Dean Linda P. Fried has been awarded the Association of American Physicians' 2022 George M. Kober Medal, in recognition of her groundbreaking contributions to the science of healthy aging, which includes defining frailty as a clinical condition and for preventing frailty, disability, and cardiovascular disease. Fried is a former president of AAP (2016-2017), the first dean of a school of public health to serve in that role.
Heidi Hahn-Schroeder, assistant professor of nursing,  and Maribeth Massie, assistant professor of nursing, were selected for the 2022-2023 AACN's Elevating Leaders in Academic Nursing Program.
Kerstin Lehnert, a Doherty Senior Research Scientist at LDEO, has been awarded the German Mineralogical Society's Doris Schachner Medal.
Galen McKinley, professor of earth and environmental sciences, will join the Ocean Studies Board at the National Academy of Sciences.
Jennifer Middleton, a Lamont Assistant Research Professor, received LDEO's 2021 The Justice, Equity, Diversity, and Inclusion (JEDI) Award.
Elizabeth Olson, professor of biomedical engineering and auditory biophysics, was elected as the president of the Association for Research in Otolaryngology in February.  
Kerstin Perez, physics professor, has received the DPF Early Career Instrumentation Award for developing low-cost lithium-drifted silicon detectors that open sensitivity to rare low-energy cosmic antinuclei as signatures of dark matter annihilation or decay. 
Lusine Poghosyan, Stone Foundation and Elise D. Fish Professor of Nursing and professor of health policy and management, and Jingjing Shang, professor of nursing, will be inducted into Sigma's International Researcher Hall of Fame in July.
Maureen Raymo, co-founding dean, Columbia Climate School and director of LDEO has received an Environmental Champion Award from New York State Sen. Elijah Reichlin-Melnick. She is scheduled to receive the award on April 22, at the Louis Engel Waterfront Park in Ossining, NY.
Catalina Sanchez Roa, Columbia Climate Fellow and associate research scientist at LDEO, was recognized at a Gordon Research Seminar for her presentation, "Is Carbon Mineralization a Self-perpetuating Process? Implications for the Upscaling of Geological Carbon Storage." She presented her talk at their leading Carbon Capture Utilization and Storage conference. 
Kirsty Tinto, a Lamont Associate Research Professor, was awarded LDEO's 2021 Excellence in Mentoring Award.
Cascade Tuholske, a Columbia Climate School postdoc, worked with a team of journalists to produce heat maps for a piece that recently won an award for investigative reporting from the nonprofit Investigative Reporters and Editors (IRE). Hot Days: Heat's Mounting Death Toll On Workers In The U.S. looks at heat's mounting death toll on American workers and the lack of protections to curb it. Tuholske works with geospatial data at Columbia's Center for International Earth Science Information Network.
Daniel Zarrilli, special adviser for climate and sustainability, was recognized on the 2022 Energy and Environment Power 100 by City and State NY.
SOCIAL SCIENCES
Kaiama L. Glover, professor of French and Africana Studies at Barnard, is the principal investigator for a $5 million grant from The Andrew W. Mellon Foundation in support of the Caribbean Digital Scholarship Collective. Glover also received a $40,000 National Endowment for the Humanities fellowship award for her project, "For the Love of Revolution: René Depestre and the Poetics of the Cold War."
Daniel M. Smith, professor of political science, has won the 2022 Kenneth A. Shepsle Prize for his article, co-authored with economist Masataka Harada, on "Distributive Politics and Crime." Harada and Smith's piece was recognized as the best article of 2021 in the Journal of Political Institutions and Political Economy.
STUDENTS
Cameron Adkins (CC'23) and James H Elliott II (GS'23) have been named 2022 Truman Scholars. The Truman Scholarship is the premier graduate scholarship for aspiring public service leaders in the United States and this year's 58 new Truman Scholars were selected from 705 candidates nominated by 275 colleges and universities, with Columbia recognized as one of six institutions with multiple named scholars.
Sam Bartusek, PhD candidate in the Department of Earth and Environmental Studies and Ocean and Climate Physics division at LDEO, won the prize for best student talk for his presentation on "Tropopause Folding and Tropospheric Ozone" at the American Meteorological Society 2022 Middle Atmosphere conference.
Sam Cox (DENT'25) received New York Academy of Medicine's David E. Rogers Student Fellowship, which he'll spend developing a proposal this summer for Spanish-language education to be incorporated into medical and dental school curricula across the country. 
Dave Epstein (SEAS'21) was named a P.D. Soros Scholar. The Paul & Daisy Soros Fellowships for New Americans is a $90,000 merit-based fellowship exclusively for immigrants and children of immigrants who are pursuing graduate school in the United States.
Garima Raheja, PhD candidate in the Department of Earth and Environmental Studies and Ocean and Climate Physics Division at LDEO, has been awarded a 2022 NSF Graduate Research Fellowship Program (GRFP).
Sarah Smith, PhD candidate in the Department of Earth and Environmental Studies and Ocean and Climate Physics division at LDEO, won first place for outstanding oral presentation on "Satellite Observations of Aerosol Optical Depth in 4 Northern Hemisphere Source Regions during the COVID-19" at the American Meteorological Society 2022 Middle Atmosphere conference.
Jonathan Tanaka (CC'23) has been awarded the prestigious Beinecke Scholarship. As a Columbia College major in philosophy, with a special concentration in mathematics, Tanaka was recognized by the Beinecke for his exceptional promise in making original intellectual contributions to the field through his future scholarship.
William Yuen Yee (CC'22) has been named the 2022 Michel David-Weill Scholar — the first candidate selected from Columbia University. The scholarship is awarded each year to one American student in the United States, and covers tuition and living expenses during a two-year program at Sciences Po in Paris.