Wafaa El-Sadr Discusses Her Vision for Columbia Global
El-Sadr, the recently appointed executive vice president for Columbia Global, discusses the university's worldwide portfolio.
March 10, 2023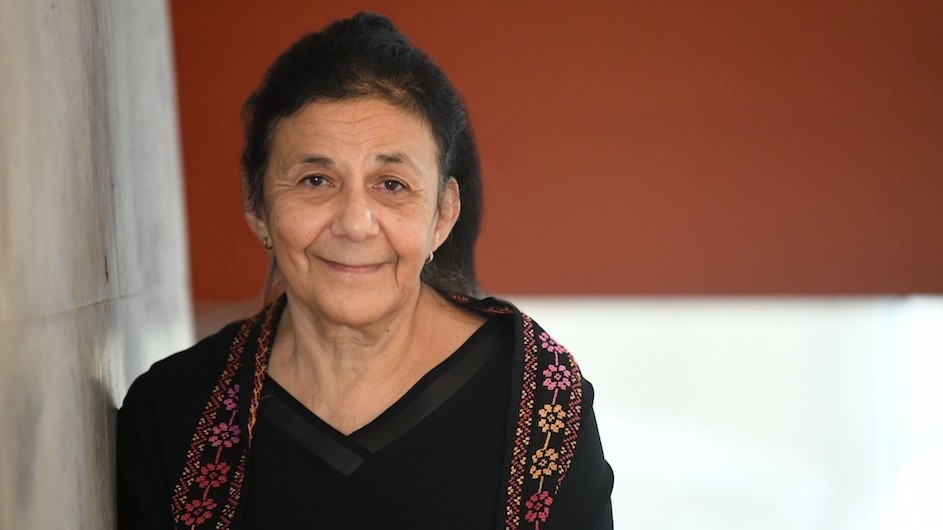 In July 2022, President Lee C. Bollinger named Wafaa El-Sadr the executive vice president for Columbia Global, a new entity that brings together Columbia World Projects (CWP), the Columbia Global Centers, the Institute for Ideas and Imagination, and eventually other global initiatives. Four months later, Columbia announced the creation of a tenth Global Center in Athens.
Columbia News sat down with El-Sadr, who is also the Dr. Mathilde Krim-amfAR Chair of Global Health at Columbia's Mailman School of Public Health; founder and director of ICAP, a center for global health at Columbia; director of CWP; and a University Professor in epidemiology and medicine. In a wide-ranging conversation, we asked her about the Athens Center, the evolving role of Columbia Global Centers and its place within the Columbia Global portfolio, and how this all fits within the University's mission.
Why Athens?
Let me take a step back. It was almost 15 years ago that President Lee Bollinger created the first Columbia Global Center. He was rightly convinced that for Columbia to deliver on its mission, we needed to increase our global engagement, both to learn from and share with the world. Columbia currently operates nine Global Centers, spread out across four continents, Africa, Asia, Europe, and South America. These centers in Amman, Beijing, Istanbul, Mumbai, Nairobi, Paris, Rio de Janeiro, Santiago, and Tunis serve as a hub for vibrant involvement by faculty and students. They have become part of the fabric of their local communities, grounded in partnerships with a wide array of local institutions.  
Which leads me to Athens. Columbia is fortunate to have longstanding connections with Greek academic and research institutions. Greece sits at the center of a critically important region of the world. It has a rich history as well as exciting new vigor. All of those elements make Greece a great location for our tenth Global Center, where we aim to expand upon the current collaborations with an eye toward broadening our educational offerings and focusing on critically important issues such as migration, climate change, technology and innovation, public health, and medicine. For example, the Athens Center will seek collaborations with local institutions on research projects related to climate change, host workshops and seminars on issues related to migration, and offer educational programs for undergraduate and graduate students.
As we look to the future and the possibilities ahead, how do you see this fitting within your broader vision for Columbia Global and the University's engagement with the world?
When Lee became Columbia's president two decades ago, he believed that for universities to grow and thrive in the 21st century, they needed to engage more deeply and urgently with the world and the many challenges that societies face today.
One way to accomplish this was the establishment of Global Centers—flexible spaces to motivate and support this engagement—worldwide. This is exactly what the Columbia Global Centers do day in and day out. They offer students and faculty the opportunity to study, to conduct research, to implement programs, and to engage with the many partnerships that the centers have developed. The overarching goal is not only to advance our own work but also to enrich our understanding and inform our thinking and outlook.
With 10 centers worldwide—along with Columbia World Projects, ICAP, and other global initiatives—the University truly has a more international perspective than ever before.
How does this all connect with what President Bollinger calls the Fourth Purpose?
When President Bollinger speaks about the Fourth Purpose, he is talking about an expanded commitment by Columbia to focus its scholarship on major societal challenges, advancing knowledge, as well as translating our academic work into policies and actions that help address such challenges.
Establishing Columbia World Projects was centered on this goal of directing the vast academic resources of the University, on a broad scale, toward work that addresses global complexities. Since its inception, CWP has moved the needle in this effort, with research, convenings, and projects that tackle some of these challenges faced by our city, our country, and the global community.
Can you talk a bit about your vision for Columbia Global. Why did you want to take on this monumental effort?
I firmly believe that the scholarly enterprise can be enriched by reaching out across disciplines and borders, and that Columbia Global can facilitate advancing knowledge and using that knowledge to work in partnership with others to address the major challenges we are facing as a global community.  
Columbia Global aims to pull together some of the major Columbia global initiatives under one umbrella. Its goal is to build synergy across these initiatives that all aim to advance ideas, engagement, and impact.
How has your experience at ICAP and Columbia World Projects shaped your approach to Columbia Global?
In many ways, my life and career have been shaped in fundamental ways by the HIV pandemic. It taught me critical lessons in the face of great suffering, stigma, and discrimination that groups at risk for HIV and those living with HIV endured. These include the need to engage affected communities from day one, the usefulness of working across disciplines, the critical role of diverse partners in shaping research and programs, the power of anchoring actions in science and evidence, the value of scaling up interventions as the pathway to making real difference, and the importance of always thinking about who is left behind, who are the most vulnerable. These became the principles that guided what we do at ICAP, the global health center that we established 20 years ago at Columbia's Mailman School of Public Health. Over the years, ICAP's work has expanded beyond HIV, always keeping these principles in mind, to support efforts to confront major global health threats such as tuberculosis, malaria, maternal and child mortality, non-communicable diseases, and emerging infectious diseases.
I find that these same principles are relevant to the work of CWP as well as the ambitions of Columbia Global. It is enormously satisfying to expand the scope of the work beyond health, to tackle issues as diverse as renewing democracy, climate change, maternal health, and child development, among others.
Working with faculty, CWP views itself as supporting them to advance their scholarship, serving as a catalyst and a connector, enabling researchers, practitioners, and organizations to come together to address the major challenges we face as a global community.
Tell us what you hope Secretary Hillary Rodham Clinton will bring to Columbia World Projects as a new presidential fellow?
As our inaugural presidential fellow, we are honored to welcome Secretary Hillary Rodham Clinton to Columbia World Projects. Her distinguished career as a public servant, diplomat, and champion for women, young people, and children makes her a valuable asset to inform and advance our priorities.
While these are early days, we are eager to leverage Secretary Clinton's extensive experience and expertise to create innovative and impactful programs focused on democratic renewal both domestically and globally. Her perspective and unparalleled knowledge will bring fresh ideas to the table and help us explore new and effective solutions to this critical issue. We are confident that her appointment will greatly enhance the work of Columbia World Projects in this area and others.
What is the relationship among the various Columbia Global initiatives, the Global Centers, Columbia World Projects, and the Institute for Ideas and Imagination?
The Columbia Global Centers, Columbia World Projects, and the Institute for Ideas and Imagination are the three cornerstones of Columbia Global at this point in time. These initiatives were established by President Bollinger to serve as hubs for cross-disciplinary collaboration, facilitate partnerships, and advance the University's global mission. Coming together under Columbia Global offers an opportunity to coordinate across them, to create unified frameworks that can inform their work, and to work collaboratively to enable each initiative to reach its full potential.
Learn About Columbia Global Programs
Each of these initiatives has distinct features. The Columbia Global Centers serve as pivotal locations around the world, fostering engagement by students and faculty, and dialogue about critical global issues. Columbia World Projects, on the other hand, is a central platform for advancing scholarly work and action, with a focus on the University's Fourth Purpose. And the Institute for Ideas and Imagination brings together faculty and scholars from diverse fields, along with artists, writers, and others from around the world, to engage together in creative pursuits, learning from each other.
It is exciting to note the enthusiasm as people come together across the different initiatives. Just sharing information about what each initiative is focusing on during Columbia Global's weekly internal town halls has generated excitement and eagerness to work together.
We are forging new connections and organizational links that are energizing and dynamic. For example, connecting faculty who lead projects supported by CWP to the creative community of fellows at the Institute of Ideas and Imagination, offering a compelling opportunity for unique cross-learning. Many more collaborations such as these are to come.
It's really gratifying to see the enthusiasm around Columbia Global as it takes shape.
Have you talked to our next president, Minouche Shafik, about Columbia Global? What do you hope she will bring to the global initiatives?
Minouche Shafik is without a doubt a global citizen, based on her own personal life story and her distinguished career. Her deep understanding of the complex interplay of socioeconomic, political, and cultural factors in global development will be vital to Columbia Global.
With Columbia Global still in its early stages, Minouche's appointment comes at an opportune time. Her wealth of experience, insightful perspective, and exceptional leadership skills will surely advance the mission of Columbia Global and ensure that our impact continues to be felt around the world.
What are you looking forward to this semester?
This semester marks a poignant moment as Lee, our visionary leader for the past two decades, steps down. His commitment to a new vision for Columbia has served as a beacon, inspiring us to think and act differently. With his extraordinary prescience, he also pushed us to think ahead, to what lies around the corner, what future challenges we are likely to face. We look forward to celebrating his numerous accomplishments and his enduring legacy.
In addition, for this semester, bringing the Athens Global Center to life is a priority, with the goal of launching its inaugural programming. As I mentioned before, this center offers us a great opportunity to foster novel pedagogical initiatives, expand partnerships in this vibrant country, and build collaborations with the other Global Centers in the region and around the world.
Finally, I anticipate a very busy travel schedule these coming months seeing firsthand the amazing work being done by our teams around the world. It will be invigorating and inspiring. I can't wait.