What They Wore: Art Historian Spotlights Revolutionary Fashion Magazine
Students in Professor Anne Higonnet's courses created a website and an Instagram account to tell the story of the most radical upheaval in clothing history.
June 17, 2019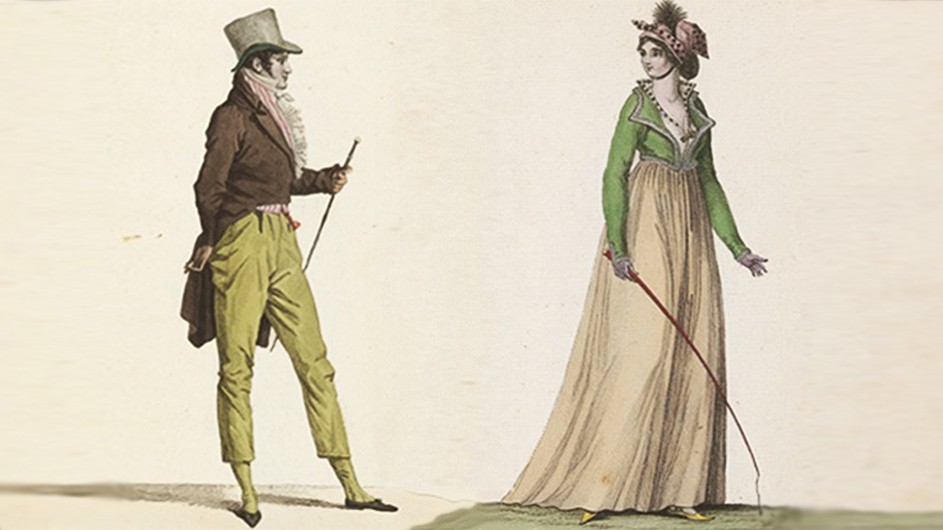 In 2017, art historian Anne Higonnet was checking footnotes for an essay she was writing when she came across a cryptic catalog entry from the Morgan Library & Museum. It indicated that the Morgan owned a complete set of extremely rare and revolutionary fashion plates on the history of costume.
"Very specialized scholars were unaware of the location of any complete set of these plates, so it seemed unlikely to me," said Higonnet, chair of the art history department at Columbia's Barnard College. "But the Morgan is only a subway ride away, so I went to investigate."
To her astonishment, the museum did indeed have a full set of engravings from the Journal des Dames et des Modes, a groundbreaking Parisian style magazine that began publishing in 1797, after the French Revolution upended European society, including fashion.
From its inception until it closed in 1836, the publication dominated what men and women wore on both sides of the Atlantic, offering Europeans and Americans a startlingly new way to dress. The journal's first seven years were especially cutting edge. It "rejected the rules, shapes and materials that had signaled static social rank in favor of mobile and sexual self-expression through consumer choice," Higonnet said. "This dramatic experiment in individualism freed men to dress as they have ever since, and for a brief time, liberated women."
After alerting Morgan curators to her discovery, Higonnet proposed that her students digitize the fashion plates and build a website to showcase them. The Morgan agreed, and in the fall of 2017 her graduate seminar, which included students from Columbia, Bard College and New York University, partnered with both the Morgan and Columbia Libraries' Digital Humanities Center to create a website, Style Revolution. It makes available for the first time all 499 of the Journal des Dames et des Modes images, from 1797 to 1804, along with transcribed and translated captions. It also includes maps, a timeline, essays, color guides, clothing glossaries and a macroscopic study of the plates.
For centuries, European sumptuary laws restrained inordinate spending on luxury goods, upholding social status hierarchies. The French Revolution in 1789 enabled Parisian women and men to reinvent themselves, including how they dressed. After the terror phase of the Revolution ended in 1794, a different kind of revolt of simplicity spread across Europe and North America, proclaiming that garments should use democratically available materials—such as imported Indian cottons, thanks to global trade—to express personal style choices.
For men, this rebellion marked the abandonment of such froufrou as embroidery, lace, silks and ornate court costumes, replacing them with a precursor to the solid-color three-piece suit still worn today. Women were no longer trapped inside rigid corsets and voluminous petticoats, or forced to teeter on impossibly high heels. They opted instead for tailored jackets, draped shawls, flat shoes and dresses so light and straight that Frankenstein's author, Mary Shelley, said they looked more like curtains than gowns. For women especially, this jettisoning of restrictive styles was a political decision and a violation of gender norms.
 "The radical fashion plates we see in Style Revolution tell the story of this sudden and short-lived upheaval in clothing history," said Higonnet.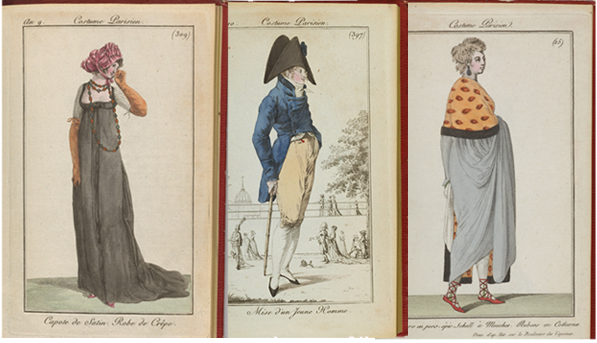 Napoleon Bonaparte, scandalized by the freedom these new clothes represented, started to roll back women's revolutionary fashion on the occasion of his 1804 coronation. By 1825, women were obliged by rigid social standards to wear more highly gendered and elaborate clothes than ever before both in Europe and the United States.
In spring 2018, Higonnet taught an undergraduate course in which her students created Style Revolution's Instagram account, which features the Journal's fashion plates in a contemporary idiom. In addition to modeling recreated 1797-1804 looks, students post on topics such as recurring revivals of the style innovations inspired by the magazine.
Even with the website and the Instagram account, Higonnet and her Morgan colleagues worried that there were no complete copies of the text for the years 1797 to 1804 in a public collection. Then, in class one day, she mentioned that perhaps the only complete copy of the Journal was in the Design Museum in Copenhagen. By chance, there was a visiting Danish student in the class who had worked at the museum before arriving at Barnard. She offered to contact colleagues there to find out if the Journal des Dames et des Modes text in its collection was complete or fragmentary. As luck would have it, their version was complete. It has now been digitized and is being added to the website.
"The way this entire endeavor has come together has been a perfect storm," said Higonnet.