Work/Life Office Helps Faculty and Staff Parents Consider School Options
In her professional life, Adina Brooks helps oversee graduate admissions and student affairs at the Engineering School's Department of Industrial Engineering and Operations.
August 29, 2012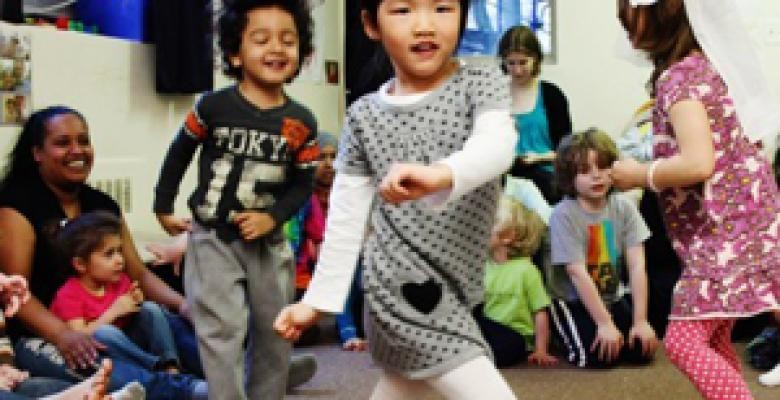 But when it came time to investigate kindergarten options for her daughter Nola last year, she was overwhelmed by the differing timelines and admissions processes for the city's myriad public, private and independent schools.
So Brooks turned to the School and Child Care Search Service of Columbia's Office of Work/Life to help her sort through the choices. First she went to a few different informational workshops, then she met individually with members of the service several times over the course of the year.
"It was really fantastic to have someone to brainstorm with at every turn," she said. As her daughter begins school at P.S. 163 on the Upper West Side this fall, Brooks looks back with gratitude. "They really understood the anxiety of the process—and you can't value that enough," she said.
Established in 2007, the Office of Work/Life promotes the University's commitment to a working and learning environment supportive of its faculty, researchers, administrators, staff and students in their pursuit of productive and fulfilling professional and personal lives.
"We are pleased that we've been able to help so many members of the Columbia community with their multifaceted family and life challenges," said Associate Provost and Director of Work/Life Carol Hoffman.
In addition to school and child care searches, other services are available to members of the University community including breastfeeding support, flexible work arrangements, housing information, dual career counseling for faculty and referrals to the Employee Assistance Program for counseling and elder care resources.
Columbia employees and prospective faculty members coming from different parts of the country and world are often shocked by the dizzying array of options for their children's education.
Location and zoning are just two pieces of the puzzle. There is also cost, curriculum, scheduling, educational philosophy and a host of other factors to weigh when choosing a child's school in the city.
Deborah Ashe, director of the school search service and a former admissions and financial aid director at the private Trevor Day School on the Upper East Side, said, "We try to help everyone be realistic about their choices and give them the tools they need to determine what is best for their child."
Some 3,500 Columbia faculty and staff have taken advantage of the individual consultations, workshops and fairs offered by the service. These include information sessions on nannies, day care and nursery schools.
Some parents learn how to prepare for the kindergarten application process, find affordable options and apply for financial aid, if appropriate. Some are focused on finding the right middle school or high school while still others want information on special needs schools or summer, holiday, after-school and gap-year programs.
"I'd like to think we provide a calm refuge for people to think through their options," said Carolyn Singer, child care resource specialist.
It's a formula that worked for Italian Professor Elizabeth Leake, whose 10-year-old son attends The School at Columbia and whose 15 year-old-daughter is enrolled at the Horace Mann School. While Leake was being recruited to join Columbia, Ashe helped demystify the application process and keep the children's goals center stage.
"Debbie has a wonderfully infectious, calm way of presenting the options which prevented me from succumbing to the shark tank mentality of the school search," Leake said.
With new schools popping up every year and admissions policies often changing at both the New York City Department of Education and the city's private and independent schools, the Office of Work/Life offers one-stop shopping.
For Emiko Mizumura, assistant director for programs at the Center on Japanese Economy and Business, the support has been invaluable. She has a 5-year-old girl enrolled in a charter school this fall and a 3-year-old boy in private day care. "Without their services, I am not sure how I would have survived," Mizumura said.