World Food Prize Awarded to Earth Institute Scientist Who Helped Make Deserts Bloom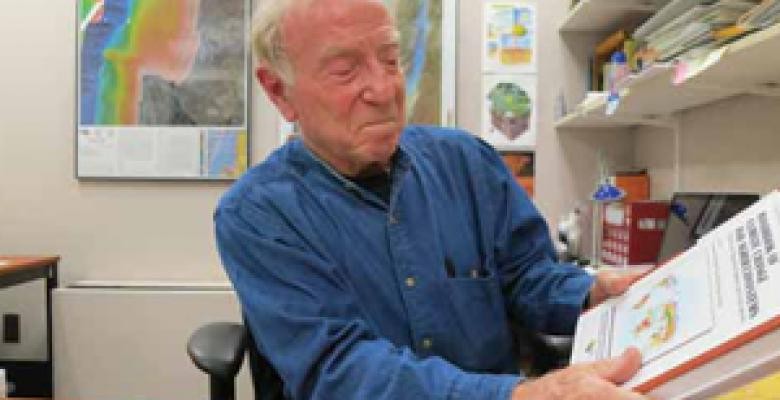 Born during the Great Depression, Daniel Hillel moved to Palestine as a child and settled with his family on a kibbutz, where he learned firsthand the difficulty of rehabilitating degraded land. It was there, in the Jezreel Valley in northern Israel, that he first became enthralled with farming.
Even before finishing his education, Hillel had begun working on new irrigation methods that would transform agriculture across much of the world, saving water, boosting crop production and ameliorating soil.
Last month, in the farm belt of Des Moines, Iowa, the 82-year-old Hillel received the annually awarded $250,000 World Food Prize for his life's work. The award was founded in 1986 by agricultural scientist and Nobel Peace Prize laureate Norman Borlaug to encourage progress in securing the global food supply.
When the announcement was made in Washington last spring, Secretary of State Hillary Clinton praised Hillel for understanding "the critical role water plays in agriculture and the importance of getting every last drop used efficiently."
A native Californian who has lived in Israel most of his life, Hillel helped develop the then revolutionary technique of micro-irrigation with plastic pipes. He demonstrated how the slow, steady drip of water into the rooting zone of crops was better than periodically flooding fields through ditches or pipes, which can waste water and damage soil.
"We studied the ancient ways and tried to improve upon them," said the scientist at Columbia's Earth Institute. "I'm a great believer in peace and cooperation among all the world's peoples rather than rivalry and enmity. So I've dedicated my life to finding appropriate ways to manage water and soil and climate in the interest of constructive cooperation."
Starting in the 1950s, such low-volume, high-frequency irrigation has been widely embraced by many farmers, governments and international development organizations. Hillel showed that such techniques could not only conserve scarce water resources but also that continuously moist soils increase the yields of many row crops and fruit trees.
Besides his work with agencies such as the World Bank, the U.N. Food and Agriculture Organization and the U.S. Agency for International Development (USAID), Hillel has written 21 books that have been translated into 12 languages and countless manuals and articles that have spread the word about his techniques.
In an interview earlier this year with "The Jerusalem Post," Hillel emphasized that he was only one of many people experimenting with innovative irrigation methods at the time, and that others had commercialized much of the technology. The sweeping changes were also made possible by the new availability of plastic pipes and ground coverings, he said, and the willingness of new settlers in Israel to experiment with nontraditional approaches.
As a young man in the 1950s, working with a handful of others to establish a new kibbutz in the barren Negev Desert, Hillel had an unusual visitor. One day a military convoy arrived carrying a familiar-looking man with frizzy hair. It was Israel's founding Prime Minister David Ben-Gurion, who, after learning what the settlers were trying to do, asked if he could join the fledgling community in the south of Israel.
At first, the settlers thought he was joking. But Ben-Gurion was serious and joined the desert kibbutz. He eventually befriended the young scientist and arranged for him to take his innovative methods to Burma, effectively launching Hillel's long career in international agricultural development.
Early on, Hillel recognized the potential for climate change to reduce the amount of rainfall in already dry regions and began promoting efforts to adapt to what he saw as coming shortages. He became a senior adviser to the Earth Institute's Center for Climate Systems Research in 1992 and joined the center as an adjunct senior scientist in 1993.