Columbia Registry Asks Health Care Workers to Share Stories, Fears of Combating COVID-19
Responses will allow researchers to understand the impact on those most directly affected by the crisis and learn how to best address their needs.
May 11, 2020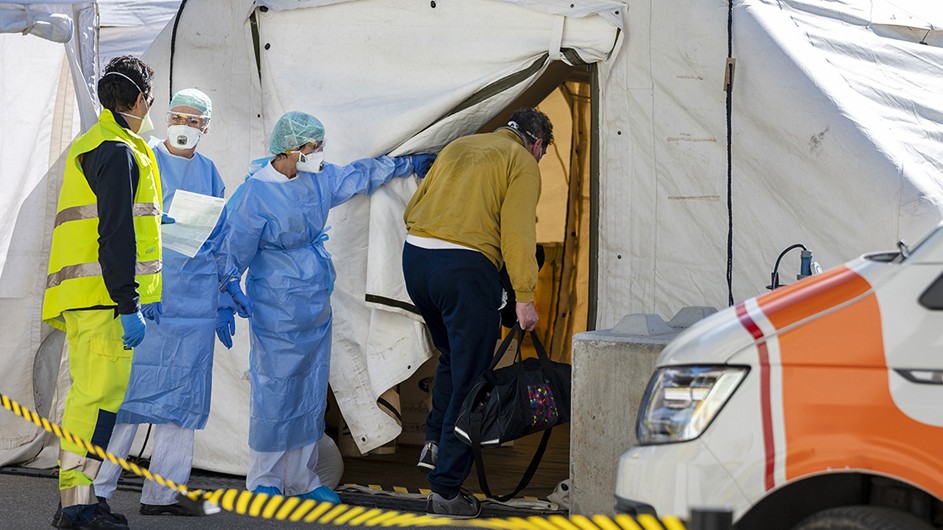 Columbia University has launched a registry designed to collect data and information that will help researchers assess the impact of the evolving pandemic on health care workers and their families, and fast-track clinical studies that can guide strategies and interventions to support them.
The initiative, called the COVID-19 Healthcare Personnel Study (CHPS), will survey tens of thousands of employees on the front lines of care in New York State—from doctors and nurses to hospital food service workers—inviting them to share the challenges and stresses they have faced and whether they are experiencing serious and persistent physical or mental health issues.
"New York is bearing a disproportionate share of the burden of the COVID crisis, with approximately half of the confirmed cases in this country, and the impact on the health care workforce will be profound and long-lasting," said Guohua Li, professor of epidemiology and anesthesiology at Columbia University Irving Medical Center. "We need a tool to help guide our preparedness and response now, and for future public health emergencies."
Global Study Examines Mental Health of Frontline Health Care Workers
The three-year, longitudinal study is modeled in part on the World Trade Center Health Registry, the largest survey in American history to track the health effects of a disaster. That registry, launched in 2002, produced numerous scientific studies that helped secure funds for health monitoring and financial aid to responders, volunteers and survivors of the Sept. 11, 2001, attacks.
Other principal investigators on the study are David Abramson and Charles DiMaggio, New York University, and Christina Hoven and Ezra Susser, both at the Columbia Mailman School of Public Health and New York State Psychiatric Institute. Researchers from City University of New York and Hunter College also are involved in CHPS.
Inform Policymakers, Prompt Action
Data from the registry will be used to evaluate interventions made available during the crisis, such as counseling, housing and child care services. The hope is that the findings will provide empirical evidence that can inform policymakers and prompt action to help address health care workers' unmet needs.
The first phase of the study began in late April. On behalf of the researchers, the New York State Department of Health distributed a 40-question confidential survey to approximately 5,000 licensed New York physicians and 25,000 registered nurses and nurse practitioners. So far, 2,500 health providers have enrolled and filled out the baseline questionnaire.
In a second wave, allied health employees, such as social workers, psychologists, respiratory therapists, paramedics and home health care professionals, will be invited to participate. In addition, the research team will launch a recruitment drive for union workers affected by the crisis, such as hospital or nursing home kitchen and custodial staff.
The investigators plan to survey participants three times within the initial year of the study, and then annually over the subsequent three years. Participation will be voluntary.
Based on other crowdsourced approaches, Li anticipates that 20 percent of the approximately 50,000 who receive the survey are likely to enroll. The research team plans to share the survey instruments and methods so that scientists nationally and globally can contribute to studies on the COVID-19 health care workforce going forward.
Watching Out for Trauma and Distress
A research initiative that makes use of another kind of registry is also underway at Columbia. The project—a joint study of the Division of Ethics and Division of Narrative Medicine, both part of the Medical Center's Department of Medical Humanities and Ethics—aims to identify respondents who report high levels of moral distress, a response that arises when a person is forced to take actions that challenge or violate core ethical beliefs.
Health care providers are not just treating critically ill patients during the pandemic, they are risking their own health, witnessing high rates of patient suffering and death, and, in some cases, providing care perceived as futile. Many feel forced to make triage decisions about scarce resources, such as operating rooms, intensive care unit beds or ventilators.
"We are seeking out and hope to offer support to care providers who have faced high-stakes decisions or ethical dilemmas that have caused significant trauma," said Rita Charon, department chair and executive director of the narrative medicine program. "The idea is to understand and learn from individuals who have been burdened with these feelings, and to find out what interventions are helpful to people."
Charon said the researchers would invite individuals identified as morally distressed to participate in 45- to 60-minute interviews by telephone or video. If appropriate, they will offer referrals to mental health or other health professionals, support groups or workshops. They plan to follow the participants over time and track their well-being.
"We will do our best to learn from the suffering of COVID-19 and the courage and inspiration of all who are helping us to survive the current moment," Charon said.