Researchers Return to Work
As Columbia labs reopen, scientists talk about the challenges and some surprising benefits, of working remotely and how they are adjusting to the new normal.
By
Eileen Barroso and Carla Cantor
August 20, 2020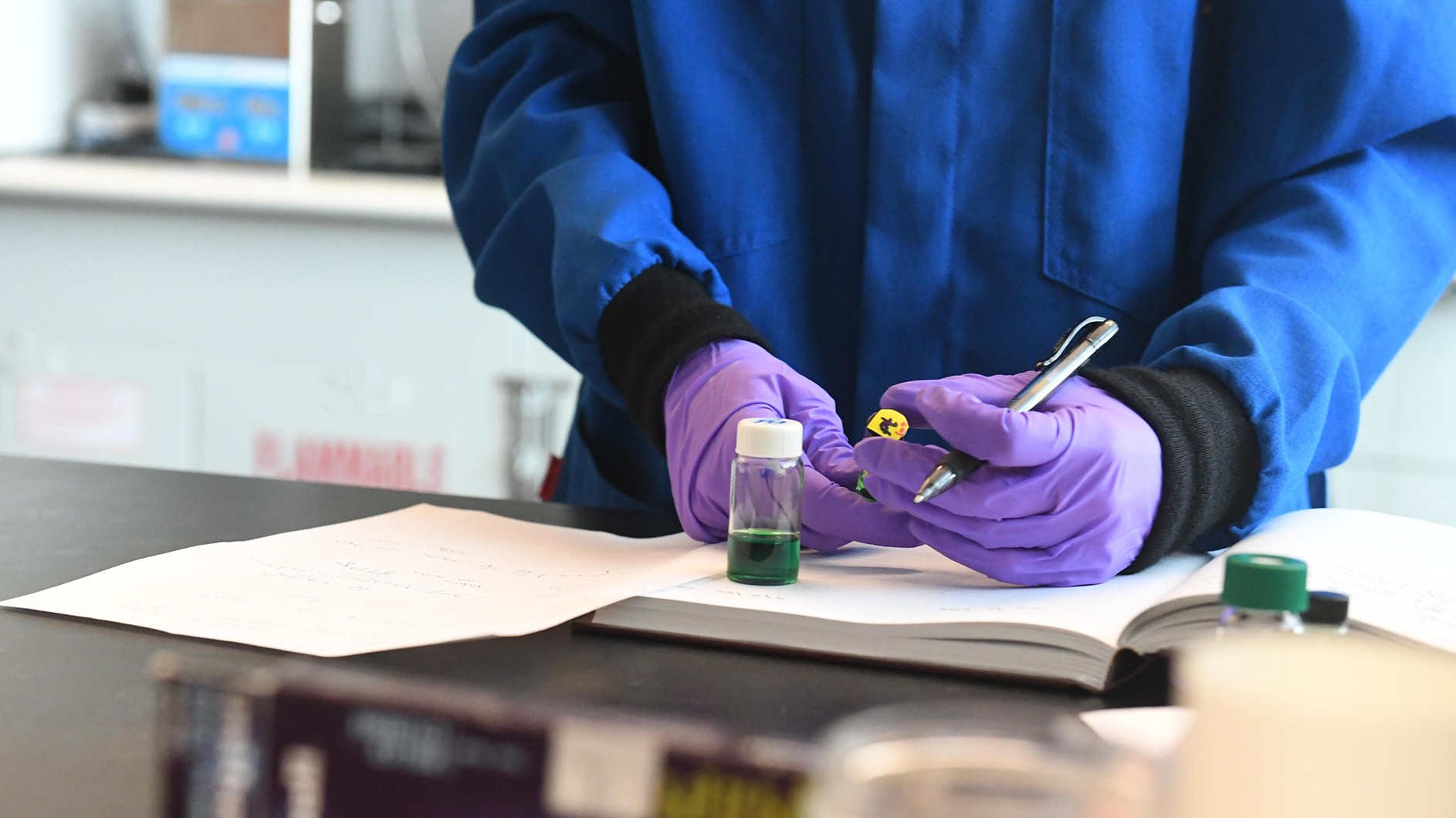 Many Columbia researchers, postdocs, and graduate students are returning to labs after a University order in March shut down nearly all research operations to prevent the spread of COVID-19. In a phased and controlled startup—and in alignment with city and state guidelines—research facilities on the Morningside and Washington Heights campuses have been allowed to reopen at about 30 percent capacity.
"The research ramp-up is a test case for us on our ability to open our campus safely," said Gerald Rosberg, senior executive vice president of the University, explaining that the density of people who are currently in labs is small. "This makes the labs a relatively low-impact environment for assessing effective disease control strategies."
The first group of researchers returned June 22, followed by a second cohort in July. Other essential lab researchers have been on campus throughout this time. Columbia News spoke with faculty members in four locations about their experiences working remotely and life on campus. 
---
V. Faye McNeill, professor of chemical engineering, Columbia Engineering, the Fu Foundation School of Engineering and Applied Science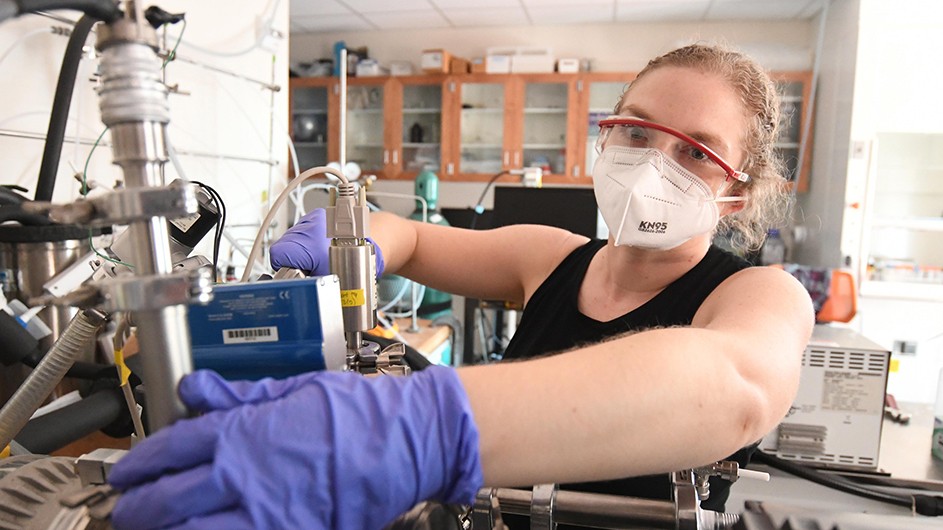 Q. How does it feel to be back in the lab? Is life very different?
A. It feels good to have the lab up and running again. Two of our PhD students just graduated, so with the group on the small side for the moment, we were able to get back up to almost full speed without too much compromise. Like many of us, I initially was nervous about the research ramp-up, but it has gone really smoothly. I'm proud of SEAS students, faculty and staff for working together as a community and making it a successful reopening.   
Q. Tell us about your research, and the impact of quarantine on your experiments and your ability to collaborate with colleagues and students.
A. We are continuing our research on outdoor and indoor air pollution and atmospheric chemistry. Since we have expertise in aerosol science and a fully equipped aerosols laboratory, we have gotten involved in some projects on airborne transmission of COVID-19 in the past few months. I also have been advising some schools on ventilation issues and masks as they plan for reopening. 
Because of the shutdowns, our laboratory work was put on pause. We had some field work postponed until the pandemic is under control and it is safe and permitted to travel freely. We're leaning heavily on online communication tools such as Zoom and Slack to keep us all in touch. We even had major milestones, including one student's thesis defense that took place over Zoom. It was difficult not to be there to give him a congratulatory hug. Our group used the shutdown time to work on computer modeling, data analysis or to write up results.
Q. What were some of the challenges of working remotely? Were there any surprising benefits? 
A. The experiences of my group highlighted a range of quarantine challenges. On one extreme we had my situation—two parents working full time from home with small children attending school remotely. On the other extreme we had group members quarantining alone and struggling with feelings of isolation. We are a close-knit group, so we've helped each other through this challenging time with empathy and kindness. We are conscious of the reality of the situation: We're in the midst of a global pandemic; the well-being of all group members comes first, and we shouldn't set unrealistic expectations.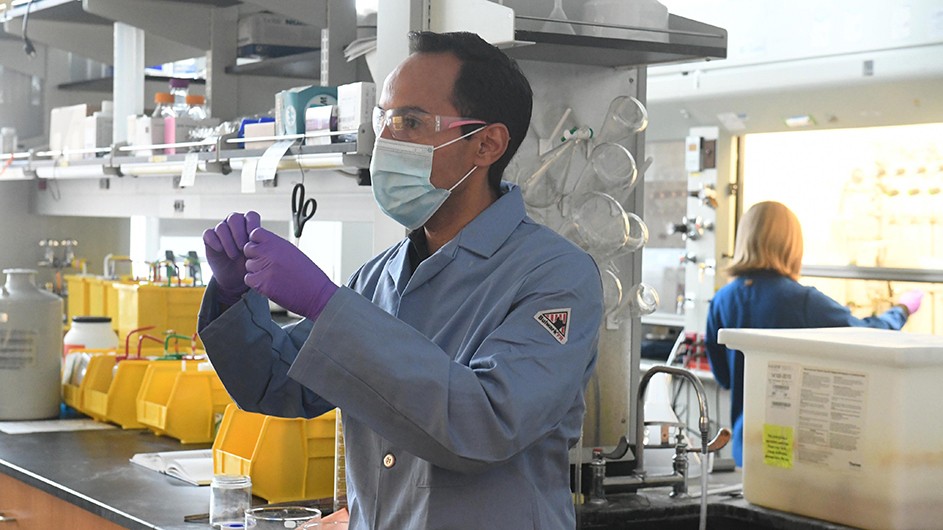 Q. How does it feel to be back in the lab and on campus?   
A. I've missed our lab and Columbia, but the vibe on the Morningside campus has changed quite a bit. The buildings are fairly empty, and those of us here are keeping far apart and wearing masks, which creates a certain level of distance. Our number one priority now that we're back is to make certain we are all safe and healthy. In general, it does feel good to have continuity, re-establishing the commute to work and getting back to old routines little by little.
Q. What impact did quarantine have on your experiments and your ability to collaborate with colleagues and students? How did you adapt to these changes?
A. Our lab is interested in understanding how molecular structure impacts a variety of properties in organic materials. Since most of our work stems from making molecules in the lab and then working with collaborators to understand the fundamental properties of the materials, the lab shutdown created a big challenge for us. We stayed in touch through videoconferencing, engaging in conversations about molecular designs to test a variety of hypotheses. We restructured some projects and modified planned experiments.
When one of our postdocs couldn't return from Switzerland due to the travel ban, the Eindhoven Institute of Technology in the Netherlands offered him space, opening up a new research collaboration for us. At home, the personal issues varied. It was important to me that everyone had the freedom to explore how to adjust the situation, especially for those with children, which included me. The silver lining was seeing children in the background during numerous video conferences with people all over the world. It "normalized" this stressful situation.
Q. Is there anything you've learned about effective ways to communicate that would allow you to continue basic research remotely, perhaps in a hybrid approach? 
A. One of the surprising benefits is that with scientists curtailing their in-person lab work, I have been able to start new partnerships with the potential to expand the scope of the materials we study. I am now working with a team at the University of Washington that looks at the chemistry of biomaterials. I have a new collaborator at Ewha Womans University in Seoul, Korea. Since South Korea did a remarkable job containing the virus, their labs were open in shifts, while our labs were closed. They were able to start making some materials that we will be studying when they ship them to us. Because of necessity, we are getting better at connecting with colleagues all around the world. Our teams have become closer and more flexible.
---
Andrés Bendesky, assistant professor, Graduate School of Arts and Sciences, Department of Ecology, Evolutions and Environmental Biology, and investigator at the Zuckerman Mind Brain Behavior Institute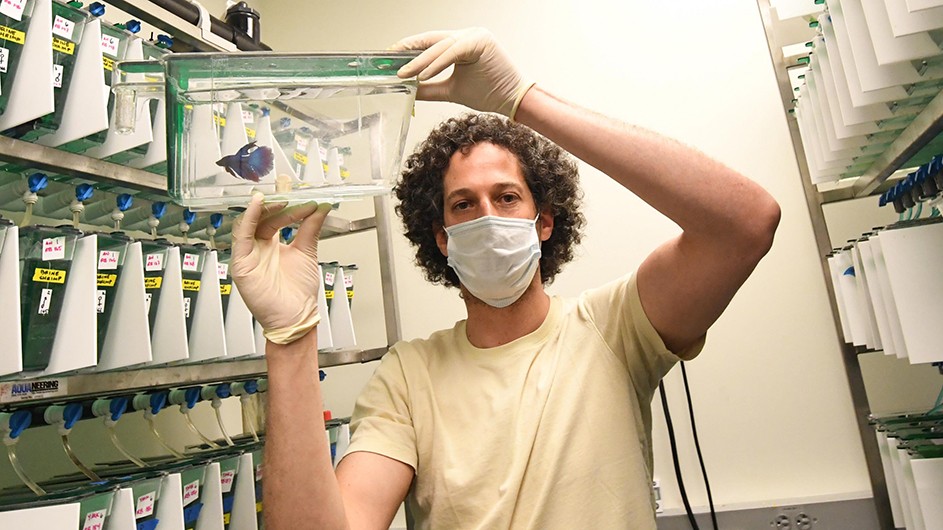 Q. How does it feel to be back in the lab?
A. It is rather uplifting to be back in the lab. We are bench scientists and there's nothing like being able to do our experiments and to see others in real life—even if at a safe distance and through a mask. We still look forward to the day when we have the freedom to come and go as we please without worrying about maintaining a low density and when we can have more in-person group meetings. 
Q. What was the impact of quarantine on your experiments and your ability to collaborate with colleagues and students?
A. We study different aspects of animal behavior in both Siamese Fighting fish and rodents. We are interested in the genetic and neuronal mechanisms that give rise to fundamental animal behaviors, from exploration, to fighting, to pair bonding and how these behaviors evolve. 
Experiments suffered quite significantly during the ramp down period and some will take a long time to recover. Others were easier to pause and resume where they left off. My research group would not have been able to distance ourselves from the lab during the lockdown period without the amazing support of the Institute of Comparative Medicine staff, who continued to come to work every day to make sure research animals were well taken care of and healthy.
Q. What were some of the challenges of working remotely? Were there any surprising benefits?
For experimental scientists like us, working remotely is quite challenging. Video chatting helped maintain some degree of connection with colleagues and students, but it cannot compete with in person interactions and can only be done for a limited time. We were able to make use of the time during the ramp down to organize ourselves and work on computational aspects of our projects. We also took advantage of time away from the lab to think, read, write, and plan the next steps in our projects.
---
Nischay Mishra, assistant professor of epidemiology In the Center for Infection and Immunity at Columbia University Irving Medical Center
Q. You were among a small number of researchers considered "essential" during the ramp down. Tell us about the work of your lab.
A. I work with the Mailman School of Public Health's Center for Infection and Immunity (CII), which focuses on microbial surveillance, discovery and diagnosis, and am part of a COVID-19 response core team under the direction of W. Ian Lipkin. Our team began working on research related to SARS-CoV-2 in early 2020. When New York City went into lockdown in March, my team and I continued to work in our Biosafety Level 3 lab, guided by Thomas Briese, while implementing public health precautions. We developed a PCR assay for molecular diagnosis using respiratory swabs, which was granted emergency user approval by the FDA. We are also developing a sensitive and specific serological diagnostic assay for detecting antibodies to SARS-CoV-2 and a multiplex PCR assay that can simultaneously detect Influenza A, Influenza B and SARS-CoV-2 viruses. The CII team is also conducting a blood plasma therapy trial in the United States and Brazil, studying the repurposing of drugs for COVID-19 treatment, investigating the appearance of Multisystem Inflammatory Syndrome in children after COVID-19, and examining the effect of ultraviolet light (far-UVC) and other disinfectants on surfaces contaminated with SARS-CoV-2.
Q. Was CII's research impacted by New York City's quarantine measures?
A. While a few of us have been working in the lab, we were unfortunately unable to include larger numbers of biostatisticians, bioinformaticians, students, or thesis participants in our research due to COVID-19 health and safety concerns. Our student researchers are usually a great addition to our team. Also, CII's research outside of COVID-19 has been on hold for the last four to five months, and we are working hard to revive and catch up with that work.
Q. What have your days been like working throughout the pandemic, in particular on such essential research? 
A. We are very motivated and mission-driven to advance research that can help contain the COVID-19 pandemic. I know that I've struggled with work-life balance during this time. At a lab level, in the beginning it was challenging to communicate and coordinate remotely with our colleagues, staff and collaborators who are at home. However, in the past, we have worked remotely with collaborators around the world on SARS, MERS, Ebola, Zika and West Nile Virus outbreaks, so we were able to apply those experiences to adapt well during this time.