10 Photos That Show How Excited We Are for Commencement 2023
Commencement preparation has been in full swing for the past few weeks across Columbia's campuses and beyond. 
By
Kelly Moffitt-Hawasly and Jennifer Pellerito
May 10, 2023
University Commencement is a mere week away, on May 17, and we couldn't be more excited to celebrate our grads. Prep for the event has been in full swing for a few weeks on Morningside campus and pictures from across Columbia's campuses and New York City have been rolling into our graduate content form. We love to see it!
We've gathered ten such photos to show just how happy we are to celebrate our graduates this spring. Make sure you prepare for the big event by scanning through all our Commencement stories and sharing your experiences using the hashtag #Columbia2023. 
The Coolest Cats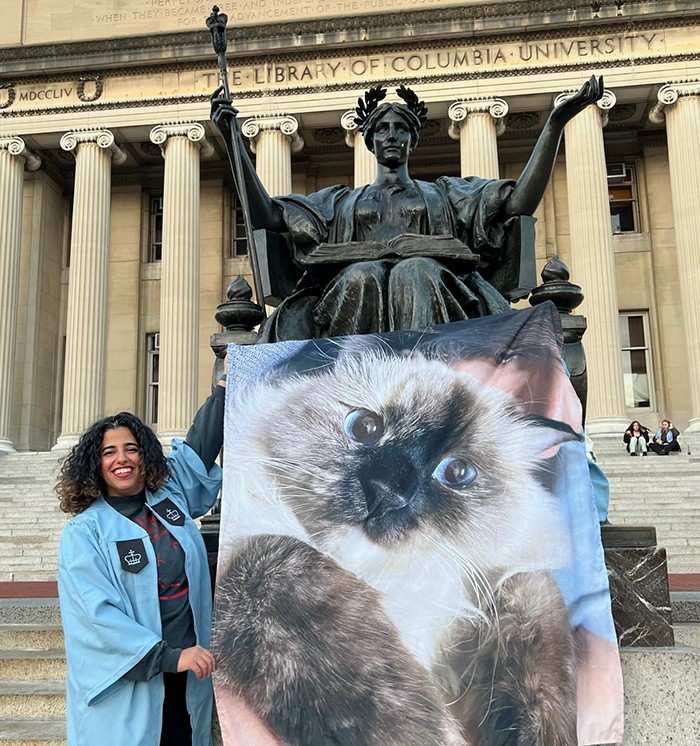 "Happy to celebrate my graduation with my number one supporter, my cat," said Shahad Althobaiti (SEAS'23) of this glorious feline moment with Alma Mater. For those of you cat lovers out there, the kitty's name is Arnab.
Colombia/Columbia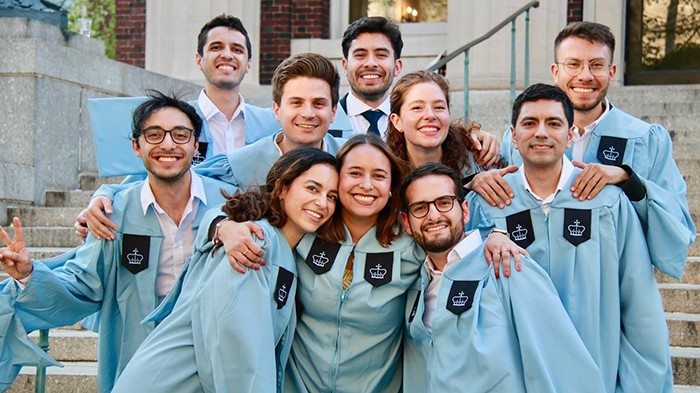 A group of Colombian students graduating from the School of International and Public Affairs pose on the steps of Earl Hall, shared by Jorge Ramon Salas (SIPA'23).
Scholars' Lion Spirit
Jade Durand (GSAPP'23) strikes a pose with Scholars' Lion, writing "I will miss the successful atmosphere, beautiful campus, and the food trucks along Broadway and 116th!"
Proud Moment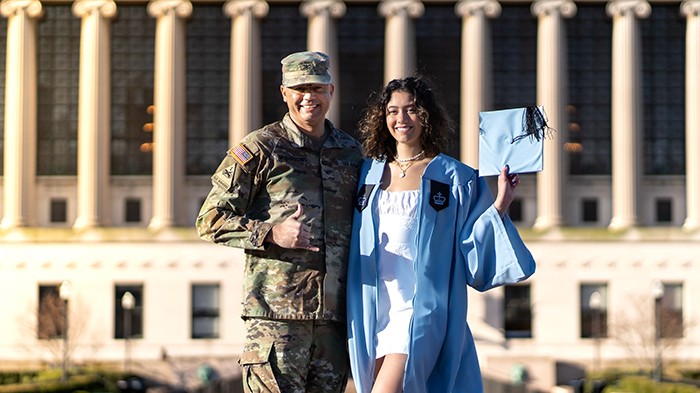 Saj McBurrows (CC'23) poses with her dad, Army Colonel Marvin McBurrows, in front of Butler Library. 
Hats Off to You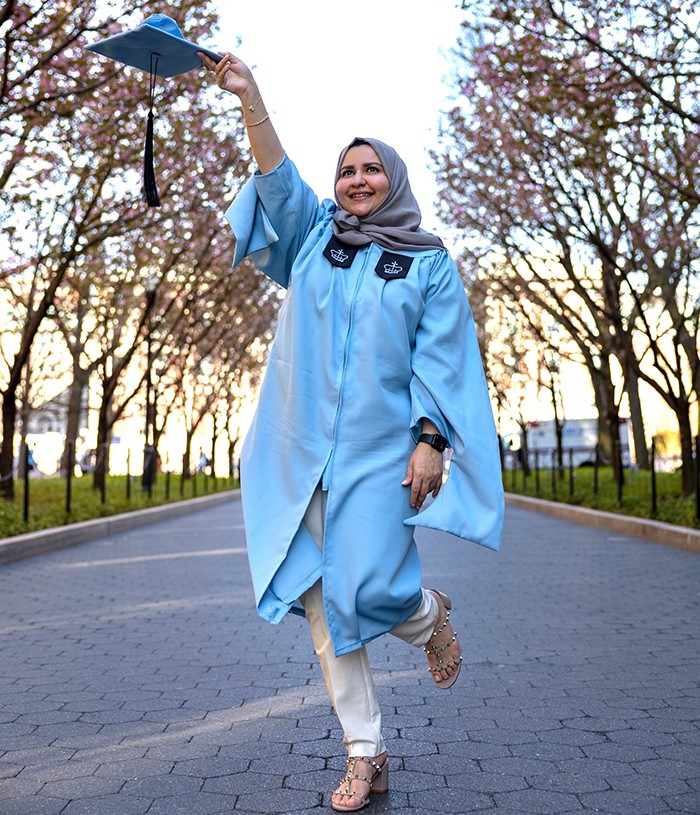 Khloud Shuqair (SIPA'23) strikes a pose on College Walk. Her advice to future Columbians? "Seize the chance to broaden your perspective by traveling the world while connecting with the diverse student population on campus."
Swing for the Fences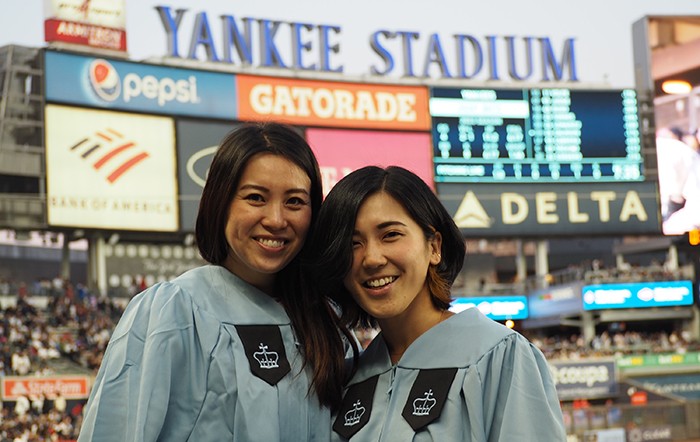 Akane Yamamoto (TC'23) and Narumi Murata (BUS'23) are taking their Commencement celebrations all the way to Yankee Stadium. Wrote Yamamoto: "We celebrated our graduation at our home stadium in NYC. Congratulations to both of us! We made it!"
Leading the Way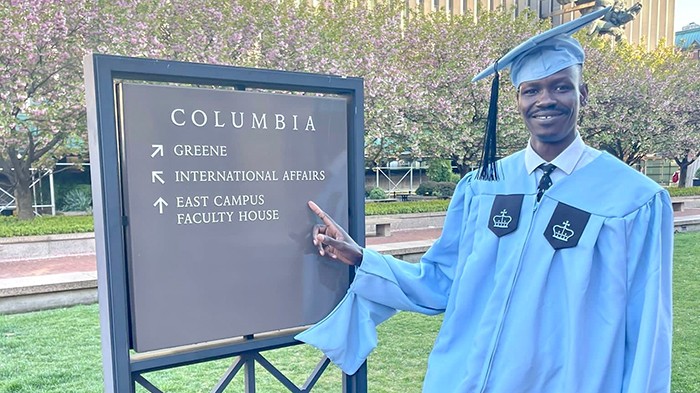 James Maker Atem (SIPA'23) writes about what he will miss most as he graduates this spring: "One thing I will miss about Columbia University after graduation is the opportunity to attend lectures and events featuring influential guest speakers from the United Nations and various governments who brought invaluable insights and perspectives to campus."
The Ties That Bind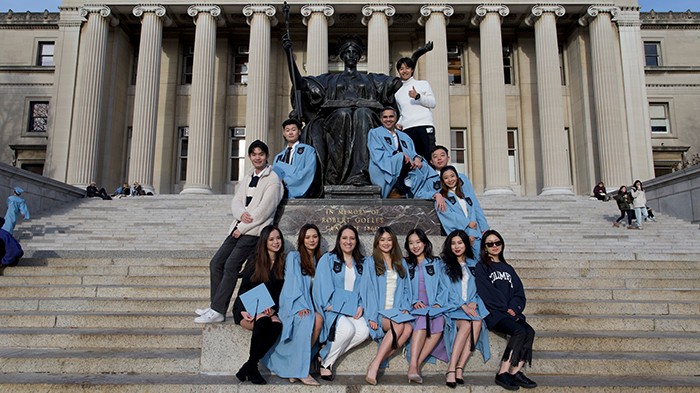 "Columbia Risk Management Club = Life-Long Friends," writes Nicole Marisol Mejia Rosillo (SPS'23) with an iconic group photo with Alma Mater.
Pennant Pride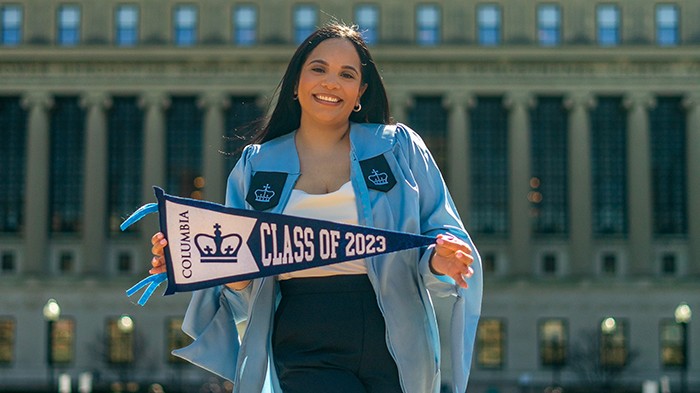 Staffer and soon-to-be-graduate Carla Alba (SPS'23) holds a Columbia pennant with pride in front of Butler Library. "Anything is possible," Alba writes.