9 Columbia Love Stories to Warm Your Heart (Plus, a Pantone 292-Themed Wedding)
With Valentine's Day around the corner, we're swooning over these alumni love stories. 
February 09, 2022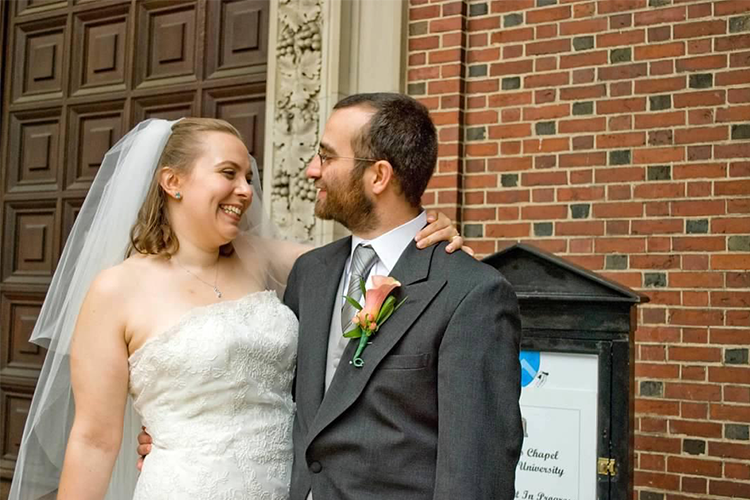 Andie writes: "Andie Cortes-Comerer and Paul Burkey fell in love over their other love, music. Both music lovers and music majors (Andie's a little bit classical and Paul's a little bit jazz) paired in several music classes together, we met while living on the same floor in McBain during sophomore year where Andie was friends with Paul's blind double roommate. We took full advantage of New York's music scene and our first date was a jazz show at downtown's Village Vanguard. 
"In 2018, we welcomed daughter Penelope into the world and are preparing for the birth of our second (due any day!). Our Columbia romance was enhanced by our 2009 wedding day location at St. Paul's Chapel on campus (pictured) with a reception at famed Terrace in the Sky."
Sharing the Joys and Sorrows of 29 Years of Life Together
Mona Zutshi Opubor (CC'95) and John Opubor (CC'95)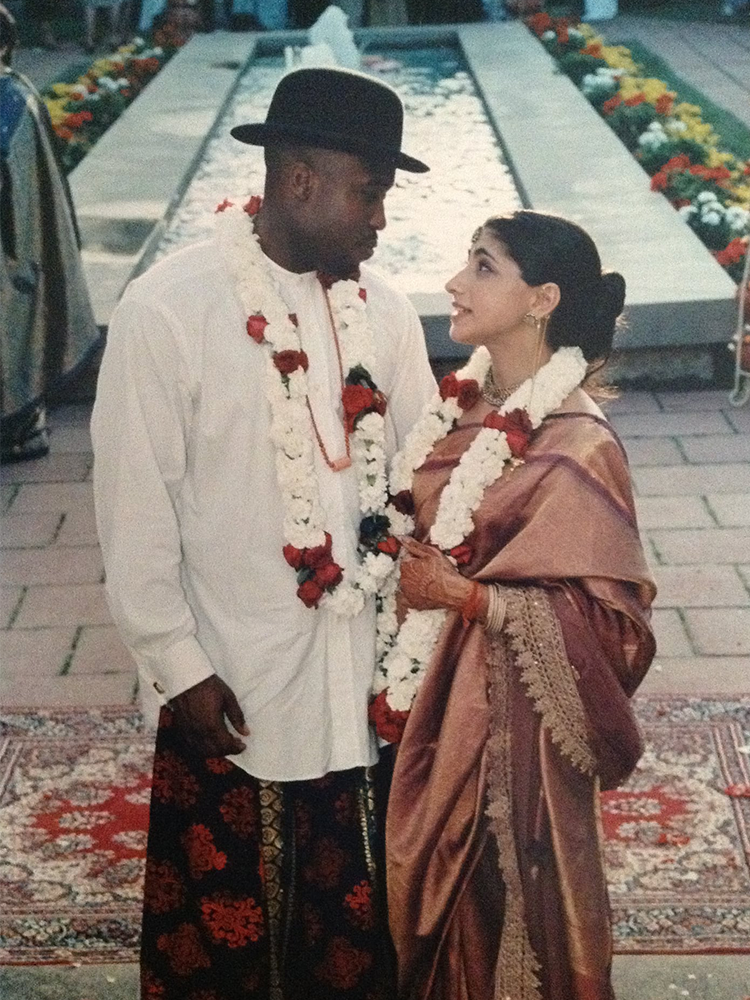 Mona writes: "It was January of 1992, the second semester of our freshman year, when John Opubor sauntered into Logic and Rhetoric, late to the first day of class. I was a shy Indian-American girl who had never had a boyfriend, and he was a confident Nigerian-American student-athlete. Although we appeared to have little in common, we became friendly. We made each other laugh.
"When we were told to write book reviews, John dug up a children's book our grouchy teacher had written on Sojourner Truth and panned it. She photocopied his essay and made the class discuss it, as she and John stared each other down. We all writhed around in discomfort, except, wait... was I charmed? God help me, I was.
"John and I married, had three kids, and moved to Nigeria about a decade ago. We still like to do the things we began doing during our time at Columbia. We talk nonstop and pick ideas apart. We laugh. We take long walks, only now instead of an Upper West Side backdrop, we are in Lagos. We have adventures. We have shared the joys and sorrows of life together, each and every day, for 29 years."
Pantone 292 Is the Best Wedding Theme
Sarah Gitlin (CC'13) and Tao Tan (CC'07, BUS'11)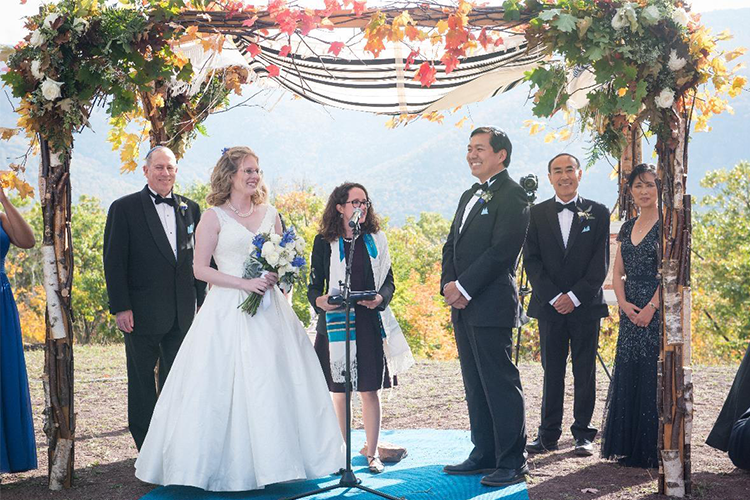 Tao writes: "Sarah Gitlin and Tao Tan  were married by the then-Columbia Hillel rabbi Sarah Joselow Parris on a lovely Saturday in October 2017 when the Lions won 41-17 (score announced mid-vows) in a Pantone 292-themed ceremony, with toasts given by the Michael K. Dakolias Senior Lecturer, Sunil Gulati. Then-Provost John Coatsworth was also in attendance. And yes, "Roar, Lion, Roar" was played at the reception 😂.
"PS. We were both at McKinsey & Company at the time and the wedding venue (a big open field) was technically a rural airport. So, yes, technically, two McKinsey consultants got married at an airport 🤣."
A True Journalistic Meet-Cute
Aviva Patz (BC'92, JRN'95) and Joseph 'Tripp' Reynolds (JRN'95)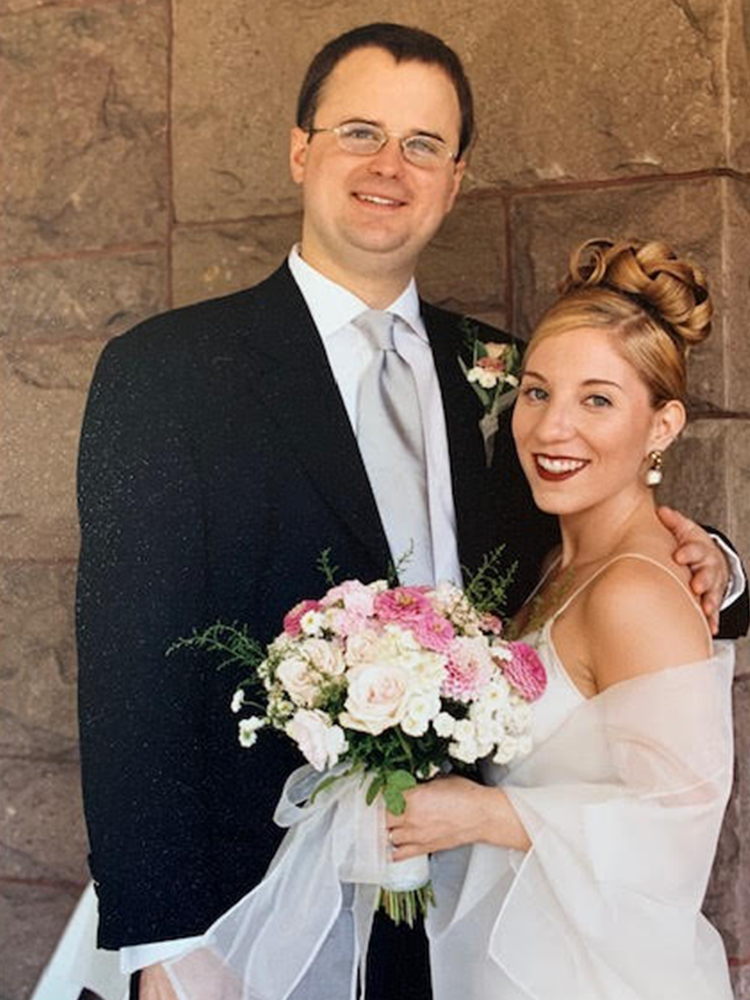 Aviva writes: "Met my husband at Columbia Journalism School after graduating from Barnard. Since there were no cell phones, I asked him to let me know if a source for my story called the landline he was sitting next to in our Writing and Reporting class. The rest is history! We've been married for 23 years and now have two daughters attending Barnard College: Sadie Reynolds (BC'24) and Dahlia Reynolds (BC'26)."
Even After Graduation, a Columbia Connection
Kevin Sheehy (SSW'89) and Richard Radocchia (SSW'89)
Kevin writes: "Rich and I both graduated from Columbia School of Social Work in 1989, but never met or knew each other, which is strange given the small number of males in our predominantly female student body. Fast forward 24 years that included the ending of a long-term relationship and a marriage and raising of children, and we meet on a dating app based on living a mile from each other. At our first coffee date, we have the usual discussion: What do you do? I'm a Social Worker, I'm a Social Worker. Where did you go to school? Columbia. Me too! When did you graduate? 1989. Me, too! Five years to the day of that first date, Rich and I were married and we both believe that Columbia brought us together."
Tying the Knot at St. Paul's Chapel
Yenny Suh (TC'16) and Brian Oh (SSW'17)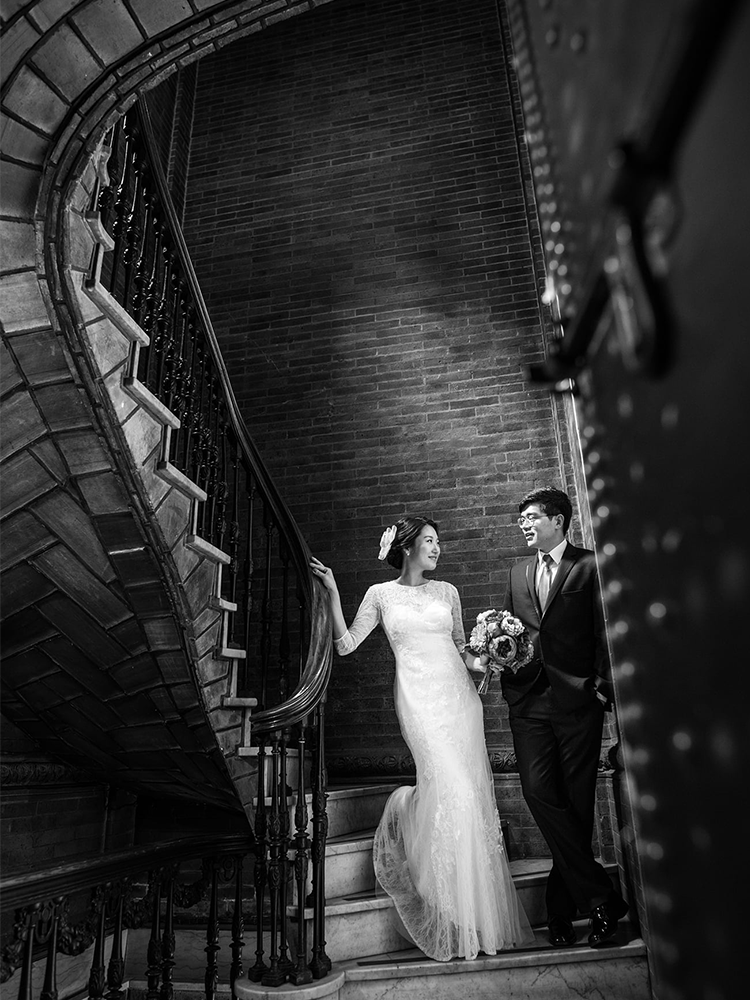 "My husband and I first met back in 2016 at one of the student group gatherings in Columbia. A few months later, we got reconnected on LinkedIn, and as one thing led to another, soon we started dating. Because back then he was still a grad student and I was a recent grad, we used to spend so much time together near the campus. When he proposed to me in February 2017, we couldn't think of a better place to tie the knot than St. Paul's Chapel on campus. The chaplain and all the staff members were so supportive along the way, and we finally said YES at the chapel with our friends and families, who flew all the way to New York from across the U.S. and around the world, on October 7, 2017."
Channeling His 'Inner Cyrano' in Uris Hall
Tom Feitel (BUS'83) and Flora Del Presto (BUS'83)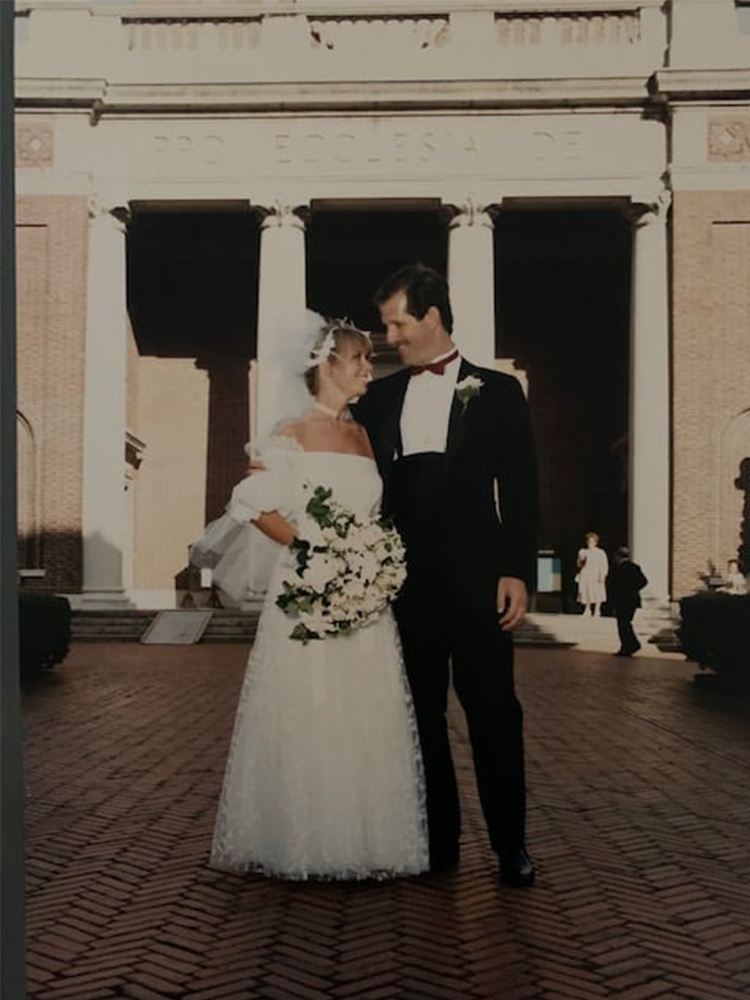 Tom writes: "Flora and I were in the same class but didn't meet until the last term of our 2nd year in B-School. I had long admired her from afar, but one day found myself ahead of her in line at the cafe in Uris Hall and heard her say she didn't have change for a cup of coffee. Throwing my proverbial cloak over the puddle, I offered to pay for it. Next thing I knew she tripped me one night in the library, ostensibly by accident. That same evening I ran through a blinding snowstorm to get to an ATM so I could take her to dinner. Desperate for a way to keep talking to her, I suggested we become pen pals by slipping notes into each other's mail folders in the Uris hallway.
"We were both English majors and I somehow thought I had a better shot by channeling my inner Cyrano. Our epistolary romance accelerated rapidly as the term drew to a close. It got so bad friends were telling me to close my mouth while I was staring at her in classes. At the B-School Follies that year I was presented with the 'I got lucky this semester' award. Truer words were ne'er spoken. We got married at St. Paul's Chapel on June 1, 1985, and I've been lucky in love ever since."
Finding Chemistry in Technology Management 
Vesela Radeva (SPS'20) and Gaurav Rishi (SPS'20)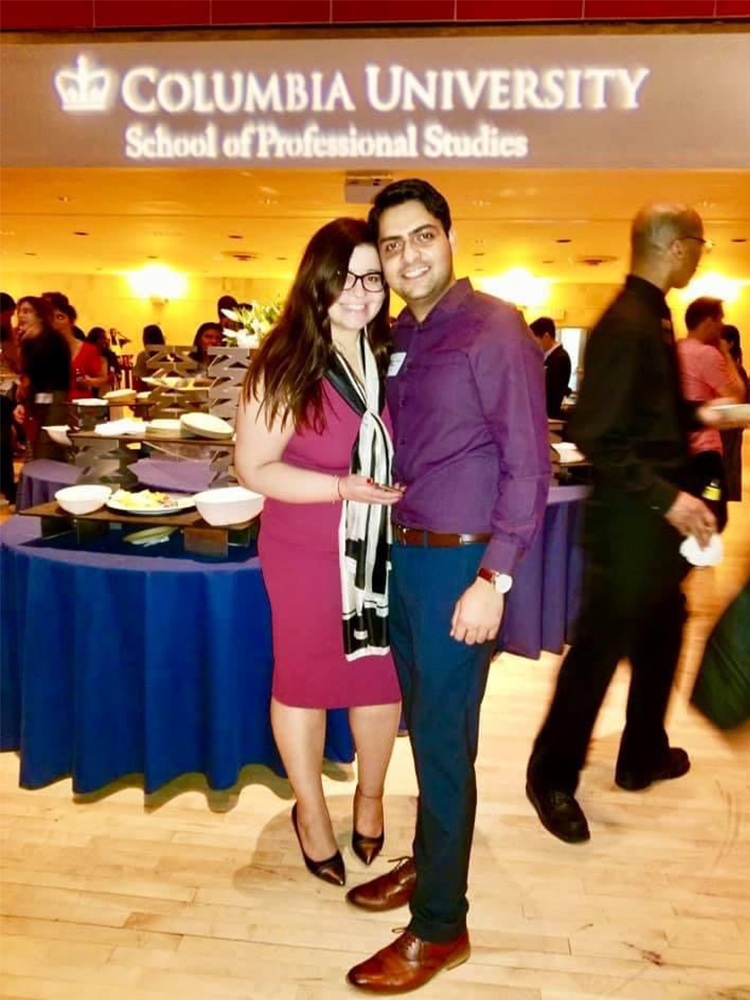 Vesela writes: "Gaurav and I first met in 2018 during our induction for the Executive Master of Science in Technology Management. We had great chemistry from the first week of classes. At the time, we never thought the political discussions during the breaks in-between classes would lead us to find our soulmates in each other.
We got to know one another better during the course of the program and working in group projects. We empathized with each other being a part of the same program and working our full-time jobs alongside. We grew professionally and personally during our time at Columbia. We were inseparable by the time we graduated just before the pandemic in 2020. We moved to the suburbs in New Jersey buying a new house in the summer of 2020. The only logical next step was to get married.
Gaurav made a romantic plan and proposed on the steps in front of Alma Mater. We got married in our backyard just before Thanksgiving. We are eagerly awaiting to have proper celebrations here and in India and Bulgaria."
Running for Love
Brendon Fish (SEAS'15) and Devon Towell (CC'17)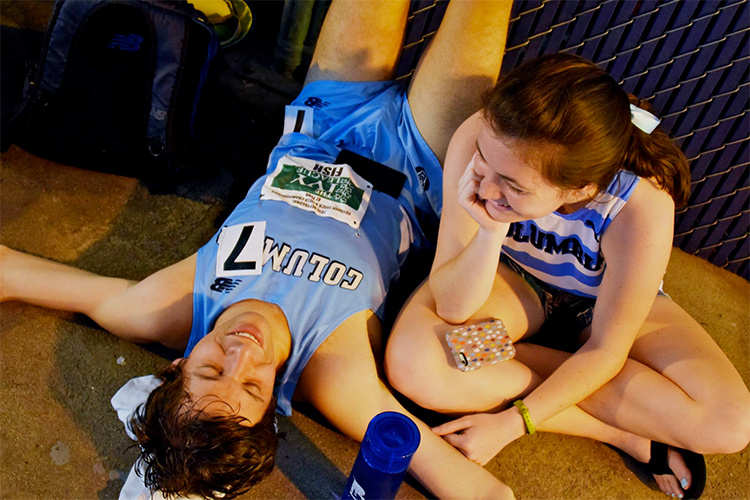 Devon writes: "We met on the track team in 2015—Brendon was a senior and had won the Indoor 1k for the second time that season and was also the SEAS Scholar-Athlete of 2015. This picture is from his final outdoor heps (taken by another Columbia couple, Sarah Boyd!). Two years later, I finished second in the same event at Indoor Heps. We moved to California for a few years, but are now back where we met, living in New York!"
---
Want more #ColumbiaLoveStories? Check out Volume I, Volume II, Volume III, Volume IV, Volume V, Volume VI, Volume VII, and Volume VIII , and Volume IX on Columbia Alumni Association's Facebook page. And share yours using this form or the hashtag #ColumbiaLoveStories.