Academic Commons: Making Columbia Scholarship Accessible to the World
Sean Manning Udell (CC'11) is less than three years out of college, working as an administrator at a new charter school in Denver. Yet he's getting emails from academic researchers seeking his help.
February 11, 2014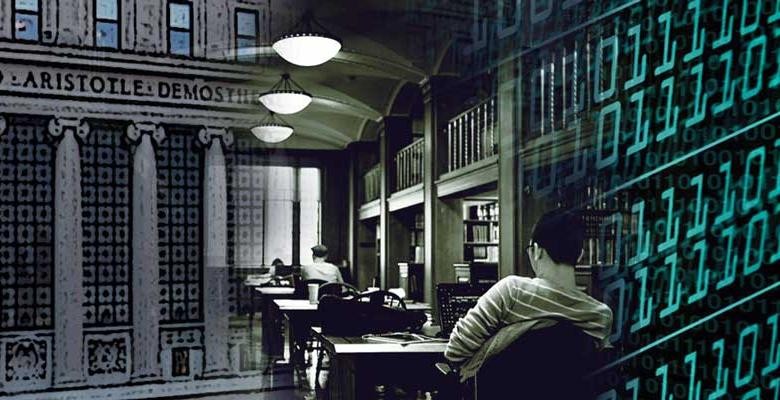 They want to know about sources for "Gaytrification," his senior thesis describing the development of a gay social enclave in Wilton Manors, Fla. After the paper won honors from the History Department, Udell submitted it to Academic Commons, the Columbia Libraries/Information Services' digital repository, which makes it available to anyone doing an online search. Type the term "gaytrification" into Google, and his thesis is among the top three hits.
"It's exciting that my work has a life beyond my undergraduate experience," says Udell. "Academic Commons makes it accessible."
His thesis had been viewed nearly 800 times through January. It is among the most frequently viewed and downloaded of the nearly 12,000 items in Academic Commons, work produced by students, faculty and staff at Columbia, Barnard, Teachers College, Union Theological Seminary and Jewish Theological Seminary.
The works span a wide range of topics. Another frequently downloaded item is "Come On Folks, It's Time," a poem about Irish pubs written by Alisha Kaplan when she was a Barnard senior in 2011. There's also the journal article "Airborne Gravity and Precise Positioning for Geologic Applications," written by Robin E. Bell, a professor at Columbia's Lamont-Doherty Earth Observatory, with four others, including Robert Arko, lead systems analyst and programmer at Lamont, and published in the Journal of Geophysical Research.
Academic Commons is just one of several digital initiatives undertaken by the University as scholarly research, public discourse and artistic expression have migrated online. While many large research institutions have digital repositories, Columbia is one of the few that includes items from contributors throughout the University and its affiliates.
The range is breathtaking: musical scores, images of dance performances and artwork, as well as published articles, blog posts, working papers, datasets and presentations. Languages include Italian, French and German, as well as Chinese, Portuguese, Brazilian Portuguese, Spanish and Catalan, and Urdu.
"It's part of Columbia's mission to share its research with the world," says Kathryn Pope, head of scholarly communication at Columbia Libraries/Information Services' Center for Digital Research and Scholarship. Academic Commons "is a way of making a work publicly available to a global audience."
Columbia created the digital repository in 2006, primarily as a place to house Ph.D. theses. It soon added material from the Economics Department and the Center on Japanese Business and Economy. It was renamed Academic Commons in 2008.
The departments of Computer Science and Economics and Lamont-Doherty have the greatest number of items in the repository. Even high profile economics professors such as Joseph Stiglitz, Jagdish Bhagwati and Earth Institute director Jeffrey Sachs—who have many outside outlets that publish their work—are among the biggest contributors. (Stiglitz's article, The Price of Inequality, is among the most frequently viewed pieces.) Interestingly, the output of full-time faculty accounts for less than a quarter of the items in the Commons.
In February 2011, the Graduate School of Arts and Sciences began to require that all successful Ph.D. candidates deposit their dissertations in Academic Commons, although authors can delay the release for up to two years if, for example, they hope to turn it into a book. A month later, Lamont-Doherty required that faculty and staff deposit a version of their peer-reviewed published articles into an open-access repository, such as Academic Commons.
The repository has grown exponentially. In October 2010, there were fewer than 3,000 items, about a quarter of the total now. More than 3,600 items were added in 2013. There were a record 30,561 visitors to the website in October.
"Columbia is a great brand to have associated with your work," says Lincoln Mitchell, a former associate research scholar at the Harriman Institute who has hundreds of blog posts and articles in Academic Commons. As a consultant specializing in the former Soviet Union, he says it's easy to point potential clients to his writings.
Columbia is among a number of universities participating in a multi-institutional initiative called SHARE—the Shared Access Research Ecosystem—to ensure access to, preservation and reuse of, and policy compliance for funded research.
Leyla Williams, communications coordinator for Columbia's Center for Digital Research and Scholarship, is a member of one of SHARE's working groups. "Making research freely available to the public benefits not just the University, but society as a whole," she says. CDRS is "working with all departments and disciplines, as well as on publicaccess initiatives, to make research accessible to everyone who wants it."