Celebrating Pride Month 2022 at Columbia
Learn about Columbia's long history in the LGBTQ+ movement, events open to the Columbia community, and available resources across our campuses.
June 01, 2022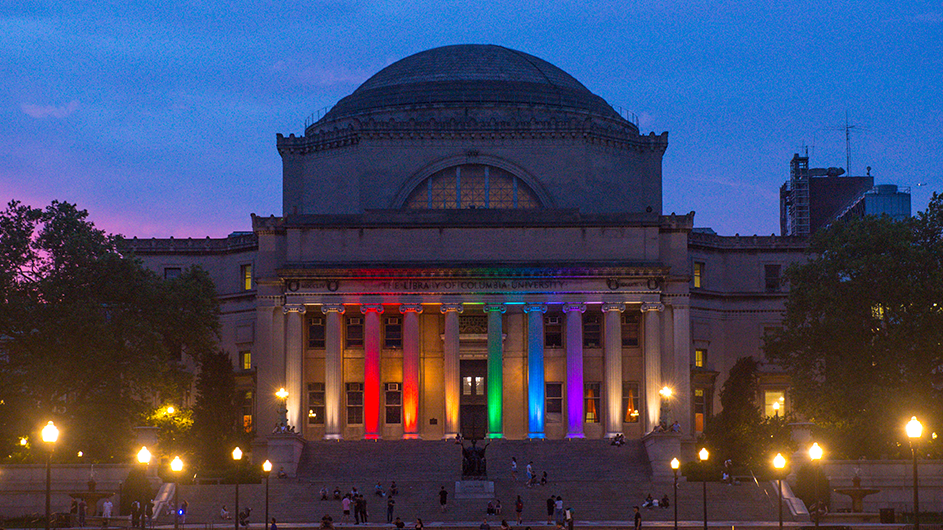 From the beginnings of the LGBTQ+ movement to the present day, Columbia students, alumni, faculty, and staff have been leaders in advocating for the rights of LGBTQ+ people on campus and across the world.
As Pride Month 2022 kicks off, explore the rich history of LGBTQ+ activism at Columbia, the scholarship of our faculty on related issues, events open to the Columbia community, and resources available to Columbians.
Have an event or a resource we should add to our list? Send your updates to [email protected].
Pride Month Events In and Around Columbia
June 8 at 12 p.m. | CUIMC's LGBTQ+ ERG Presents the Trevor Project
The LGBTQ+ Employee Resource Group at Columbia University Irving Medical Center (CUIMC) hosts an online panel with The Trevor Project that will cover relevant policies, access to care, and mental health issues concerning the young LGBTQ+ community. Register to attend.
June 22 at 4:15 p.m. | Virtual Drag Bingo
Join Indigo Dai, aka Miss Independent, and the LGBTQ+ Employee Resource Group at CUIMC for a fun and engaging session of online bingo! A drag queen for more than a decade, Indigo Dai is a member of Drag Legend, Linda Simpson's goofy glamorous team. Advance registration is required to attend.
June 26 at 12 p.m. | NYC Pride March 2022
Columbia Pride, the LGBTQ+ alumni group sponsored by the Columbia Alumni Association, invites LGBTQ+ alumni, students, staff, faculty, and allies across Columbia to march in the 2022 New York Pride March after a two-year hiatus. There are a limited number of spots, so register early and cancel your registration if you cannot attend.
Columbia and LGBTQ+ History
The First Queer College Student Organization
Today, there are thousands of LGBTQ+ groups on college campuses around the world. In 1966, there was only one. Learn about Columbia's Student Homophile League, the first queer student organization on a college campus founded by Stephen Donaldson (CC'69).
A History of Lesbian Crushes at Barnard College
George Chauncey, the DeWitt Clinton Professor of American History, recounts the history of relationships among women at Barnard College and how society took notice.
A Digital Project Maps the Sites of New York's LGBT History
The NYC LGBT Historic Sites Project recognizes important city locations connected to LGBTQ+ history, including the landmark Stonewall Inn and Columbia's own Earl Hall.
Hear directly from some of our scholars on their work on LGBTQ+ issues or their experience as members of the LGBTQ+ community at Columbia.
Resources for LGBTQ+ Students, Faculty, Staff, and Allies
LGBTQ+ Guide (For Faculty) | Office of the Vice Provost for Faculty Advancement
Learn about the rich history of the LGBTQ+ movement at Columbia, pioneering scholarship led by our faculty, and the current needs of LGBTQ+ members of the Columbia community.
Resources for Promoting LGBTQIA+ Inclusion (For Students) | Office of University Life
Compiled to help promote greater inclusion and support of the LGBTQ+ community, the website offers on- and off-campus resources available to Columbia students.
LGBTQ+ Healthcare Resources | Columbia Health
Consult a list of student health resources on all campuses compiled for the LGBTQ+ Guide in collaboration with Columbia Health.
How to Be a Visible LGBTQ+ Ally (Video)
In March 2021, the Office of the Vice Provost for Faculty Advancement hosted a panel discussion on how Columbians can demonstrate their support for lesbian, gay, bisexual, and transgender students and colleagues. The session covered a range of topics including language, support services, and resources. Participants learned strategies to build solidarity with the LGBTQ+ community and to make their solidarity visible.
Why Pronouns Matter (Video)
Asking for and using correct pronouns is a way to respect those around you and create an inclusive environment for people of all genders and gender expressions. Watch our short primer on pronoun use at Columbia with some quick suggestions on how to be an ally to queer and transgender members of our community. 
Across our campuses, students have formed groups in support of their schools' LGBTQ+ community. Find a list of these undergraduate and graduate groups on the Office of Multicultural Affairs' website and keep up with them on social media.
Employee Resource Groups
Faculty and staff at the CUIMC are invited to join the LGBTQ+ Employee Resource Group. Contact Ashley Boyce or Tonya Richards at [email protected] for more information.