Columbia Alumnus Dr. Robert J. Lefkowitz (CC'62, P&S'66) Shares 2012 Nobel Prize in Chemistry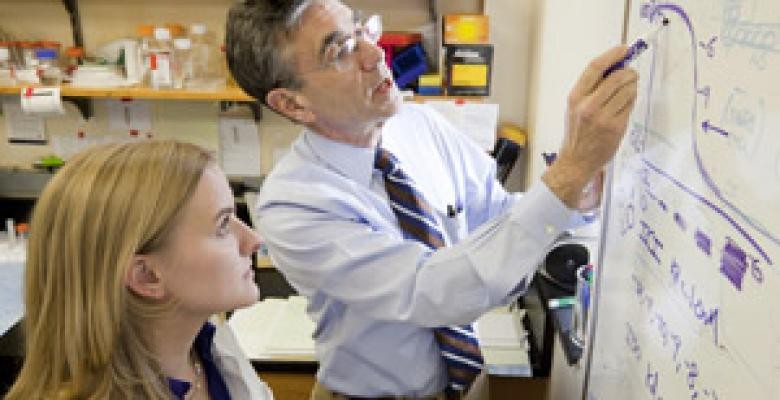 Robert J. Lefkowitz, M.D, Ph.D., an alumnus of Columbia College and Columbia's College of Physicians and Surgeons, has been awarded the 2012 Nobel Prize in Chemistry.
Lefkowitz is a Howard Hughes Medical Institute investigator at Duke University Medical Center in Durham, N.C. He shares the award with Brian K. Kobilka, M.D., of Stanford University School of Medicine, for their work unveiling how an important group of receptors helps cells to sense their environment. Kobilka was a postdoctoral fellow in Lefkowitz's lab in the 1980s. Their work has driven an enormous field of pharmaceutical research and development. Their discovery of how cells receive and react to certain information has led to an entirely new direction for pharmaceutical research.
A 1962 graduate of the College, Lefkowitz earned his M.D. from Columbia's medical school in 1966. He also completed his internship and one year of general medical residency at Columbia-Presbyterian Medical Center (now Columbia University Medical Center), and currently serves on the medical school's board of visitors. His is the 81st Nobel Prize won by a Columbia alumnus or professor. He is also the second graduate of that 1966 P&S class to win a Nobel. Harold Varmus, M.D, director of the National Cancer Institute, shared the Nobel Prize for Physiology or Medicine in 1989.
University President Lee C. Bollinger congratulated Lefkowitz on behalf of the entire Columbia community and for joining "the long line of distinguished alumni and faculty who have been honored by the Royal Swedish Academy over the past century," he said. "We are especially gratified that as a double Columbia alumnus, Dr. Lefkowitz has continued to be actively involved in the University by serving on our medical school's Board of Advisors. This is a day for all of us to recognize the invaluable contributions to society made by research scientists and to celebrate the special achievement represented by Robert Lefkowitz's pioneering work."
Lefkowitz and Kobilka discovered G-protein-coupled receptors, or GPCRs, which are embedded in the cell membrane and cause important chemical cascades when a target molecule attaches to them. That target could be anything from a hormone such as adrenaline to neurotransmitters such as dopamine. Today G-coupled proteins play a role in about half of all medicines, and pharmaceuticals that bind and activate those receptors include beta-blockers, ulcer drugs, cortisone and antihistamines.
Lee Goldman, executive vice president for Health and Biomedical Sciences and dean of the faculties of Health Sciences and Medicine, likewise praised Lefkowitz. "Bob is one of our most active alums and a friend of many of us on the Columbia faculty," he said. "We are delighted that he joins the ranks of P&S graduates who have gone on to win Nobel prizes." "He is the kind of physician-scientist P&S prides itself on nurturing and the kind of intellectually probing person our curriculum is designed to foster.
The dean of Columbia College, James J. Valentini, said, "Robert Lefkowitz is one of the great scientists who was trained at Columbia College. He began the scientific journey that led to this tremendous accomplishment as a chemistry student in Havemeyer Hall, and went on to mentor other students at Duke. We are very proud of his extraordinary work."
Last year, when Lefkowitz was honored at a P&S alumni event he said he was inspired by his family practitioner to become a physician. "To me, medicine was like a priesthood. I always thought it was the highest and noblest thing you could do in life." But a stint as a research associate, or one of the so-called "Yellow Berets," at the NIH made him, as he said, "addicted to data." Pursuing a residency in cardiovascular disease at Harvard, he felt a craving for the thrill of research and subsequently accepted an offer to join the faculty at Duke. Though he ultimately turned to research, he still feels that "being a physician is just the greatest thing in the world," he said. "When I write down my occupation, I still write down physician."
Reflecting on the keys to his success, he observed, "The same things that made me successful as a physician made me good at research. The four keys are focus, focus, focus, and you can figure out the fourth," he quipped. "Persistence also helped."
"Bob Lefkowitz is someone who changed our knowledge of one of the most important pathways of the human body," said Robert S. Kass, PhD, the Alumni and David Hosack Professor of Pharmacology (in the Center for Neurobiology and Behavior) and Chair of the Department of Pharmacology, and P&S Vice Dean for Research.