Columbia Students Reflect on the Heartbreaking, and Uplifting, Lessons of a Pandemic Year
After a year like no other, eight Columbia students share how their perspectives on the important things in life have shifted.
March 11, 2021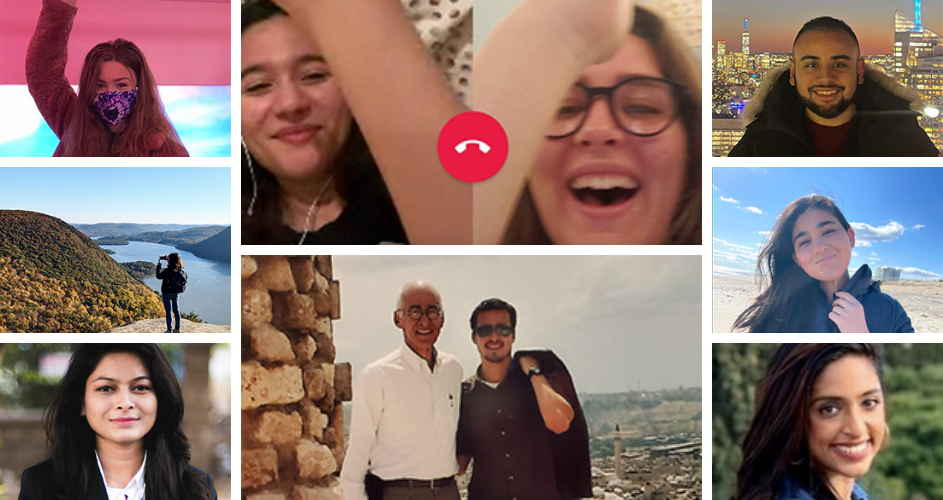 No matter where you are on life's journey, the past year has likely been different for you than any previous year. There has been absence, loss, and uncertainty. But there may also have been presence—of people you quarantined with, of your own thoughts—along with reflection, rest, and reconsideration. If you're like us at Columbia News, you want to feel safe, spend time with loved ones, and feel freedom of movement. But we don't necessarily want to go "back to normal." 
So we asked, and you answered: What did you discover about yourself in the past year? What insight have you gained about life, about what is meaningful, during this year? What is something you have come to understand that you'll not soon forget?
We were overwhelmed by the Columbia community's thoughtful responses to those questions. Scroll down to learn the lessons—heartbreaking and uplifting—that living through a year of COVID-19 had imparted.
Nancy Agrawal, SEAS'22
"I was away from my family for almost five years, living with them again made me realize that nothing in this world stands more strong than family. Also, life doesn't stop for anyone and the future is so unpredictable. The best is to live today and give your 100 percent to what you want to be because there is no tomorrow (at least the one you are sure of). This year has been nothing but a mirror to the truly important stuff. I live for myself, my family, and my community now."
Solomia Dzhaman, SEAS'23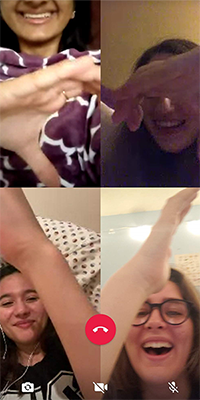 "I have learned that community is a liquid thing. I used to think that community was a solid rigid body. Something that will hold its shape through the toughest of times, and act as a constant in your life. But what I've learned is that community is a liquid, it fills the container it is given. When we were in person, my community was my dorm, meals at John Jay, large lecture halls, and long nights at NoCo. I no longer have any of those things, but community has persisted. In class group chats, in Zoom DMs, in my club's Slack channel, in long phone conversations. 
"Community was there when we all left campus and perfect strangers helped each other move, and community is there when after every email, someone is kind enough to summarize the important points in the Columbia subreddit. Community looks so different today compared to a year ago, at first I was afraid we would have no community at all. But it hasn't disappeared, it merely changed its shape."
(In the photo: Me and my best friends, on a group call for the first time back in March, trying to make a heart. I'm on the bottom right.)
Laura Hohmann, GSAS'20
"Almost a year ago, the pandemic evicted me from my room in an international student dormitory. As I've quarantined all by myself in the Midwest for the summer, I realized that—even when I find myself physically in the loneliest of situations—I am not alone. My network of compassionate and caring classmates, my family (thousands of miles away), my international friends, teachers, strangers, fellow displaced students—they were all 'there,' one way or another, reminding me each and every day that a simple check-in or word of encouragement can make all the difference in someone's life. 
"What I've learned from the past year is that nothing in life is certain, everything is temporary, and absolutely nothing is to be taken for granted. We are stronger than we think we are and, as long as we go through our loneliness together, we can never truly be alone."
Wan-Ting Huang, LAW'21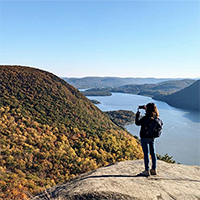 "The world was totally different during the pandemic, including my little world. Every plan has to be reconsidered, except one thing: going to Columbia Law School. In 2020, I flew 14 hours to New York, starting my new journey in CLS. I found that regardless of how the situation has changed, the whole community stays close-knit. Changes keep coming, but as long as we, the CLSers, stand behind each other, we are strong enough to stand up tall! Let's embrace the hopeful outlook!"
Anita Kapyur, LAW'22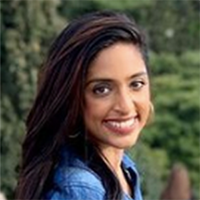 "This pandemic has made me reflect on what it means to live for others. As an extrovert, living in isolation from most of my friends and family has been really difficult, but I remind myself that this sacrifice is to protect our community's most vulnerable. It's been refreshing to find friends with similar values, who despite facing no serious health risk from COVID themselves, choose to live in this sacrifice daily—even a year later."
Arina Karkhanis, CC'21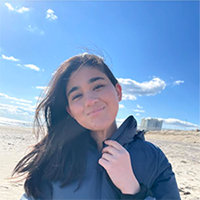 "This year has instilled a more adaptable, open-minded approach to life that I hope to carry well-beyond the pandemic. I've admittedly always been a planner — devising backup plans and four-year plans on the regular. But this year has been a series of unforeseen events that evade all forms of planning: border closures to go home, waiting games for vaccines, canceled senior year celebrations. Despite all of the understandable frustrations surrounding these new changes, it's instilled a flexible mindset that has helped me remain patient and somewhat hopeful throughout everything. As we've shifted to an entirely remote form of learning and the Columbia community has dispersed across the world, we've all had to become increasingly creative in the ways in which we socialize, learn, and engage as a community. 
"There's a lot that can be said of what happens when we move beyond the restrictions of the pandemic and think inventively to open new possibilities for social connection and personal growth. Whether it's sending Instacart groceries to friends who are sick or re-imagining ways of transforming a Zoom screen into a Hamilton seminar room, adaptation and a good outlook have proven key. Right now, safety and the well-being of others are the non-negotiables. All the rest has to fall into place in other ways."
Jonathan Panter, Ph.D. Candidate, Political Science, GSAS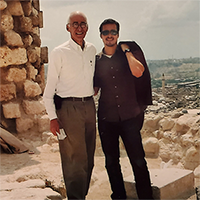 "I lost my dad to COVID-19. Take pride in your work, make the world better, and treat others with compassion and respect, so that one day, like my dad, you will look back and know that you did everything you could in this world—and did it right. The day is short."
(In the photo: Jonathan Panter, pictured with his father, Gideon G. Panter in Aleppo, Syria in 2011. "My dad did his residency in OB/GYN at Columbia,'64, I think. My mom graduated from Columbia Medical School in 1980, and my grandfather was a Professor of ENT (Ear, Nose, and Throat) at Columbia Medical School for over 30 years. Clearly, we love Columbia.")
Mark Torres, SEAS'21, CC'22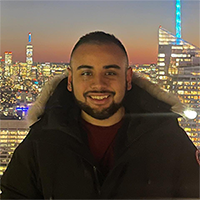 "The COVID-19 pandemic has taught me to make the best out of a bad situation. Many of us had inconveniences this year—whether it may have been spending less time with friends, family, or significant others; not being able to venture into the city; or not being able to do activities that require close human contact (like going to the gym). However, I learned how to utilize my resources that I had, instead of lamenting over what could have been. I virtually chatted with my friends and family periodically and took advantage of my garage to create an at-home gym and do workouts I learned from TikToks. We are so fortunate to live in the age of being able to be virtually interconnected despite having to socially distance from one another.
"Never resist temporary inconvenience if it results in a permanent improvement of your physical and mental health. However, I do want to stress that this pandemic is tough on us. It is okay to cry and be vulnerable. It is okay to fail at something, especially because we can't live our lives normally, but remember this: giving up is unforgivable. We will get through this together if we persevere, and we will come back stronger than ever before."