A Doctorate in Nursing Symbolizes One Graduate's Personal Triumph Over Illness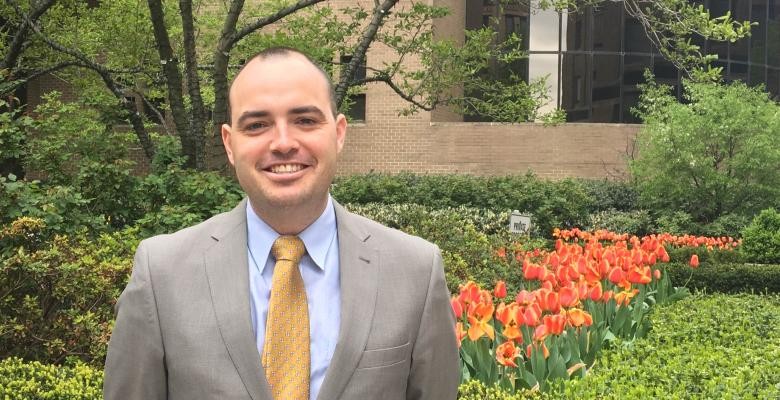 When Paul Coyne graduates from Columbia University School of Nursing on May 18, he will add yet another diploma to the five he has already earned.
In addition to his new doctorate in nursing practice, he has a bachelor's and master's in nursing from Columbia. Then there is the combined MBA in healthcare management and master's degree in finance he earned at Northeastern University, as well as his original undergraduate degree from Providence College.
That's no small feat, especially for someone who just turned 30. Now, consider this: In 2008, weeks after his first college graduation, Coyne suffered a stroke that left him with severe weakness on his left side and memory loss that caused him to forget so many words and memories that he had trouble recognizing himself.
It was the result of hypertrophic cardiomyopathy, a heart disease in which the walls of the ventricles are too thick. In the days after the stroke, Coyne, a talented singer, sat in his hospital bed with a nurse nearby, watching YouTube videos of himself singing classic popular songs like "Mack the Knife" and "The Way You Look Tonight" at performances and competitions.
"I would watch those videos and say 'That's Paul,' but it was very difficult for me to say 'I'm Paul,'" he said.
After weeks in the hospital and rehab, Coyne was well enough to move to New York City to begin work as a derivatives analyst at Goldman Sachs. "Ironically, I was successful in those first months at Goldman and survived countless rounds of layoffs after the economic downturn," he said, referring to the Great Recession that started in 2008. "I just didn't talk much, and everyone thought I was shy."
After a few years, Coyne was at a point where new colleagues had no idea he had any health issues. He knew who he was again. Now, it was time to decide who he wanted to be. He had a eureka moment during a routine doctor's visit when, seeing himself in a mirror, gowned for a checkup, he thought of the many nurses and nurse practitioners who had helped him after his stroke.
"I knew that there had to be more to the life I had fought so hard to keep than processing derivative settlements on Wall Street," Coyne said. "I wanted to find a career with purpose and meaning, a career that would allow me to help others who were not as fortunate as I was to recover."
In 2012 he left his job and enrolled simultaneously in Columbia's nursing school and Northeastern University's combined MBA and finance master's program.
When former colleagues on Wall Street asked him, "Why nursing?" Coyne would explain by telling his life story. Arriving at Columbia, though, he found himself surrounded by people "with stories as compelling, if not more compelling, than mine." The 200 students who started with him included cancer survivors, military veterans, doulas, massage therapists, professional musicians and liberal arts majors. "We are all Columbia nurses, why would I want to be anything else?" he said.
One of the students he met was Michael Wang (NUR'13) another nursing student with an MBA. They began trading ideas on how to combine their business and nursing skills and cofounded a healthcare technology company called "All iNspiRe" that is focused on improving the patient experience. The first invention is a wall-mounted device that can identify and analyze the interactions of people within a hospital room and be coupled with mobile and desktop applications.
It can keep track of hourly rounds, show families how their loved one is being cared for, and even allocate nursing resources based on patient-time consumption. It was created with a team of nurses at New York-Presbyterian Hospital and advice from professors and Ph.D. students at Columbia Engineering. The prototype has a patent pending and a pilot project is planned at NewYork-Presbyterian, where Coyne now works as manager of analytics and insights.
Coyne believes his pursuit of nursing changed his life. "This degree does not just symbolize my educational achievements.  It symbolizes the end of my stroke recovery and my triumph over illness," he said. And there's more.
During his first year at Columbia Nursing School, he met Danialle Calaustro (NUR'13,'15), one of the students in his cohort. He asked her to marry him a month ago. She said yes. They will wed on April 29, 2017 in Hawaii, where Calaustro was born and raised.