Mapping the World's Cultural Treasures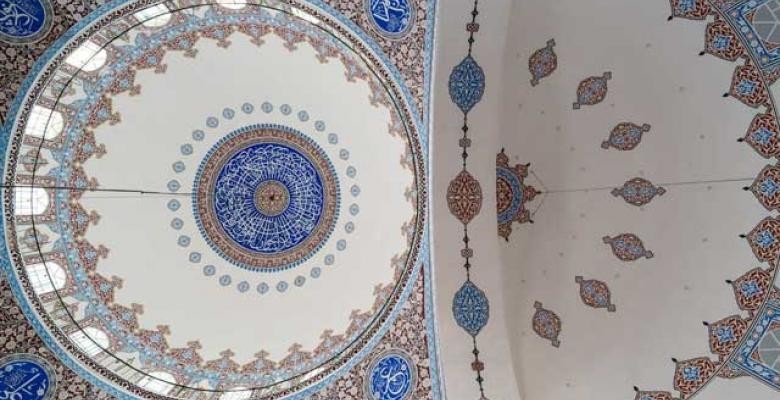 When Zainab Bahrani traveled to Iraq 10 years ago, she realized that it was crucial to document the extensive damage to the country's cultural treasures caused by years of war. "We needed a system to record what was left standing of the region's built heritage because Iraq had been cut off from the rest of the world for so long," she said.
Bahrani had a vision of what that system could look like thanks to her colleague in Columbia's Department of Art History and Archaeology, Stephen Murray, whose website, Mapping Gothic France, allowed users to explore the social and architectural history of 12th and 13th century France—in three dimensions.
"It occurred to me that the way in which he was digitally documenting Gothic architecture, first in France and then all over Europe, could be replicated in Iraq," says Bahrani, the Edith Porada Professor of Ancient Near Eastern Art and Archaeology.
But the situation in Iraq remained precarious for so long that Bahrani's vision remained just that. In the fall of 2013, Bahrani returned to northern Iraq with two graduate students and began fieldwork with a grant from the President's Global Innovation Fund, which supports faculty projects devoted to international research and collaboration with Columbia Global Centers.
Along with two Iraqi colleagues, they visited Erbil, Dohuk and Sulaimaniya in Iraqi Kurdistan, where they documented monuments and historical architecture—everything from ancient Assyrian archaeological sites and carved cliff faces to early Christian churches, Islamic and Ottoman mosques, shrines, statues and tombs.
They did a great deal of work in one of the main religious sanctuaries of the Yazidis, a religious and ethnic minority whose members have been trapped on Mount Sinjar in northern Iraq by Islamic State militants since August. So far, none of the 25 or so monuments that Bahrani and her team photographed and measured have been damaged, but that could change at any time.
All of the data has been uploaded onto the Mapping Mesopotamian Monuments website, which presents a topographical survey of monuments and rock reliefs in the region from ancient to modern times. The database of images allows viewers to explore Mesopotamia's historical landscape and create digital documentation for future preservation work.
The Mesopotamia website is one of several faculty-led mapping projects under the umbrella of Archmap, a shared database of text and more than 40,000 images, which grew out of the Mapping Gothic France project.
The Archmap prototype was developed by Murray, the Lisa and Bernard Selz Professor of Medieval Art History and director of Art Humanities, and Rory O'Neill, a Ph.D. student in the department. It allows researchers to document works of architecture through text, measurements and panoramic images; buildings are plotted on Google maps that include historical overlays.
Archmap also includes Hadrian's Villa near Rome, a project of Francesco de Angelis, an associate professor of art history and archaeology; the rock-cut architecture of India, a project developed by Vidya Dehejia, the Barbara Stoler Miller Professor of Indian and South Asian Art; and department chair Holger Klein's Istanbul Research and Documentation Project, which maps Byzantine churches in Istanbul and also received a grant from the President's Global Innovation Fund.
Murray and O'Neill are looking to expand Archmap, incorporating 3D modeling of buildings and artifacts as well as image manipulation. With such tools, O'Neill said, one could build, for example, an online collection of stone-vaulted buildings in a region that included not only Romanesque and Gothic structures, but also Byzantine and Islamic works.
They envision Archmap as an interdisciplinary, open-source platform for the digital humanities at Columbia and other research universities. As a Web-based application, it will allow scholars to create, collect and synthesize information in slideshows, essays and new composite images.
"The sky's the limit once you start entering data, photos and bibliography," said O'Neill. "Archmap is an open-sharing social media version of scholarship that a researcher in the library or standing in front of some Gothic structure in Cyprus can tap into on his smartphone by downloading data and uploading photos that he's just snapped."
Given the turmoil in the Middle East that threatens to destroy much of the region's cultural heritage, Archmap is particularly timely, Bahrani noted. "It's important to remember that this is not just a scholarly project," she said. "It goes beyond academia and directly affects human rights and lives. Some of my Iraqi colleagues are now refugees."