Prof. Oliver Sacks Discusses Healing Power of Music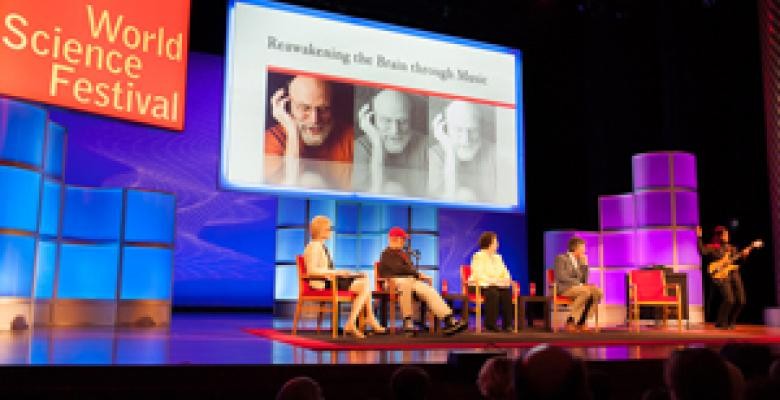 Best known for his work with people suffering from unusual brain disorders, Dr. Oliver Sacks admitted that when he started his medical career back in the 1960s, he wanted to work as a research scientist in a laboratory.
"But I was exceptionally clumsy. I was always breaking apparatus and having accidents," Sacks told an audience at this year's World Science Festival. "So finally in '66 they said to me, 'Get out! Go. Go see patients. You'll do less harm.'"
His work since then has been the stuff of medical history, featured in a stream of best-selling case histories as well as the 1990 film "Awakenings," starring Robert De Niro and Robin Williams.
The Oscar-nominated film focused on a group of patients rendered speechless and motionless after surviving encephalitis lethargica but who came back to life after Sacks treated them with the then-experimental drug L-dopa.
A professor of neurology and psychiatry at Columbia University Medical Center and the first Columbia University Artist, Sacks was the featured speaker at a June 1 panel titled "Reawakening the Brain Through Music."
The discussion, moderated by "60 Minutes" correspondent Lesley Stahl, focused on the ability of music to heal patients afflicted with severe neurological and physical problems and the larger biological question of where music resides in the brain.
Wearing a red baseball cap emblazoned with the motto "Science is Fun," Sacks said he first discovered the restorative powers of music in 1966, when he began as a consulting neurologist at Beth Abraham Hospital in the Bronx, the setting for "Awakenings."
By accident Sacks discovered that some patients who had lost the power of expressive language were able to sing. "With one of them I was told it was her birthday and so I started to sing 'Happy Birthday' and she joined in …(with) the words as well." Sacks said.
"Were you stunned?" asked Stahl.
"I was amazed. And so was the patient," responded Sacks.
During the program a short video clip from a new documentary called "Alive Inside" by Michael Rossato-Bennett showed how an elderly man named Henry, who was suffering from dementia, would break out of his catatonic-like state when his favorite music was played for him. After he finished listening to the music, he was able to respond to questions about the songs.
Panelist Dr. Concetta Tomaino, executive director and co-founder of the Institute for Music and Neurologic Function, noted that Henry was able to interact with other people after listening to the music.
"And that engagement starts the therapeutic process of bringing the person from listening to a piece of music to now engaging them in understanding what that music means to them," she said.
Music has been a part of Sacks' life since he was a little boy. Thanks to his father's love of classical music, Sacks fell in love with Bach at the tender age of 6—and remains a fan today.
Underscoring Sacks' longtime passion, panelist and four-time Grammy-nominated jazz guitarist Stanley Jordan came on stage to play Bach's Two-Part Invention No.4 in D minor as Sacks tapped his black sneakered foot in anticipation.
After the performance, a video clip from the PBS series Nova was played showing how Sacks' brain responded during an MRI to hearing Bach compositions—it lit up all over.
Dr. Petr Janata, a cognitive neuroscientist at the University of California, Davis, who studies the psychology of music, noted that our responses to music are widely distributed throughout the brain.
"It's easy to have one part of the brain fall away, and you have some deficit and you say, 'Oh, that part of the brain does that, right?' It's much less satisfying to say 'Okay, music is everywhere'—but that's what we're seeing."