Renzo Piano on Designing an Inclusive City
The renowned architect spoke recently at The Forum about his past work and his vision for cities in the future.
December 17, 2019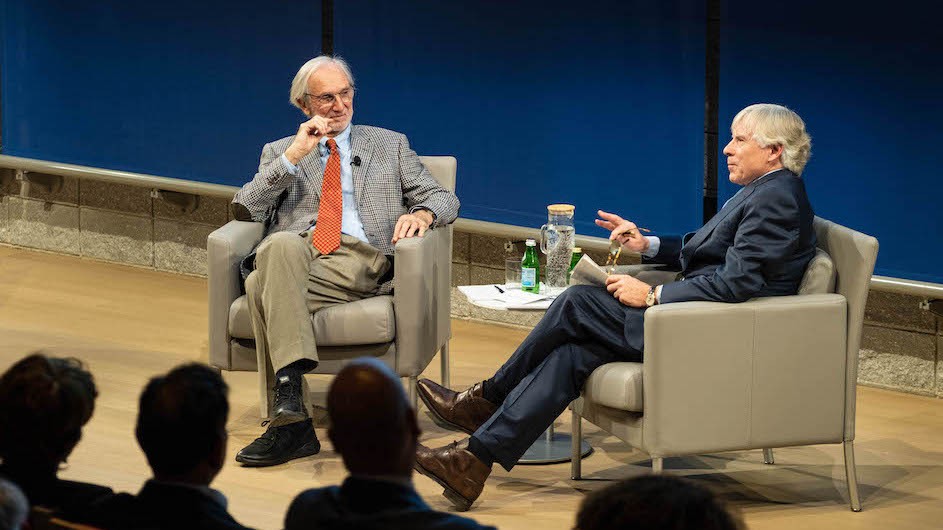 On December 11, 2019, Renzo Piano, the Pritzker Prize-winning architect behind the first set of new buildings on Columbia's Manhattanville campus, spoke to a full-capacity crowd on the role of architecture in creating more inclusive cities.
The event, which was sponsored by Columbia World Projects, the Graduate School of Architecture, Planning and Preservation (GSAPP) and the School of the Arts, took place at Manhattanville's Forum building, one of the three operational buildings that Piano designed for the new campus.
"Few architects are as integral to the present and future form of Columbia" as Piano, Amale Andraos, dean of GSAPP, said in introducing the architect. Piano's new buildings on the Manhattanville campus, she continued, have "set the university on a definitively different trajectory for the future, one that recasts the very relationship between the campus and the city."
In his lecture and a subsequent discussion with Columbia President Lee C. Bollinger, Piano discussed a number of his most iconic buildings, the importance of inclusive architecture and his love of sailing.
---
The Centre Pompidou in Paris
"We were both young bad boys at that time," Piano said, referring to himself and his fellow architect Richard Rogers when they designed the iconic and iconoclastic Paris museum. The building, which opened in 1977, is notable for its unusual structure, which places much of what is normally inside a building, such as escalators, on the outside. Piano and Rogers were the winners of an international architecture competition, and, Piano suggested in his lecture, inspired in their design by the civil unrest that rocked France in May 1968. "This building was just saying, 'let's put a spaceship landing in the middle of Paris,'" he said. "We were actually honestly quite perverse and we were happy about that."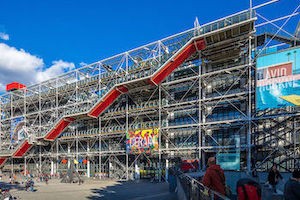 "This is the idea: that the sacred and profane may meet," Piano said of the large piazza outside the building, where street performers often play to large crowds. "It was fundamentally about avoiding intimidation and creating through this a place of curiosity," he added.
The New York Times Building
The building, in Midtown Manhattan, was publicly announced in 2001, shortly after the September 11 attacks. Discussing the building, which has floor to ceiling glass windows, Piano emphasized how radical its architecture was in the wake of those attacks. "The idea to make a building about transparency in the moment after September 11, it was quite, quite a brave decision," he said.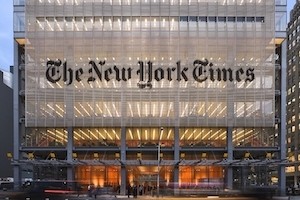 "I will never forget that evening," soon after September 11, he recalled, when the paper's executives told him to proceed with ambitious plans for the building site. "We keep going and we do a building that is transparent," he said they told him.
The Whitney Museum of American Art
"It's a flying vessel, in some way. I like that idea, to make a building fly," Piano said, of the Whitney Museum of American Art, which moved to its new, Piano-designed location in 2015. "It's a meeting place," he added. "It's for art, but not just for art."
On Sailing
Before finishing his lecture, Piano showed a picture of himself on a boat. "I love sailing," he said, adding: "The boat is like a little world that begins and ends. You are in the boat and after a while, ideas come up, they come on surface. Everything is motionless in the sea, except waves. That's not me–that's Herman Melville who wrote that. 'Everything is motionless except waves.' This is something magic."
Building an Inclusive Manhattanville Campus
After Piano's lecture, the architect sat down for a conversation with Bollinger, who noted that plans to build a gym on Columbia's campus in the 1960s were scrapped after critics said that the facility was designed to be racially segregated and protests erupted. Bollinger asked how architects might design a campus with inclusion in mind, and asked Piano how his plans for Manhattanville compared with the design of Columbia's main campus, known as Morningside, which was largely built at the turn of the last century.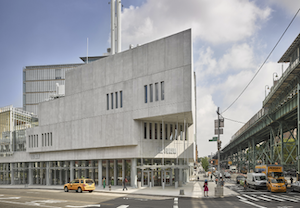 Piano said that when the Morningside campus was built, it was conceived as closed classical buildings on a gated campus to convey a sense of safety and authority. The new Manhattanville campus, he said, held "the promise of something else." The concept, he continued, is to create a new campus without gates that draws on the street culture of Harlem. By opening the first stories of buildings in Manhattanville to the public and filling their external walls with glass, "the idea is that you take the building and you make the building fly." He added, "Fundamentally, it was about opening the campus to the community."
"In this profession, you need to love the place you are working," he said. "When you work in New York, you must be a New Yorker."
A full recording of the event is available here: