A Sad Update From the 'Ginsbirds' and the Columbia Community
While the Wild Bird Fund attempted to rescue the juvenile red-tailed hawk, the young raptor unfortunately died on Hamilton Lawn. 
June 16, 2022
Columbia News has learned that one of the juvenile red-tailed hawks that called Columbia home during the last few months, died yesterday, June 15, on Hamilton Lawn. The "Ginsbirds" have captured the attention of the Columbia community far and wide, and this latest development has been both sad and disappointing for birdwatchers in New York City—and around the world.
As calls and emails expressing concern for one of the two young raptors poured in over the weekend from interested parties who had been watching the live cam of the nest that was set up on a Columbia student's balcony, the Wild Bird Fund reached out to Columbia to offer assistance.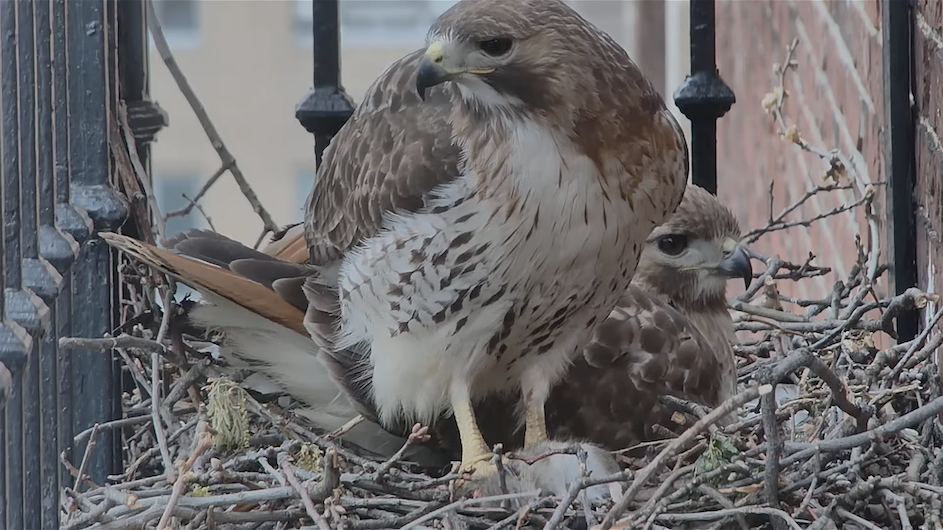 While initial observations indicated that all was fine in the nest, cause for concern grew on Tuesday, June 14.
"We obviously don't want to interfere unnecessarily, and we are also concerned about flushing the bird from the nest by attempting a premature rescue," wrote Catherine Quayle, social media director of the Wild Bird Fund, who continued to monitor the situation in coordination with Rita McMahon, the group's director. 
But on June 15, things turned worse. The young hawk in question, flew from the nest and landed on the lawn in front of John Jay Hall. In consultation with the Wild Bird Fund, New York City Parks Department, and Columbia College and University staff and administrators, NYC Parks Ranger Rob Mastrianni came immediately to campus to attempt a rescue. Upon arrival, however, he found the juvenile unresponsive. Mastrianni took the dead hawk back to the clinic for testing.
According to Quayle, "the bird died of advanced trichomoniasis, which is a parasitic infection that starts in the mouth and esophagus. Although this might have been treatable if caught earlier, the illness must have been quite advanced before the bird left the nest and perhaps before anyone even noticed anything amiss."
Interestingly, trichomoniasis was responsible for the death of some Tyrannosaurus rex, noted McMahon, meaning that birds—and dinosaurs—have suffered from this parasite for a long time. 
Quayle mentioned that "eating an infected pigeon was almost certainly the cause" and that "its sibling likely shared that meal." She encouraged the community to continue to keep an eye out for the hawk family and to alert the Wild Bird Fund if the other juvenile appears lethargic or is seen standing in one place "for unusually long periods of time."
The Columbia community is thankful to the Wild Bird Fund and the NYC Parks Department for their guidance, to the many birdwatchers who have offered their observations, and to Joseph Goddu, who has shared his amazing photos taken through the Columbia College Hawk Cam. The Ginsbirds continue to remain in everyone's thoughts.