A Syrian Graduate Hopes to Use Urban Design to Help Rebuild His Country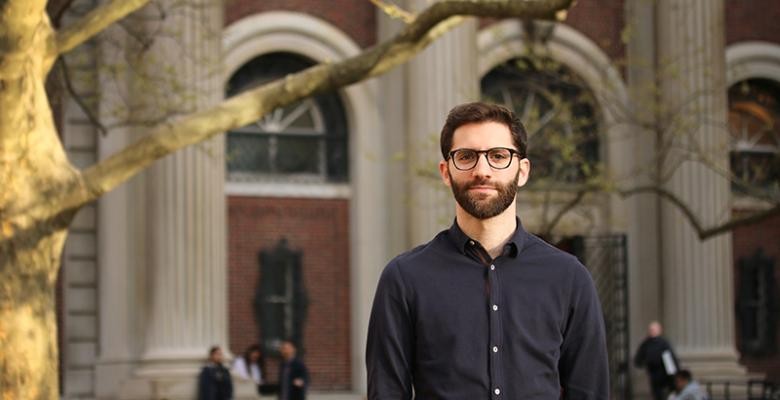 Until several years ago, Abdulsamad assumed that he would follow his siblings into the family's architectural firm. Like them, he was studying architecture at Damascus University when the Syrian revolution started in 2011. After demonstrating against the Assad regime, Abdulsamad was beaten and suspended from school.

Had Abdulsamad remained in Syria, he would have been required to join the military, something he had never considered. The only way he could continue to study architecture, he realized, was to leave the country. Via Facebook, he learned about a scholarship to the Illinois Institute of Technology, offered in partnership with Jusoor, a nonprofit that helps Syrians continue their academic work abroad. By December 2012, he was on a plane to Chicago, where he received his undergraduate degree in architecture in 2015.
Abdulsamad switched gears while in college to focus on urban design. Although the buildings in Chicago, a center of American architecture with iconic structures by the likes of Frank Lloyd Wright and Mies van der Rohe, impressed Abdulsamad, he was more influenced by the city's urban plan: the spaces around its buildings, its wide streets and its big parks—spaces where he witnessed peaceful protests.
"Coming from Syria, that was the biggest cultural difference for me," he said. "I remember going to a Black Lives Matter protest and seeing this huge gathering of people in a plaza. They were waving their phones around, taking pictures, demonstrating, and it wasn't forbidden. No policemen were stopping them, demanding to know what they were photographing, or shooting at them. Chicago's open spaces were built to be occupied, experienced and used by people; in Syria, open areas are for you to walk through, not to stand and gather. Once you have four people, the fifth will be a secret service agent."
While he studied in Chicago, Abdulsamad was horrified by the destruction taking place in his home country: "What's the point of designing a beautiful interior with comfortable furnishings if the whole building is going to be blown up? Entire streets, neighborhoods, cities where I had lived were being demolished. That touched me, and I felt as if I would be lying to myself if I continued to design small scale. My culture was being demolished, like a tree ripped out by its roots."
Eventually, Abdulsamad's family joined him in the United States. His brother, Malek, who was already in the U.S., pursued urban planning by working on a project devoted to the resettlement of refugees in Homs, Syria. Abdulsamad felt he could best follow suit by studying at Columbia, where he arrived in 2016 for the one-year master's program in urban design.
His first day on campus, he introduced himself to Laura Kurgan, an architecture professor who teaches in the urban design program and runs Conflict Urbanism: Aleppo, an interactive, open-source map of the destruction of the historic Syrian city. The project combines layers of high-resolution satellite images with data gathered by human rights organizations and the United Nations. "I'm from Syria," Abdulsamad told Kurgan. "I speak Arabic. How can I help?"
This spring Abdulsamad was unable to travel with his classmates and professors to Amman, Jordan, as part of a course on water urbanism. His project was on implementing a micro-water infrastructure in a Palestinian refugee camp; he feared being denied re-entry to the United States under the new federal travel restrictions. And, of course, he is unable to return to Syria while the Assad regime is in power because of his past political activity.
"As a teaching assistant in the class, Majed sent out very funny GIFs once a week," Kurgan said. "Uplifting for all, and one particularly celebratory on the day he received his green card—the same day the United States Court of Appeals for the Ninth Circuit in San Francisco blocked the travel ban on people from seven mostly Muslim nations.
"He has done brilliantly here at Columbia," she added.
Abdulsamad has focused on helping other Syrian refugees. Earlier this year, in the keynote address at a Columbia Business School conference, "Innovative Solutions in the Refugee Crisis," he described an initiative he started with fellow Syrian students enrolled in American universities: Syrian Youth Empowerment. The project guides Syrian high school students through the U.S. college application process.
After graduation, Abdulsamad plans to continue research into how urban design can contribute to post-war reconstruction in Syria.
"More than anything," he said, "refugees need opportunity, not sympathy."