Your Guide to 'Welcome Home Columbia' Activities This Fall
Columbia is welcoming students back to campus for the first time since 2020 with events meant to help 'connect, reflect and learn about the wonderful people and resources that make up the Columbia community.'
August 26, 2021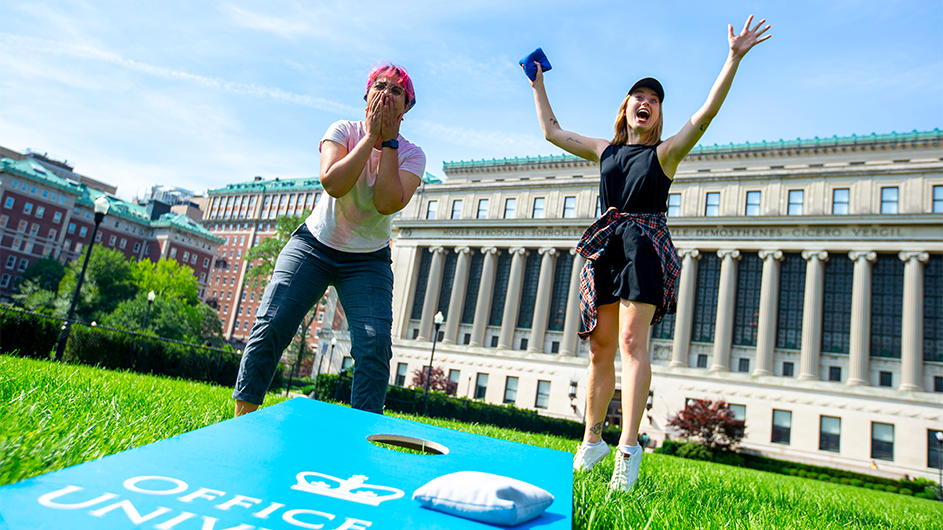 There's a lot that the Columbia University community can be proud of from the last year and a half. We've weathered the COVID-19 pandemic with ingenuity, care, and compassion, particularly on the part of our essential workers who kept the university running and helped to keep New York City safe. But there has also been loss ⁠— friends, family, neighbors lost to the pandemic and others hurting from the shutdown. We've also been apart from each other, rightfully so, to keep everyone as safe as possible. 
That brings us to fall 2021, and we're excited to welcome students back to campus after months of planning and under the safest possible conditions. In honor of the never-before-seen circumstances we've all lived through, University Life, with sponsorship from the Office of the President, has crafted a series of events to help Columbia reconnect, strengthen, and rebuild as a community: Welcome Home Columbia. 
"It has been a pleasure partnering with staff and students across the University to plan meaningful and fun events as we return to campus this fall as part of Welcome Home Columbia," said Vice President for Student Affairs Joseph Defraine Greenwell, Ed.D. 
Below, find your guide to Welcome Home Columbia, which includes a suite of events starting September 8:Columbia Welcome, Columbia Reflects, and Columbia Quest, as well as some virtual ways to get involved. With these foundational events, Welcome Home Columbia events and activities will continue through September 24. You can keep up with all the happenings and ongoing opportunities to connect on University Life's website here.  
Events are open to all students, regardless of graduation year or campus.
While you're adjusting to life on campus, might we also suggest taking yourself on a walking tour of the Morningside campus, getting your bicycle on, and testing how well you know the "secret" spots of Columbia. 
All Fall: Welcome Home Columbia Photo Booth, Hashtag, and Filter
Share your Columbia spirit and excitement to be back in action with our virtual photo booth and Instagram/Facebook filter. And don't forget to share your posts on social with the hashtag #WelcomeHomeColumbia.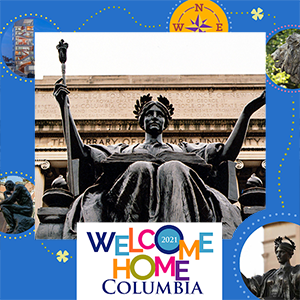 PHOTOBOOTH: Here are some examples of what we want to see: your first day of class look, your immaculate desk set-up, your fave study buddies. Share your memories in the #WelcomeHomeColumbia virtual photo booth. 
Instructions: Open this link on your phone or desktop, pick boomerang/photo and either snap a pic or upload a photo. Share to our University gallery and get a copy for yourself! Don't forget to share on social media and tag @ColumbiaULife and #WelcomeHomeColumbia
FILTER: Claim your back-to-school Columbia pride by using our Instagram and Facebook filters. 
Instructions: Click the link on your mobile device and the option to use the filter should pop up on Instagram or Facebook with a stories video/photo or static image, respectively. You can also find the filter on Columbia's instagram page from your mobile device.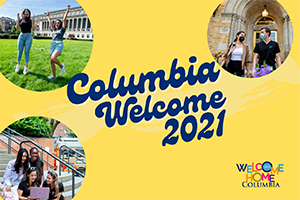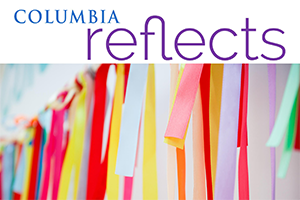 The past year and a half has been challenging, and during these two days University Life and Religious Life want to create spaces to help the Columbia community reflect on both the difficulties we've faced as well as the hope for the future. . 
Beginning on September 20 at 1 p.m. ET, you can come to St. Paul's Chapel to listen to music specially crafted by composers and musicians to honor and commemorate those who have been lost during the pandemic. Following, there will be several reflection spaces and various kinds of "movement medicine" to help students learn meaningful methods to cope with stress and strong emotions.
There are also several events over the course of these two days that will provide space to explore and discuss systemic racism, antiracism, and opportunities for community-building. 
You can find a full list of events to join in on for Columbia Reflects here.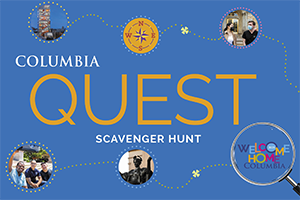 Time to put on your competitive cap: we're going on a scavenger hunt. Connect with fellow students to explore Columbia's incredible resources and learn about our campuses from 10 am to 4 pm ET, September 23 and 24.  Register to be assigned to a team or sign up with your own team!
Compete individually, as teams, or virtually. Teams who complete the hunt will be entered into a raffle for prizes and more. You can find more information here and register here.