Meet the New Crop of 2021 Guggenheim Fellows
Eight Columbians have been awarded the prestigious fellowships.
April 12, 2021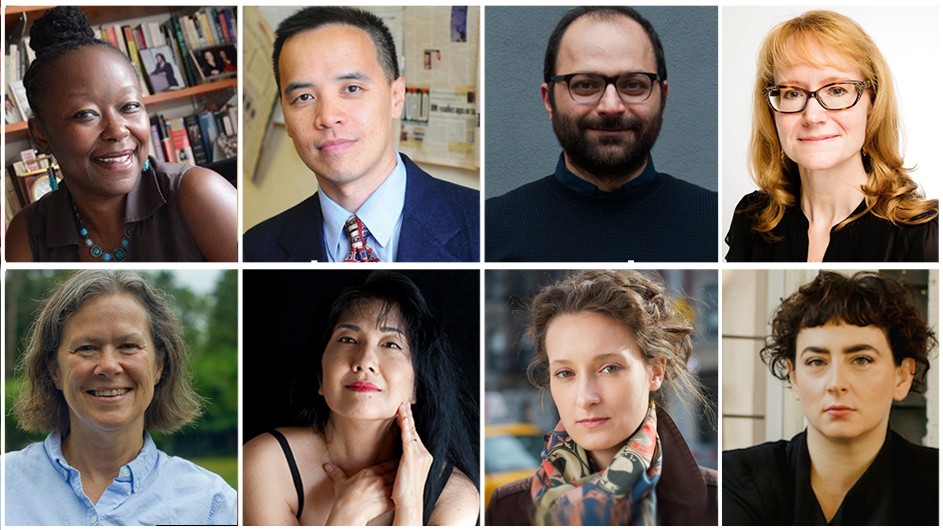 This year the John Simon Guggenheim Memorial Foundation approved the awarding of Guggenheim fellowships to a diverse group of 184 artists, scholars, scientists, and writers, eight of whom are from Columbia.
Ashkan Behzadi, a core lecturer in music; Zosha Di Castri, a professor of music; Farah Jasmine Griffin, chair of the Department of African American and African Diaspora Studies; Sidney R. Hemming, a professor of earth and environmental sciences; Miya Masaoka, director of the Sound Art Program at School of the Arts; Jason Nieh, a professor of computer science; Paige West, a professor of anthropology; and Kate Zambreno, an adjunct professor of writing have all been appointed 2021 Guggenheim fellows.
"I am thrilled to announce this new group of Guggenheim fellows," said Edward Hirsch, president of the Guggenheim Foundation, "especially since this has been a devastating year in so many ways. A Guggenheim fellowship has always been meaningful, but this year we know it will be a lifeline for many of the new fellows at a time of great hardship, a survival tool as well as a creative one."
Music Composition
Behzadi, Di Castri, and Masaoka all received fellowships in music composition. Behzadi's music has been performed by various ensembles internationally, including Divertimento Ensemble, Talea Ensemble, Ekmeles, Yarn/Wire, and Esprit Orchestra.
Di Castri's work extends beyond concert music to include projects with electronics, sound arts, and collaborations with video and dance. Her pieces have been performed in the U.S., Canada, South America, Asia, and Europe. Her debut album, Tachitipio, was released in November 2019 to critical acclaim.
Masaoka works at the intersection of sound and resonance, composition, spatialized perception, and social interaction. Her pieces encompass notated compositions, objects infused with sound, instrument building, computing wearables, and sonification of the behavior of plants, brain activity, and insect movement.
General Nonfiction
Griffin and Zambreno both received fellowships in general nonfiction. Griffin is the William B. Ransford Professor of English and Comparative Literature. Her major fields of interest are American and African American literature, music, and history. She has published widely on issues of race and gender, feminism, jazz, and cultural politics.
Zambreno is the author of seven books, most recently, the novel, Drifts. Her study of writer and photographer Hervé Guibert, To Write as if Already Dead, is forthcoming in June 2021.
Earth Science
Hemming is a historical geologist who uses the record from sediments and sedimentary rocks to document aspects of the earth's history. She is currently studying the state of the Antarctic ice sheets across the Plio-Pleistocene transition.
Computer Science
Nieh has made research contributions in software systems across a broad range of areas, including operating systems, virtualization, computer architecture, thin-client computing, cloud computing, mobile computing, multimedia, web technologies, and performance evaluation.
Anthropology and Cultural Studies
West has written about the links between environmental conservation and international development, the material and symbolic ways in which the natural world is understood and produced, the aesthetics and poetics of human social relations with nature, and the creation of commodities and practices of consumption.