Lee C. Bollinger and the Revitalization of Columbia's Medical Center
What he established is a university that brings together researchers and clinicians from across disciplines and campuses to address the challenges facing society.
March 31, 2023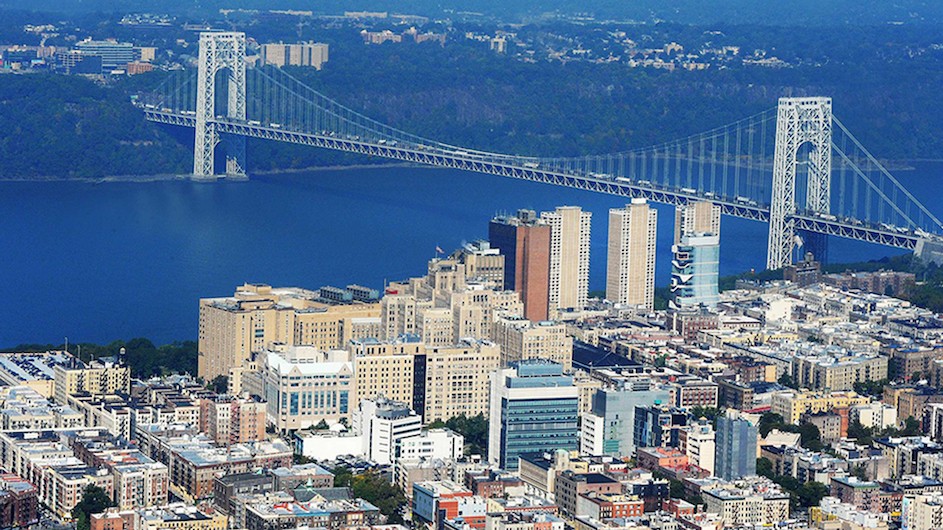 In his 2002 inaugural address, Columbia President Lee C. Bollinger made it clear that the University's medical center would be among his core leadership priorities. "The discoveries in the combined areas of medicine and health care, biology, engineering, chemistry, physics, computers, and technology—known today as the life sciences—are revolutionary in scale," he said. "No great university can minimize the potential here for transforming our understanding of life and our capacity to preserve health. And a great university will figure out how to deal with one of the most important questions of higher education, namely how to bridge the intellectual strengths of the health sciences and professions and the fundamental science disciplines in Arts and Sciences—represented physically for us by the two campuses of Washington Heights and Morningside Heights."
Expanding Research and Global Impact
In his first full year at Columbia, Bollinger took major steps to realize those goals, strengthening the medical center's leadership both within the institution and around the world. He worked with Mailman School Professor Wafaa El-Sadr and then-Dean Allan Rosenfeld on the establishment of ICAP, which went on to become one of the pioneering AIDS/HIV prevention, care, and research initiatives in sub-Saharan Africa. He also created a university-wide executive vice president for research, naming David Hirsh, the College of Physicians and Surgeons chair of biochemistry and molecular biophysics, to build an office designed to elevate faculty research though a more systemic, unified, and professionalized system for grant applications, compliance, and administration. While the office supports the academic and clinical research mission across every campus, its work has been especially important at the medical center, which typically generates at least two-thirds of Columbia's total research funding.
Dynamic New Leadership
While Columbia University Irving Medical Center (CUIMC) had long been among the nation's leading academic medical centers, it was essential for the University to address the growing financial and organizational challenges of managing the institution's resources and relationship with its clinical partner, NewYork-Presbyterian Hospital. In the spring of 2006, Bollinger named Lee Goldman of the University of California San Francisco as the executive vice president for health and biomedical sciences and dean of the Faculties of Health Sciences and Medicine. Over the years that followed, the two went on to appoint transformational deans at every CUIMC school: Linda Fried at the Mailman School, Christian Stohler at the College of Dental Medicine, and Bobbie Berkowitz and later Lorraine Frazier at the School of Nursing. Fried, for example, a distinguished geriatrician at Johns Hopkins, expanded Mailman's local and global leadership in establishing a university-wide, interdisciplinary aging center to explore and better understand the aging process and its societal implications. After Goldman's retirement in 2020, Bollinger asked Anil Rustgi, professor of medicine, director of the Herbert Irving Comprehensive Cancer Center, and associate dean of oncology at Vagelos College of Physicians and Surgeons, to serve as interim executive vice president and dean of the Faculties of Health Sciences and Medicine during what turned out to be a period of profound challenge and success in CUIMC's response to the COVID-19 pandemic. Last year, Bollinger appointed Harvard Medical School Professor Katrina Armstrong, chair of the Department of Medicine and physician in chief at Massachusetts General Hospital, to write the next chapter of CUIMC history as its chief executive and dean of the Vagelos College of Physicians and Surgeons.
Individually and collectively, these leaders have revitalized the medical center over the last two decades, expanding research, teaching, and clinical care; hiring a diverse range of accomplished faculty members; and deepening partnerships with and services for Upper Manhattan communities. They also helped transform the CUIMC campus through a massive investment in acclaimed new buildings for medical education at VP&S and the Nursing School, as well as capital renovations that enhanced some 1.8 million square feet of space for students, clinicians, researchers, and staff. Goldman oversaw the introduction of a modernized Faculty Practice Organization, the opening of a center for outpatient clinical care in Midtown Manhattan, a major expansion of ColumbiaDoctors into New York's Westchester County, as well as other locations across the city and region.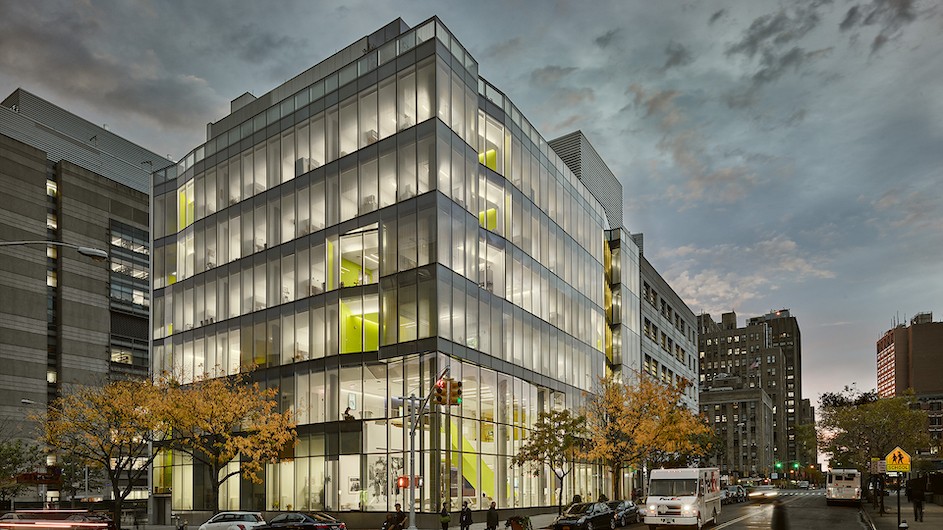 Pioneering Interdisciplinary Initiatives
In fulfilling his vision of a university that addresses major challenges facing society by working across traditional academic boundaries, Bollinger established several interdisciplinary initiatives that have brought together researchers and clinicians from schools and departments on both the Morningside and CUIMC campuses. These include Precision Medicine, a multidisciplinary, multicampus effort designed to put Columbia "at the forefront of genomics, data science, and the core science and engineering disciplines essential to this emerging field of truly humanistic medicine," Bollinger said. He and Goldman appointed Tom Maniatis, professor of biochemistry and chair of the Department of Biochemistry and Molecular Biophysics at CUIMC and a co-founder of the New York Genome Center, to lead the initiative calling on academic and clinical expertise ranging from biomedical engineering and biostatistics to law, economics, and public policy.
Bollinger established a new effort in cancer data science, naming pioneering statistician and internationally recognized cancer researcher Simon Tavaré from University of Cambridge to be the founding director of the Herbert and Florence Irving Institute of Cancer Dynamics, with appointments in the departments of statistics and biological sciences, as well as the Herbert Irving Comprehensive Cancer Center. Bollinger also recognized and elevated the importance of other areas of interdisciplinary biomedical research, for example, by promoting Professor of Biomedical Engineering and Director of Columbia's Laboratory for Stem Cells and Tissue Engineering Gordana Vunjak-Novakovic to the rank of University Professor, Columbia's highest academic honor. More broadly, Bollinger elevated Columbia's efforts to ensure that lifesaving discoveries could reach those who might benefit from them, while also serving as a source for future research funding, asking Columbia Tech Ventures Executive Director Orin Herskowitz to serve as the University's senior vice president for applied innovation and industry partnerships.
A Collaboration Built on Nobel Prize-winning Neuroscience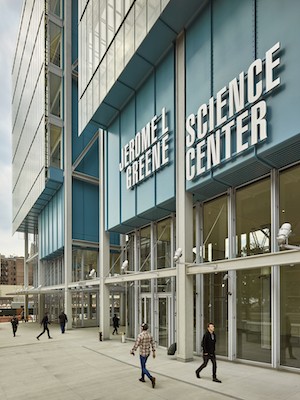 Early in his tenure, Bollinger made a commitment to biomedical research addressing questions of human life and health with his creation of the Mind, Brain, Behavior Institute built around Columbia's recent Nobel Prize-winning neuroscientists Eric Kandel and Richard Axel. To further deepen the interdisciplinary connections between the Morningside and CUIMC campuses, Bollinger announced that the new institute would be the cornerstone of the University's new Manhattanville campus, to be housed in a purpose-built biomedical research building, the Jerome L. Greene Science Center. The building was made possible by a gift from Dawn Greene and the Jerome L. Greene Foundation. At the time, it was the largest gift ever received by Columbia and the largest ever received by any U.S. university for the development of a single facility. As a result, CUIMC would be at the heart of cross-disciplinary interaction on basic research meant to enable advances in Alzheimer's and Parkinson's research to investigations that bring together computer science, economics, law, the arts, and social policy. Later endowed as the Zuckerman Mind, Brain, Behavior Institute by a $200 million gift from publisher and real estate investor Mortimer B. Zuckerman, it has not only become the center of pioneering research on the mind and brain that can inform future basic, translational, and clinical research at CUIMC, but also an extension of the medical center's service to Upper Manhattan through the Community Wellness Center, directed by Columbia neurologist Olajide Williams and sociomedical scientist Robert Fullilove.
Record Research Funding
The creation of lab space at the Jerome L. Greene Science Center for faculty in both neuroscience and biochemistry and molecular biophysics also opened space for new faculty and research in Washington Heights. Among the many investments in innovative research facilities at CUIMC over the last two decades, one was in the cutting-edge electron microscopy lab led by Joachim Frank. Less than a decade after arriving at Columbia, Frank received a Nobel Prize.
In the years since Bollinger established the University-wide office of research, CUIMC's research funding grew faster than peer institutions. From 2009 through 2018, the Vagelos College of Physicians and Surgeons was the only leading medical school whose growth in research funding outpaced the National Institutes of Health budget every year. For the past decade, VP&S has had the third-largest absolute increase in NIH grants dollars and the largest percentage increase in the top 10 medical schools, and 2019's $57 million increase in NIH research grants was, at the time, the single largest one-year increase for any medical school ever.
Transformational Fundraising
New buildings, improved spaces, added faculty, expanded research, and clinical care have all been made possible by record-setting fundraising led by transformational gifts to CUIMC from Columbia's two largest donors: Roy and Diana Vagelos, and the late Herbert and Florence Irving. Bollinger worked closely with these benefactors and Goldman to ensure the University fulfilled the promise of their generous philanthropy. Due to a series of Vagelos gifts, the medical center campus has an acclaimed new building, and the college now bearing the Vagelos name is the first among its peers to eliminate need-based loans, meeting students' entire financial needs with scholarships and making it possible for a more diverse set of future physicians to pursue careers of service, unencumbered by medical school debt.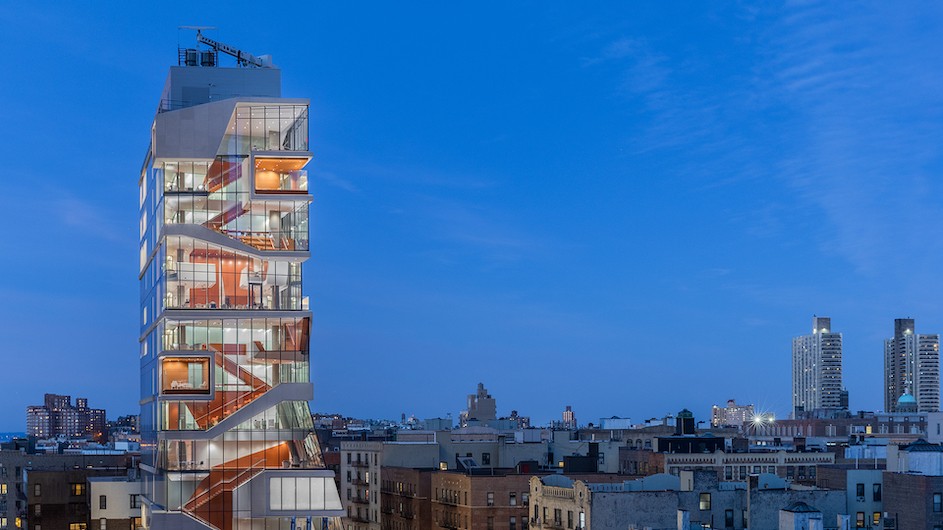 Additional transformational gifts from Roy and Diana Vagelos launched the University-wide Precision Medicine initiative, and, most recently, the Roy and Diana Vagelos Institute for Biomedical Research Education, providing support for early career physician-scientists and PhD students in the biomedical sciences. A historic bequest from Herbert and Florence Irving to both Columbia and NewYork-Presbyterian enabled CUIMC to make major investments in cancer research and patient care, including a future new clinical building for the Herbert Irving Comprehensive Cancer Center. Because of the Irvings' extraordinary generosity over many years to both Columbia and NYP, the medical center campus was named in their honor in 2017.
Leading Through a Global Crisis
It goes without saying that Columbia University Irving Medical Center played an essential role in helping the University, our city, the nation and the world respond to the COVID-19 pandemic. A constant stream of news-making research discoveries expanded knowledge about the epidemiology, cell biology, clinical and public health aspects of this historic crisis in real time. Lifesaving emergency care for our local community was delivered by doctors, nurses, and frontline staff, and CUIMC demonstrated what President Bollinger called in his inaugural address "the potential here for transforming our understanding of life and our capacity to preserve health."
Every school at CUIMC played a vital role, including Mailman, which was later selected to lead New York City's Pandemic Response Institute. During this critical period, for example, epidemiologist Wafaa El-Sadr not only continued her leadership of ICAP, but also helped the University apply its decades of experience with AIDS/HIV to addressing COVID-19. Bollinger named El-Sadr to lead Columbia World Projects as well as serve as the University's executive vice president of Columbia Global. Her leadership vividly reflects Bollinger's fundamental belief that the medical center is essential to any definition of Columbia's academic excellence and service to society.