President Bollinger Offers Advice for Incoming Undergraduates in His Last Convocation Address
In his remarks during New Student Orientation, Bollinger offered seven pieces of advice to the newly initiated members of the Columbia community.
August 30, 2022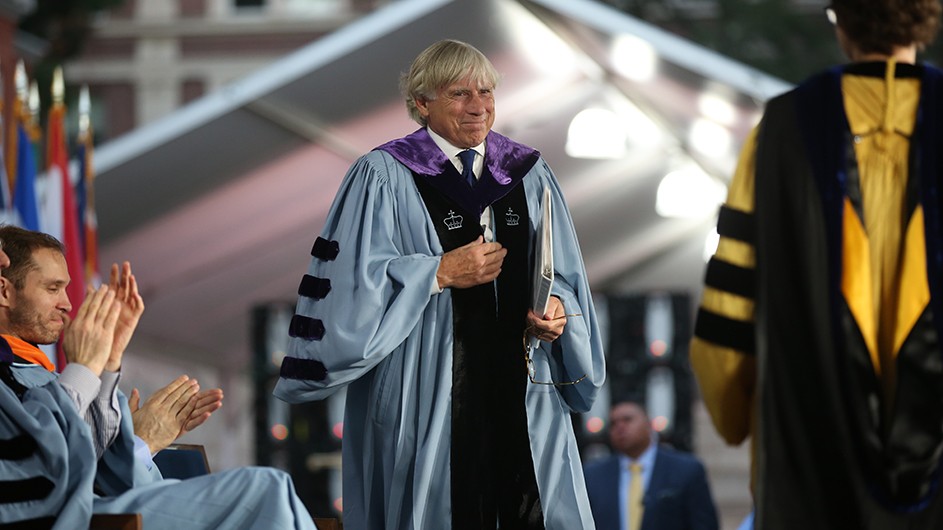 University President Lee C. Bollinger addressed the incoming Columbia College and Columbia Engineering classes of 2026 at the start of their undergraduate experiences. He also spoke to the new cohort of Columbia General Studies students at their New Student Orientation. The speeches, which took place on August 28 and August 29, were his final Convocation addresses as Columbia's president, following his announcement that he will step down at the end of this academic year.
In his remarks, Bollinger reflected on having lived his entire adult life within universities, beginning as an assistant professor of law at the age of 27. "The life of the mind has been my life's work," he explained.
He added that he had learned an enormous amount in that time, lessons he hoped would be helpful to the new students as they began their college experiences.  
"First, you can make yourself smarter if you work at it."
"You may lose track of the discussion, listen to a lecture without following the argument, read a book and feel lost; look at a painting and see nothing special only to find later how others see layers and layers of meaning. And you may get grades below your expectations for yourself. The critical point is that you never feel any of this is due to an unchangeable part of your intellect. If I have learned one thing in life, it is that over time (perhaps over a lifetime) you can change your capacities of your mind for the better. You just have to believe that and to work at it."
"Second, you must constantly be alert to your bad intellectual impulses."
"Thinking well is not easy; indeed, it's not entirely natural. You have to work at that, and against your instincts…. In the university, we are all about seeing complexity, exploring different ways of seeing things, holding multiple perspectives and possibilities in one's mind simultaneously so we can examine them carefully, being skeptical, and acknowledging we may be in error. So, if your natural impulse is to simplify everything and to resist complexity, then you will continually struggle."
"Third, I really encourage you to think big, even unrealistically big."
"Set big goals for yourself. Let yourself have high aspirations, both for knowledge and for doing things. Let yourself have your own big dreams. (This is one natural impulse I would not discourage.) It adds meaning to our lives, a sense of purpose, and for the most part is relatively harmless. (Depending, of course, on the substance of the dreams!)"
"Fourth, you need to develop the capacity to be enthralled—enchanted—by greatness."
"We need to develop a genuine respect for great works and accomplishments across the span of humanity (including an appreciation of expertise, something painfully lacking in today's political culture)."
"Fifth, I urge you to make close friends along this journey of life beginning now."
"I mean the great minds and works you will encounter in your studies. Select a few, those who appeal to something inside you, and live with them; make them part of your daily life; read a page, or a paragraph (or look at an image or hear the sounds or see the actions), and let your mind probe deeper and deeper into their meanings and hear your own thoughts in response. Great human achievements warrant a lifetime of attention."
"Sixth, please do not think that smartness is everything in life."
"Being a good person, as simple and as complicated as that little statement is, is certainly equally high on our list of human qualities. We try to be that here, as well, but we also know, and you need to bear in mind always, that we are not doing everything here. I would only add that being a good person starts with how we treat each other in our little community, and, as Edmund Burke observed, it radiates out from there to humanity broadly."
"Seventh, and last, I urge you to enjoy this period of life you are entering because, in all likelihood, it will never be like this again."
"This unconditional embrace of the life of the mind we nurture here is unique. Nowhere else in the world will you encounter this way of being, certainly to this degree. It is in details that larger world views are often revealed. And for us that detail is the footnote. Everything that is possible to know and understand is our ambition, reason is our method and our guide, and adding just a bit more is our goal. Every step is documented and attributed, and the footnote serves as the foundation. So, whenever you see a footnote, think of the academic culture behind it."