A New Year and a New Provost
As Mary Boyce welcomes the Columbia community to campus, former provosts talk about the job, what to expect, and offer a bit of advice.
August 23, 2021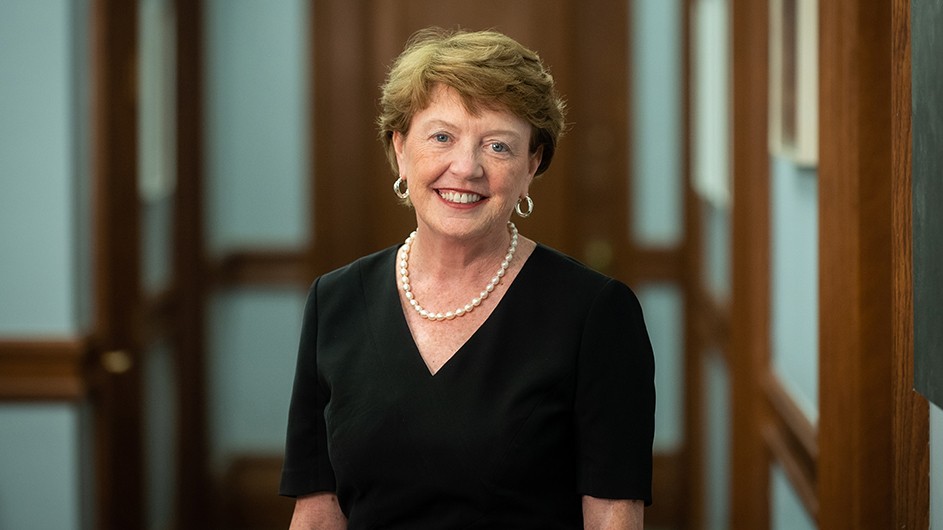 It's a new academic year at Columbia University, and we have a new provost.
This summer, Mary Boyce, the former dean of the Fu Foundation School of Engineering and Applied Science, officially took the reins from Ira Katznelson, who served as interim provost for nearly two years. Boyce is the first woman to serve as provost at Columbia, and she joins a list of accomplished academic leaders, including historian Alan Brinkley, sociologist Jonathan Cole, and physician Robert Goldberger. She is thrilled to welcome everyone to campus, and we know from Boyce's tenure at SEAS that we couldn't be in better hands.
During the passing of the baton this summer, Katznelson, who is the Ruggles professor of political science and history and deputy director of Columbia World Projects, called Boyce "an outstanding scholar and a bold, transformative leader."
"She's the right person, at the right time," said Dennis Mitchell, who as senior vice provost for faculty advancement, works closely with the school deans and advises the provost.
John Coatsworth, a leading Latin America scholar who was provost from 2011 to 2019, described Boyce as "perfect" for the job, especially given President Lee C. Bollinger's emphasis on the university's Fourth Purpose and its mission to translate knowledge into solutions to major societal challenges.
Getting Straight to Work
In an interview with Columbia Magazine, Boyce described the Fourth Purpose as a major strategic focus for the university's research and scholarship.
"The Office of the Provost will take a lead role in advancing the Fourth Purpose," she said. "My staff and I will be looking for ways to support faculty and students who are interested in bringing their knowledge out into the world to make a positive impact."
She also spoke of her commitment to what she calls "pan-disciplinary research, which involves collaborations between disciplines that haven't traditionally intersected," and her belief that it is "at the interfaces of academic disciplines that the most exciting new discoveries and innovations can emerge."
Defining the Role of a Provost
But what exactly is a provost?
Clearly not something you get at the deli, as the old "Gilmore Girls" joke goes. The character Lorelai Gilmore was played by actress Lauren Graham, who graduated from Barnard College in 1988.
When Coatsworth heard about Lorelei delivering that line, he recalled how he Googled the word when he became provost in 2011, and landed on the "French term, the prévôt." The prévôt, he explained, is a schoolteacher who is responsible for maintaining order in the playground. "That sounded a bit more like what I was getting into," he said, "and I kept that in my mind for the rest of the time I was provost."
According to Columbia's website, the provost is the chief academic officer of the University and works closely with schools, programs, and their leadership to ensure that "university programs and faculty are of the highest quality."
"A provost is a person who seeks to affect the probability that intellectual and pedagogical excellence will occur," Katznelson said. The job "has multiple dimensions," including budgeting, "curricular planning, building relationships between and among schools, and managing external relations as appropriate with other institutions," he added.
Excited to Work With Mary Boyce
Mitchell, named last week as executive vice president of University Life, said that everyone is excited and thrilled to work with Mary Boyce. "I had the opportunity to work with her for the last seven years" while she was dean of SEAS, and "her vision is what we need university-wide," he said, referring in part to Boyce's Engineering for Humanity campaign, which promoted collaborations between engineers and scholars in other fields.
In his quarter century at Columbia, Katznelson said every person who served as provost has been "intellectually curious, and they all have high intellectual standards. Mary Boyce fits perfectly within that universe. She's a wonderful scholar and a person of exceptionally high standards with great ambition for the university."
"The best thing about being provost at Columbia is the number of colleagues that you meet and get to know, who are working on things that you never thought you'd ever understand or have a close contact with. And you do that every single day. It's the best job in the world," Coatsworth said.
Some Parting Words of Wisdom
Any advice for Mary Boyce?
From Katznelson: "Trust your instinct, be yourself, and build the kinds of relationships that you are very experienced at, Mary, in engineering and well beyond. That will serve the institution and serve you well as you take on this task."
And from Coatsworth, a reminder that faculty governance is the key to the success of Columbia. He also urged Boyce to stay in touch with the provosts of other institutions. "Sometimes just the opportunity to complain to people who know what you're complaining about can be therapeutic."