A Queen's Gloves, Dinnerware, Typewriters and More Diversify Library's Holdings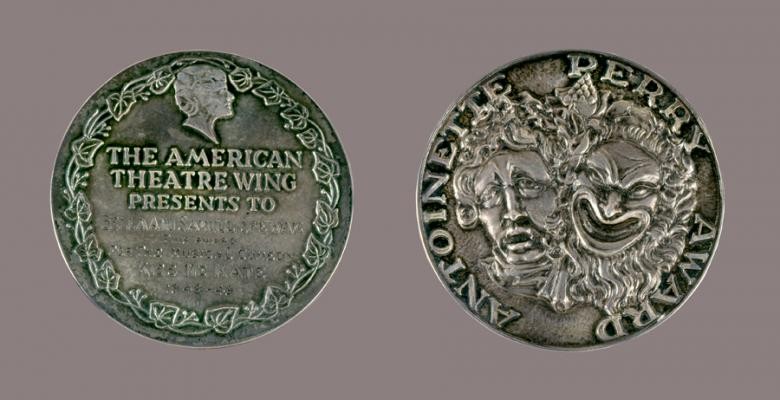 Don't be fooled by the name. Columbia's Rare Book and Manuscript Library has thousands of objects in its collection that are neither books nor manuscripts.
A pair of kid gloves belonging to Mary, Queen of Scots, boxed and swaddled in untreated muslin, still boast their brilliant, salmon-colored lining 425 years after her death.
A Sept. 12, 1851 contract, exquisitely handwritten on unlined blue paper, details the agreement between Harper & Brothers and attorney Allan Melville for the U.S. rights to his brother Herman's book, "Moby-Dick or, The Whale," which is the theme of a dinnerware set also in the library.
There's also a portable Olivetti Lettera 32 typewriter that belonged to Tennessee Williams; a watch worn by Marie Curie, the only person ever to win two Nobel Prizes in two different sciences; and the chair which DeWitt Clinton—a 1786 Columbia graduate, New York City mayor, New York governor and U.S. senator—was sitting in when he died. It was donated to the University by his family along with his papers in 1828.
Such objects are called "realia," or artifacts that embody the world of the people represented in the library's holdings. They offer "a physical connection to a historical figure," according to Jennifer B. Lee, a curator at the library. "They're showpiece items that go along with what a collector puts together to help make sense of a historical figure."
The collections, which date back to the University's founding as King's College in 1754, contain 500,000 printed books and 14 miles of manuscripts, personal papers and records from 2000 B.C. to the present. The Rare Book Department was established in 1930—one of the earliest such units in North America.
"Big research collections are often a hidden resource for a university community, but they comprise a range of cultural assets that have value in and of themselves," says Michael T. Ryan, the library's director. "It's here to be used by not only Columbia faculty, staff and students but the global research community."
Many of the library's artifacts arrive as part of collections donated or bought by the University. That is how Columbia came to possess the copy of James Joyce's "Ulysses," with big X's marking the most salacious sections, used as an exhibit in a landmark 1933 literary censorship trial. The U.S. government had deemed the book obscene and blocked its importation, but Random House won the case. The book was a gift from Bennett Cerf (CC'1919), who founded Random House in 1927 and later donated the publishing firm's archives to his alma mater.
Today, as more libraries make their collections available online—an ongoing project at the library—artifacts are a way to show off the diversity of their holdings. "The differences between the great libraries of the world are in the details," said Lee.
Indeed, many of the artifacts are best savored in person, such as an abbreviated manuscript of The Iliad written in Italy in the 15th century—essentially a centuries-old precursor to CliffsNotes.
The library is open to anyone with a government-issued ID. A visitor can request items, which are delivered to the reading room in boxes on a rolling cart. Some boxes are custom-made by Columbia Libraries' conservation department in the basement of Butler Library.
Williams' typewriter arrives in its own blue leatherette case. The "C" has been replaced with a key bearing a plus and equal sign, an indication that it has seen heavy use. Typewriters leave a unique signature based on the alignment of the letters, so they can be invaluable for figuring out the dates of various drafts of a work. The Olivetti is one of five typewriters from the Williams' estate that the University acquired in 1994, when it purchased artifacts from the playwright's Key West, Fla., home. The oldest of them may be Williams' first typewriter, or at least the one that he was using when he wrote his first major works, according to Lee.
Much of the collection is kept in "the vault"—closed stacks—in Butler, where temperature, humidity and light can be monitored and fire controls are in place. The rest is stored under similar conditions in Princeton, N.J. at a warehouse jointly owned by Columbia, Princeton University and the New York Public Library.
When asked to name his favorite item, Ryan demurred. "You surely must know that you never ask a parent who his favorite child is!" he said. "But let me put it this way—I am never surprised that I am always surprised by what I find here."