A School of the Arts Professor Guest Curates an Exhibition at the Metropolitan Museum of Art
Poet Wendy Walters helped shape "Fictions of Emancipation: Carpeaux Recast," which explores slavery and its legacies.
March 15, 2022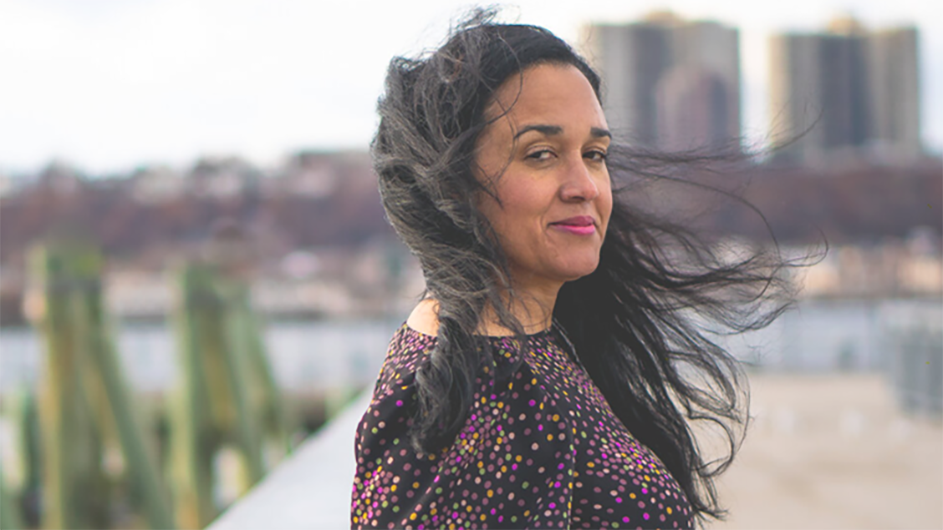 Fictions of Emancipation: Carpeaux Recast, a recently opened exhibition at the Metropolitan Museum of Art, is the first show at the museum to examine Western sculpture in relation to the histories of transatlantic slavery, colonialism, and empire.
Wendy Walters, a professor in the writing program at the School of the Arts, where she directs the concentration in nonfiction, was a guest curator for the exhibition.
Organized around a single object—the 1868-1873 marble bust Why Born Enslaved! by French sculptor Jean-Baptiste Carpeaux—the exhibition offers an in-depth look at portrayals of Black enslavement, emancipation, and personhood in more than 35 works of art, ranging from pieces by Josiah Wedgwood and Frédéric Auguste Bartholdi (who created the Statue of Liberty) to contemporary works by Kara Walker and Kehinde Wiley.
"The exhibition focuses on the aesthetic and colonialist influences embodied in Why Born Enslaved! alongside many of its antecedents. The show also engages contemporary artists' responses to it," said Walters. She talks about the show with Columbia News, as well as what she's working on and teaching now.
Q. How did this exhibition, and your involvement in it, come about?
A. When the Met acquired Carpeaux's Why Born Enslaved! in 2019, I was invited to compose a poem to help introduce museum visitors to the sculpture. The poem was featured in the Met Collects series. That project was the beginning of a conversation between me and Elyse Nelson, Assistant Curator of European Decorative Arts and Sculpture, about the challenges and responsibilities of displaying such a piece. As our exchange progressed, Nelson invited me to play a role as a co-curator in the exhibition.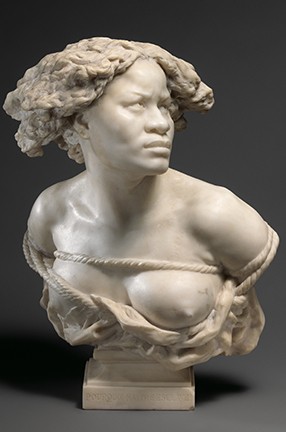 Q. Why was Carpeaux's sculpture chosen as the central piece in the exhibition? What is it about this bust that is so polarizing, and sends such mixed messages?
A. Created in 1868, 20 years after emancipation was achieved in the French Atlantic, Why Born Enslaved! debuted in Paris a year later against the backdrop of European colonialism, imperialism, and the recent end of slavery in the United States. As a virtuosic display of artistic achievement, this bust is probably the best-known 19th-century sculpture of an enslaved Black figure. The composition was modeled after an unidentified woman whose features Carpeaux recorded in exquisite detail. But it is not a portrait of an individual person; rather, it depicts the Black figure as an eroticized and racialized "type."
For more than 150 years, the work has been reproduced in other materials: terracotta, plaster, resin, and even recently in wax as a decorative candle. The bust's ubiquity signals that it has been a subject of fascination for consumers and art collectors seeking sculptural representations of realistic Black figures where there are few other examples.
Q. Is this your first time curating an art show? How do you negotiate the intersection of writing and art/design in your work?
A. One could argue that the experience of writing essays shares much with the practice of curation, but this was my first time co-curating a show in a museum with actual objects. I loved it! Previously, I have worked in museum/gallery interpretation as a writer for education programs, so it was thrilling to be able to dedicate that kind of attention to sculpture once again.
In my own work, the field of design has been an extremely important source of inspiration for new ways of thinking about values and constraints related to the creative process. I am also finishing a book on white paint, which engages questions about design history and practice.
Q. What are you teaching this semester?
A. In previous semesters, I have taught a course on writing and design. Now I'm teaching two graduate seminars: a nonfiction workshop and a course called "Climate and Time: Writing in Catastrophe," which takes on the challenge of writing about climate change in a way that is narratively compelling and based in research.