Treat Yourself With Recipes From Columbians: Carbs, Brownies, and More
In our second installment of recipes from Columbians, here are six that you might want to try at home this month.
February 05, 2021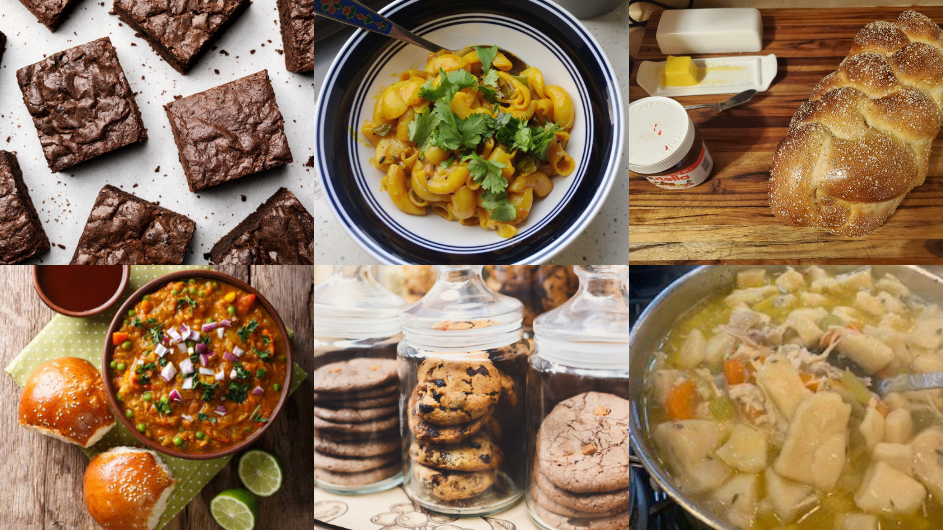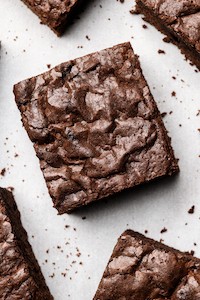 Aunt Vic's Brownies
Who needs a Valentine when you could have brownies? Vicki Dunn, assistant vice president at Columbia Dining, shared her favorite family recipe with Columbia News.
"I love this recipe as I perfected it over the years for my nephew Anthony. He loves brownies, now that he is in college I just send him care packages. They are even more special because I actually baked them in the John Jay Kitchen with Chef Mike for fall delivery for the students. We made 900 pans of brownies by hand for all of the incoming students."
Check out Vicki Dunn's brownie recipe here.
@columbiadining, Instagram
---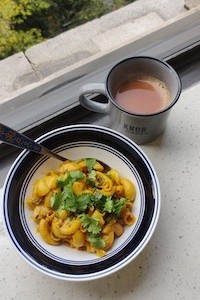 Dhruti's Masala Pasta
Getting bored of your old recipes? Try this unique pasta dish from Columbia student, Dhruti Kuvat, this week.
"One can call this pasta with an Indian twist. This is my grandpa's recipe. But most of the times my grandma made it for me. I remember whenever my brother and I visited my grandparents to play carrom, our dadi (father's mother/granny in Hindi) used to make this pasta along with some ginger coffee on the side. I lost my grandma two years ago, and this is one of the pastas that grandpa still makes for me and it always reminds me of her. Now that I've come here for my studies, making this pasta makes me feel closer to home."
Find out how to make Dhruti's masala pasta.
@dhruti.kuvat, Instagram
---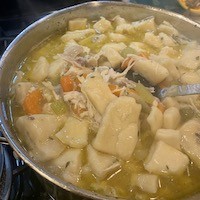 Jamie's Chicken and Dumplings
A lot of love has gone into this recipe. Dr. Jamie Muskopf from the School of Professional Studies asked her in-laws for her husband's favorite recipe. Now, it's her families' favorite dish!
"There are a few comfort foods that have helped my family of five get through quarantine, but chicken and dumplings is by far the unanimous favorite. It's a family recipe that was my husband Brad's favorite when he was growing up. My father-in-law Dave made it often when Brad was younger and I knew it would remind him of home if I made it—we were living in Hawaii then. Brad is an active duty Navy submarine officer and for the past 11 years chicken and dumplings has been the meal we have reconnected over, after deployments and other times living apart.
This meal reminds me very much of my time as a student in the IKNS program at Columbia. I completed most of my degree while Brad was living in Connecticut and I was home in Hawaii with our three young children. In the few times he came home we celebrated with this meal. I moved our family to Washington about midway through my program and when he returned from deployment this was the first meal we had together in our new home. Hope you enjoy!"
Learn how cook to Jamie's chicken and dumplings here.
@jamiemuskopf, Instagram
---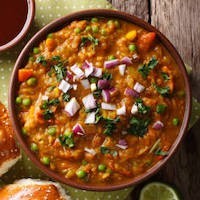 Mahak's Pav Bhaji
Columbia student, Mahak Agrawal, is reminded of home when she cooks this street food from the south Indian state of Maharasthra. 
"Pav bhaji is comfort food through and through. A vegetable dish that has its roots in India's shared history with Portugal, pav bhaji originated as a quick-fix lunchtime dish for the textile mill workers of Mumbai. Soon it became a featured item of restaurant outlets, across India and abroad. Away from home amid a pandemic, this dish has been my comfort — and nutritious — food.
Check out Mahak's pav bhaji recipe here.
@thespatialperspectives, Instagram
---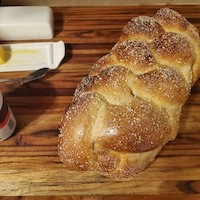 Jon's Easy-Braid Challah
(Adapted from a recipe on Cook's Illustrated)
Do you want to bake bread, but is the thought of sourdough bread a little intimidating? Try this recipe for easy-braid challah from Columbia student, Jon Elliot.
I've been baking this instead of sourdough because instant yeast isn't scarce anymore. It uses a tangzhong (here, a paste of flour microwaved in water) to keep the bread fresher for longer.
Learn how to make easy-braid challah here.
---
Rachel's Oat and Pecan Brittle Cookies
(Adapted from a recipe on Bon Appetit.)
The cold month of February begs for another dessert recipe. Bake several batches of these cookies sent to us from Columbia student, Rachel Misner.
"I've been furiously making cookies throughout the pandemic. I've mastered macarons, but my favorite cookies remain the classics: ones with combined softened butter and brown sugar, chilled in the fridge, and baked to crispy-on-the-outside, chewy-on-the-inside goodness. Bonus if they also contain oats! This recipe came out recently and I knew I had to make it. It makes plenty, so I freeze them in sets of six so I can always throw a tray in the oven when the cookie craving strikes!"
Check out the recipe for oat and pecan brittle cookies here.
@rachelscookbook, Instagram
---
**DISCLAIMER: We at Columbia News hope you enjoy the recipes featured here. But please be advised that the recipes have not been formally tested by us or for us, and we do not provide any assurances nor accept any responsibility or liability with regard to their originality, quality, nutritional value, or safety.**